Brooks has recently become a billion-dollar brand their brand that seemed to perfectly combine innovation with traditionalism into their running shoes.  
Their most popular shoe the ghost is one of my all-time favorites, it's also one of the most demanded shoes in the whole of the United States out of all footwear categories. 
 So, brooks clearly know how to build running shoes. 
Today we're going to be taking a look at the all-new brooks ghost 14 and Brooks launch 9.  
Now the brooks ghost has been a go-to daily trainer for runners of all different levels because of its mid-level cushioning its smooth ride and its overall comfortable fit compared to previous versions I like the 14 a lot more. 
Technical Details
Brooks Ghost 14
Brooks Launch 9
Terrain
Road
Road, Treadmill
Arch Support
Neutral
Neutral
Weight
280g
230g
Pronation
Underpronation
Supination
Neutral Pronation
Underpronation
Supination
Neutral Pronation
Arch Type
High Arch
High Arch
Forefoot Height
24mm
26mm
Heel to Toe Drop
12mm
10mm
Uses
Daily Run
Long Distance
Workout
Daily Run
Speed Run
Treadmill
Jogging
Material
Mesh Upper
Reflective Mesh upper
Strike Pattern
Heel Strike
Heel Strike
Toe Box
Wide
Wide
Check Price For Men

Check Price For Women
Check Price For Men

Check Price For Women
You may also like – Brooks Launch GTS 10 vs Adrenaline GTS 22: Which Running Shoe is Right for You?  
Key Differences Between Brooks Ghost 14 and Launch 9 
Brooks Ghost 14 and Launch 9 are two popular running shoes from the brand.  
Let's look at the key differences between ghost 14 and launch 9. 
Launch 9 is slightly lighter than ghost 14 
Heel to Toe Drop Ghost-12mm; Launch 10mm 
The Ghost 14 is a little bit more expensive than the Launch 9 
Compared to Brooks Launch 9, the Ghost 14 has more cushioning and a wide toe box. 
---
---
Starting With the Upper of ghost 14 
Its goanna has some small tweaks to it but overall, it's still that consistent smooth ride that brooks go for with their go-to daily trainers so when we take a look at those small tweaks I want to start with the upper because I think the upper is way more dialed in than it used to be. 
 There's going to be a simpler 3D footprint mesh that brooks have on top here. 
It's going to feel more streamlined and when I first tried it on it almost felt like the brook's launch 9 and the launch GTS – where it's smoother you slip your foot into it a little bit easier and it's a very comfortable breathable and overall simple upper which feels great. 
You May Also Like – Brooks Glycerin 20 vs Launch 10: A Comprehensive Comparison 
When you're taking it for longer runs it really catches that pace nicely and catches that airflow very nicely as well.  
There's still going to be that padded tongue in that padded collar to give a little bit more of a comfortable feel there are some new laces as well.  
There are more flat laces instead of the puffy plush laces that they had in the 13. So, with those flatter laces the lockdown was really nice it just laid flat across the top of your foot I never got any hot spots when running in the ghost 14. 
It offers not a wide fit but a comfortable fit for any foot type and it fits pretty true to the size it comes in at around 10 ounces.  
So, it's not going to be the lightest daily trainer but it's not going to be the heaviest as well. 
It's still going to be that mid-level daily trainer that you're looking for so the midsole is going to have a full-length DNA loft as opposed to previous versions like the 13.  
There is only half of that DNA loft cushioning at the initial step in that full-length loft foam felt super soft and I really experienced something different than in the previous versions.
---
---
Ride
It's going to give a smoother ride and a plusher feel but you're still not going to feel like you're swimming and cushioning the brooks glycerin is going to offer that max cushioning where if you're looking for a plusher ride that's going to be the ball cushioning that you're looking for the ghost 14.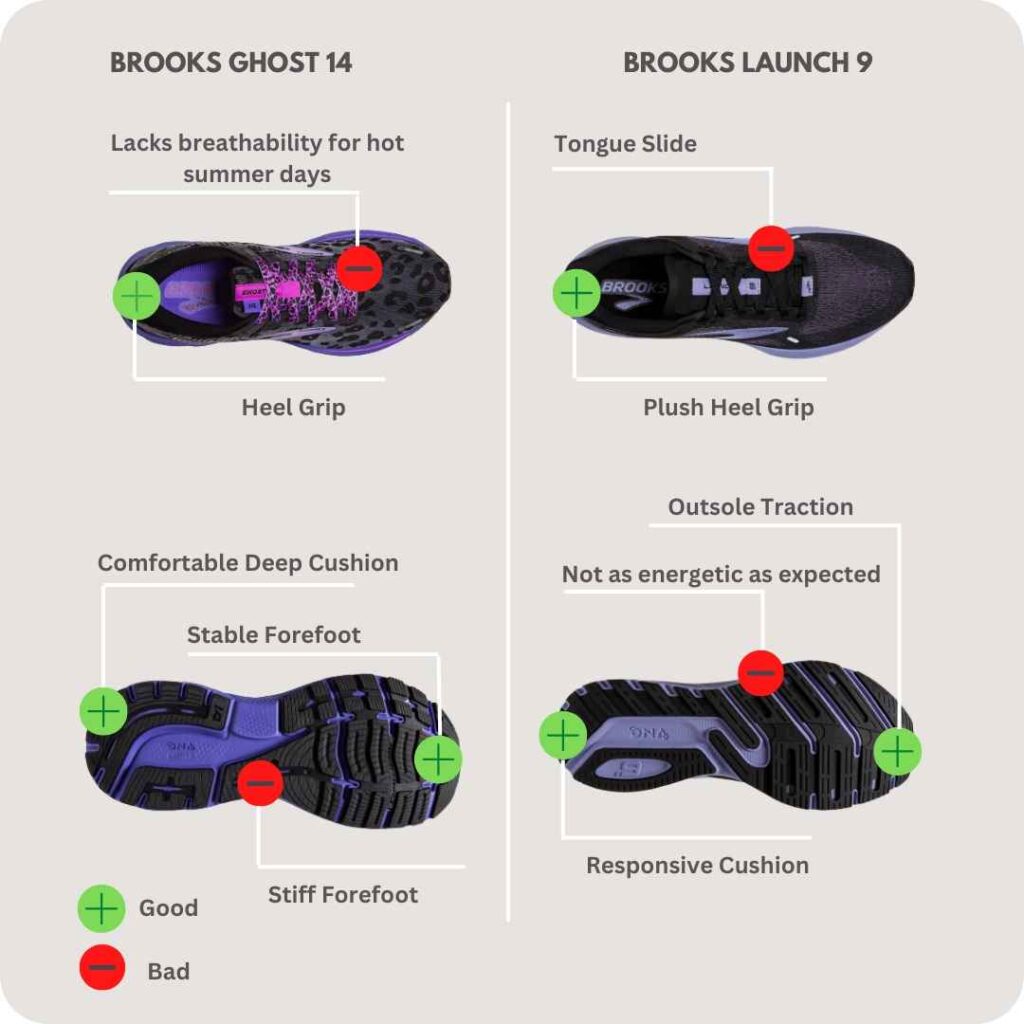 Let's Look at the Brooks Launch 9 
So, let's run through some of the technical features of the shoe. 
Firstly, the upper of this new model has been totally redone, it's got a strong synthetic material that really has no cause for concern.  
The shoe is a relatively slim fitting last so while the upper doesn't restrict your foot it's not going to offer you extra volume in the toe box.  
The launch uses a thin tongue which initially I was concerned would cause lace pressure issues but it doesn't and in fact, the tongue disappears on foot the shoe uses flat laces which is a nice touch as this further reduces lace-related pressure risk compared with oval laces. 
Mid Sole & Ride  
The shoe has a flared heel counter which minimizes the pressure on the Achilles and it also has a flared midsole which widens the base of support to give you more ground contact and a more balanced ride.  
These are two really nice features the midsole version nine gains two millimeters of stack height compared with its predecessor and this cushioning is of course bio-Mogo DNA which is a cushioning system that's neither firm nor soft it's decently responsive and certainly durable.  
It's not going to offer you the responsiveness of a racing shoe with p backs foam but it's going to give you spring to your step with a durable resilient ride 
---
---
Outsole
We've got a nice outsole coverage with good rubber. It's got a nice orientation that's going to give you a good grip and good durability and it also leaves you with the option of taking the shoe for a light off-road run. 
The launch 9 sits on the fence between a speed and distance-orientated shoe that will make it attractive for a variety of runners it will suit someone who's light and efficient on their feet.  
The most and someone who trains at a variety of paces enough so that you can leverage the shoe's light and responsive frame come to speed or temper day but also the shoe's slightly cushioned frame comes an easy day. 
As I mentioned the launch nine is a great bang for your buck option being priced at 110 dollars for such a technical running shoe is a big winning point for some runners and it also is available in a stability equivalent called the launch GTS which is made with guide rails on the side which add an extra bit of support. 
How long do Brooks14 and Launch 9 shoes last?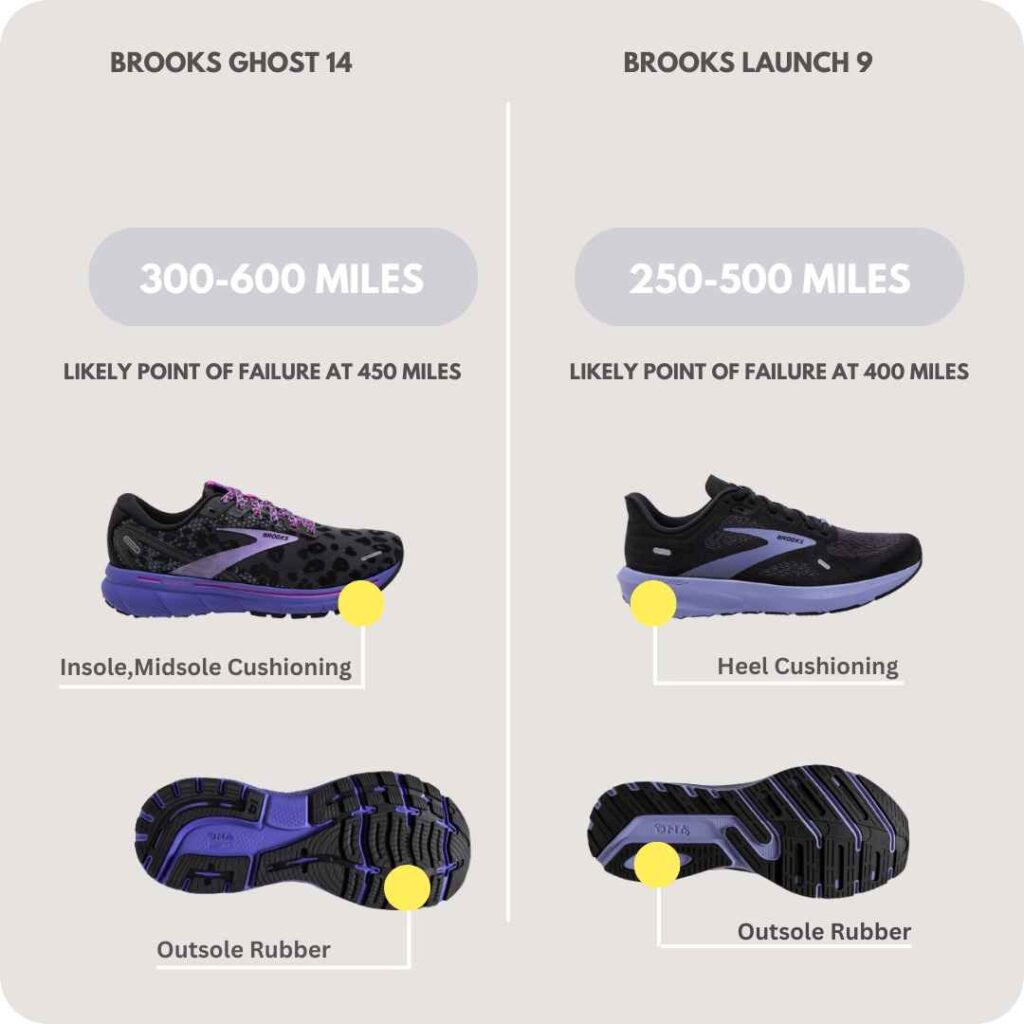 Related Post – Brooks Launch 10 vs Levitate 6:Which is Best for You

Related Post – Brooks Revel 6 vs Ghost 15: A Comprehensive Comparison 

Related Post – Brooks Revel 6 or Launch 10: Which is Best for You?