Today we're going to compare the all-new Brooks Glycerin 20 and Levitate 5. 
Without further ado, Let's Get Started. 
Technical Details
Brooks Glycerin 20
Brooks Levitate 5
Terrain
Road
Road
Arch Support
Neutral
Neutral
Weight
286g
311g
Pronation
Underpronation
Supination
Neutral Pronation
Underpronation
Supination
Neutral Pronation
Arch Type
High arch
High arch
Forefoot Height
20mm
21mm
Heel to Toe Drop
10mm
8mm
Uses
Daily Run
Long Distance
Workout
Workout
Speed Run
Treadmill
Material
Mesh Upper
Knit Upper
Strike Pattern
Heel Strike
Forefoot/Midfoot strikeHeel strike
Toe Box
Medium
Wide
Check Price – For Men
Check Price – For Women
Check Price – For Men
Check Price – For Women
Key Differences Between Brooks Glycerin 20 and Levitate 5
The major difference is the Glycerin 20 has plush cushioning while the Levitate 5 has firm cushioning.   
Other key differences are,   
The Heel-to-Toe Drop of the Glycerin 20 is 10mm (about 0.39 in) and the Levitate 5 has an 8mm (about 0.31 in) drop.   
Both have a wider toe box.  
The brooks glycerin 20 is slightly more lightweight than Levitate 5. 
Related Post – Brooks Glycerin 20 vs Launch 10: A Comprehensive Comparison 
Starting with the Upper 
Start with the upper of Glycerine 20 – so, the length is true to size, and the fit is accommodating without being too roomy.  
Overall, I'd say the lockdown is pretty good, especially in the midfoot.  
However, I did have to use the extra eyelets to get a little better lockdown around the heel and ankle. I thought the upper was very comfortable, it has the right amount of plush without overdoing it. 
The tongue and ankle are nicely padded but don't get in the way. 
Although this is a super comfortable upper, it isn't the most breathable and especially having the black color on summer runs can lead to a toasty foot all right. 
Midsole 
Let's move down to the midsole.  
So, with the 34 millimeters (about 1.34 in) of nitrogen-infused rubberized EVA, it gives you a whole lot of cushions underfoot. 
I found the new midsole material to be much better than DNA flash on higher stack shoes and almost wish they used this in the Hyperion elite too. 
 So, although the shoe is very cushioned it still is responsive enough to feel good at a variety of paces and provide just a little bit of ground feel. 
The energetic midsole doesn't have the aggressive heel-to-toe rocker that a lot of high-cushioned shoes have.  
However, the ride is still super smooth heel-toe transitions were a breeze and didn't feel clunky at all.  
At 100 miles the midsole is still feeling lively. However, it is showing some wear that makes me hesitant to say it would last upwards of 400 miles. 
---
---
Outsole 
Let's talk about the outsole, the blown rubber outsole has pretty much full coverage and luckily, it's durable rubber too. 
 I honestly see very little signs of wear despite the mileage they have on them so this shoe is a road shoe and can handle dirt roads and some gravel, but the grip isn't anything crazy and when I took it on a technical trail run, I found myself sliding around on switchbacks and down steep descents.  
So, unfortunately having full coverage rubber that's going to add some weight and I'm in size nine the shoe is 10.1 ounces (about 286.33 g) which is heavy for today's standards though I will say it didn't feel heavy on the foot.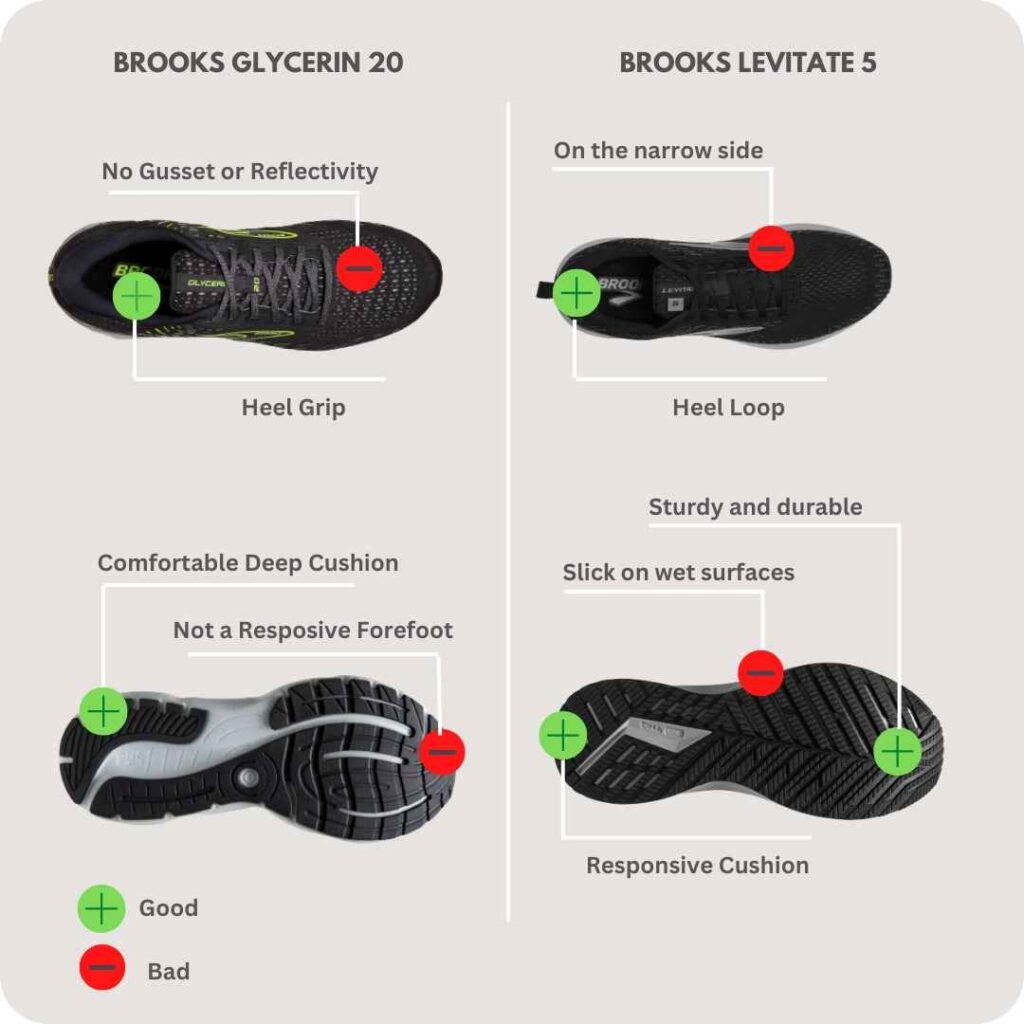 ---
---
Let's look at the Brooks Levitate 5 
This shoe uses DNA and foam which means it's super responsive and springy in a sense. 
So, this shoe is going to be great for everyone who's going to go on a temple run or a fast-paced run. 
Not a track workout but close to it so in high energy high-speed fast-paced moving run, this is the regular upper, but you can also, get that in the knit upper which they call stealth these days which basically means that it's a fly knit upper.  
Almost like a sock-like feel. You're going to have that linguini-style shoelace that really holds the shoe in well with a thicker style of lace. This looks to be a yarn mix. 
 This shoe from the four to the five you're going to see a different upper a little more breathable holds your foot a little bit better in place and they took a little bit of weight off which you're seeing is a huge trend now for a bunch of shoe companies. 
You May Also Like – Brooks Launch 10 vs Levitate 6: Unveiling the Ultimate Running Shoe Showdown 
I personally took this shoe out about two days ago; I was using it for a tempo run so it wasn't like a full track workout, but it was a faster-paced run compared to a slower long-distance run. 
I personally really loved the feeling it was responsive I'm somebody who likes brooks ghost too. So, this was a nice middle ground between like a ghost and glycerin because it's that like I said DNA amp over DNA aloft which makes it much springier. 
 I'm a heel striker so I did also notice the transition from heel to toe was very smooth, which is nice because sometimes they feel choppy with that higher drop, but this is an eight-millimeter drop. 
 So, it's a super smooth transition also with that arrow pattern at the bottom you could really feel it. 
Final Thoughts Should You Buy? 
If you're looking for a versatile workhorse that has enough energetic foam to also handle long runs, then I think that the Glycerin 20 is a good option.  
Compared to the Levitate 5, the Glycerin 20 is making me a fan of this new midsole material.  
It honestly kind of reminds me a little bit of like a little firmer light strike pro foam. So, what are your thoughts on Glycerin 20 and Levitate 5? 
Related Post – Brooks Revel 6 OR Levitate 6: Which Is Best For You?