Brooks Glycerin 17 VS Saucony Triumph ISO 5 which one is best for you?
In this article, we are going to compare the brooks Glycerin 17 and Saucony triumph ISO 5.
So if you're looking for a comparison of these two popular shoes, you've come to the right place.
Check out our detailed rundown…
| | Brooks Glycerin 17 | Saucony Triumph ISO 5 |
| --- | --- | --- |
| Terrain | Road | Road |
| Arch support | Neutral | Neutral |
| Weight | Men: 300g | Women 261g | Men: 323g | Women 283g |
| Pronation | Neutral Pronation | Neutral Pronation |
| Arch Type | High arch | High Arch |
| Heel height | Men: 32mm | Women: 32mm | Men: 28mm | Women: 28mm |
| Forefoot height | Men: 22mm | Women: 22mm | Men: 20mm | Women: 20mm |
| Heel- to-Toe Drop | Men: 10mm | Women: 10mm | Men: 8mm | Women: 8mm |
| Uses | Daily running, long distance, marathon, jogging, walking | Daily running, long distance, marathon, jogging, walking |
| Features | Full length DNA loft | EVARUN foam, ISOFIT |
| Strike Pattern | Heel Strike | Midfoot strike |
| | Check Price on Amazon | Check Price on Amazon |
Differences between Saucony triumph iso 5 and brooks glycerin 17
The main differences between Saucony triumph and brooks glycerin 17 are,
  The Glycerin 17 is slightly lightweight than the Saucony's Triumph ISO 5.
 The Saucony's Triumph ISO 5 comes with a high stack height of 32mm at the heel and 24mm at the forefoot(8mm heel-to-toe drop)–In this case, Brooks glycerin 17 has 10mm-drop (32mm heel, 22mm forefoot) sole unit.
  Both of them are top-of-the-line neutral trainers.
 If you are a flat-footed person the Triumph ISO 5 is good for you because the glycerin is much snugger than the Triumph, so much so that runners with a wider foot might have to size up, as the Glycerin is also a little on the short side.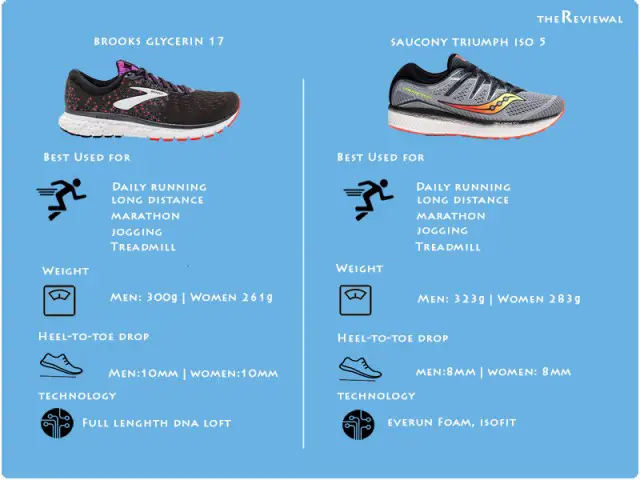 It's not a surprice, then, that the Saucony triumph ISO 5 makes high mileage runs extremely comfortable.  Compared to the previous model this comes with a premium upper. The upper has enough stretch to accommodate from our wider foot — However, still supportive enough to keep your foot in place.
The Saucony Triumph ISO 5 is specifically designed for long-distance runs, it provides better heel cushioning, and comfortable fit.
Breathability wise it was about average our feet never really got hot but I think the upper of some other Saucony models are a bit better.
The main drawback is its outsole traction – some users are disappointed because of the limited traction it offers. However, the ISO 5 delivered a significant improvement over the previous version.
They are true to size, if you buy a wider size, don't go a half size up or your foot will slip out at the heel if you go any faster than a jogging pace.
This shoe is basically designed for supinators, its reflective elements on the heel helpful for runners who suffer from underpronation (supination).
The traction improves on the wet areas compared to the previous version but the flexibility is just a bit less than last year's model, but I'll take the durability benefits over the flexibility in this case.
The Glycerin is basically designed to wear all the time even when you're not running. And it is also known as Brooks's plushest trainer.
The shoemaker has continued to churn out new technologies in recent years as well. Especially from its Uber-soft DNA Loft midsole—a blend of air, rubber, and foam—to its sleek engineered mesh upper. 
The cushioning system of the Brooks Glycerin 17 was considered to be efficient at providing comfort throughout the running session — it has an OrthoLite sock liner, which ensures long-lasting softness.
The Glycerin 17 is designed for neutral runners and those who desire versatile footwear for speed training, hiking, and gym exercises. So it is quite stiff, lighter runners may desire a more flexible, lightweight alternative, such as the Ghost, as the shoe's weight may cause your miles to toil.
The Brooks Uber-soft DNA Loft technology, coupled with breathable mesh, will keep your feet cool and comfortable, on the hottest of runs.
The outsole remains the same as the previous version. However, many of the runners who have tried the Glycerin 17 say that the ground control and steadiness were easily achieved because the rubber pad was reliably traction-ready.
Which shoes are best for walking Brooks or Saucony?
The Glycerin and Triumph—both of them are running shoes, but needless to say, these are also good for walking.  
In the case of Brooks Glycerin, it has plenty of cushioning for the walker who has a neutral gait– also these are lightweight and comfortable. Many people love the way that feels, you can maintain a comfortable stride while wearing them.
The Saucony's Triumph is also good for long walks. Many wearers compliment that the wider toe box, which is appreciated by those who have foot problems like flat feet and bunions.
Which shoe is best for plantar fasciitis brooks or saucony?
Plantar fasciitis is one of the most common causes of heel pain. There aren't plantar fasciitis-specific running shoes. However, podiatrists recommend choosing footwear with good arch support, supportive cushioning, shock-absorbing soles, and a deep heel cup to keep plantar fasciitis symptoms at bay.
If you'd like a well-priced, high-quality, and supportive shoe for plantar fasciitis, look no further than the Brooks Glycerin 17 running shoe. Its cushioning system helps dissipate the impact on your plantar fascia and it is also good for Achilles tendonitis. 
If you want to learn more about how shoes affect Achilles tendonitis checkout these article
The arch support is considered as 'neutral'. Many people find that both of them are good for plantar fasciitis, but I personally recommended the Brooks Glycerin 17.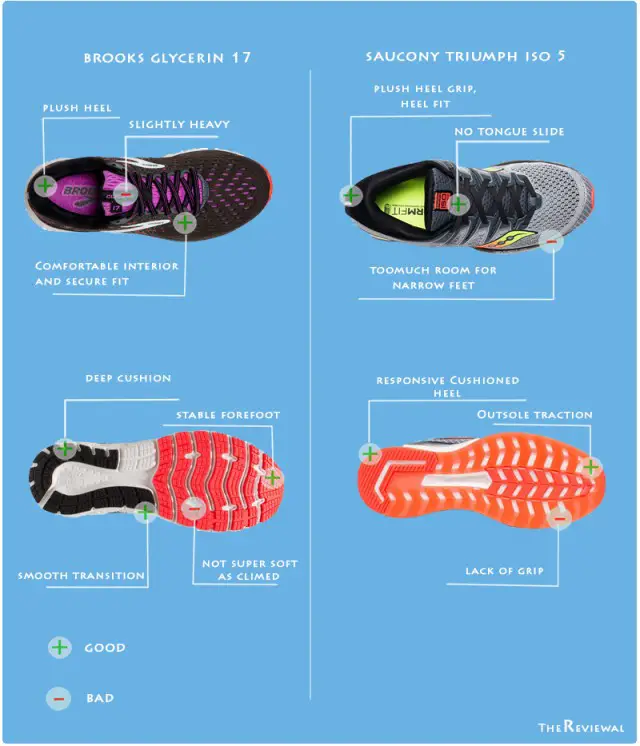 What shoe is comparable to Brooks Glycerin and Saucony triumph iso 5?
Shoes similar to Brooks Glycerin 17 — Shoes that have different upper fits– Adidas duo SolarBoost and Solar Glide. The Solarboost fits narrow while the Glide has more room than the Glycerin.
Shoes similar to Saucony Triumph ISO 5 — The Nike Epic React 2, New Balance 1080V9, Asics Nimbus 21 does offer many features that are similar to those of the Saucony's Triumph ISO 5.
How long do Saucony & Brooks Glycerin last?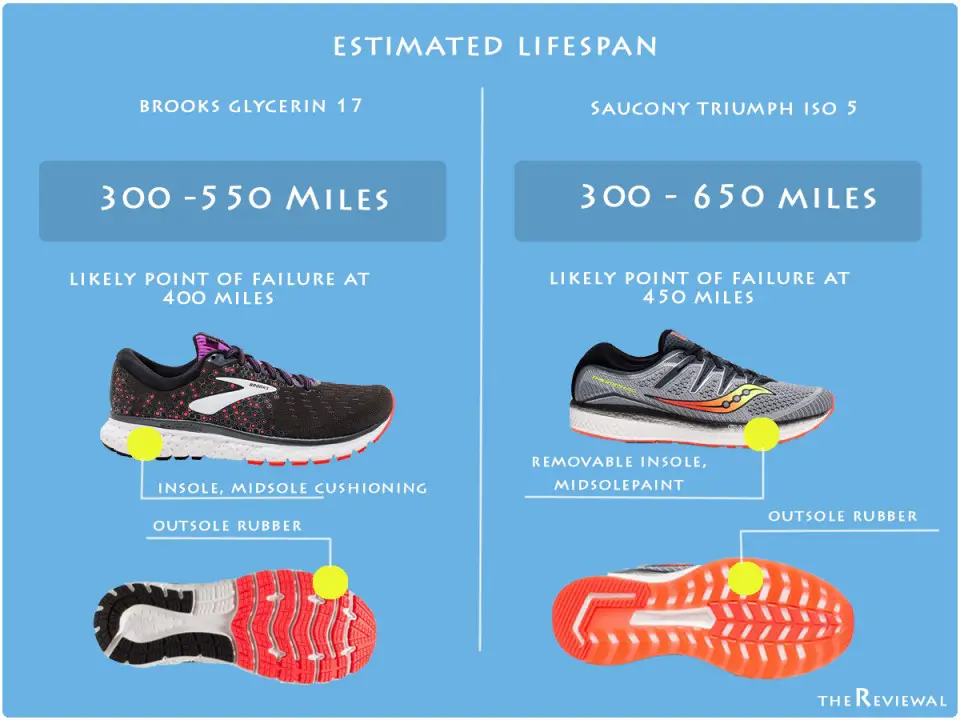 If you are looking into a higher cushioning neutral shoe, the Glycerin 17 is a better option for you.
But what if you need a bit more stability, well the Saucony Triumph iso 5 is a stability option for those who like a more secure ride.
Regardless I tried both and I thought that the Saucony Triumph is just about the same shoe as the glycerine.
And now it's time to hear what you have to say.
So, Which one is your favourite?
Are you Glycerin 17 all the way?
Or do you prefer to use Saucony's Triumph ISO 5?
Let me know by leaving a comment below right now.
Thereviewal.com is a participant in the Amazon Services LLC Associates Program, and we get a commission on purchases made through our links.