Asics Gel Kayano 28 VS Gel Nimbus 23 Which One is Good for You?
In this post, I'm going to put Asics Gel Kayano 28 and Gel Nimbus 23 to the test.
So if you're looking for a DEEP comparison of these two popular shoes, you've come to the right place.
Because in today's post I'm going to compare Asics gel Kayano vs gel Nimbus in terms of:
Materials & Aesthetic
Technology
Support
Comfort
Durability
Unique features
And lots more
Check out our detailed rundown…
| | Asics Gel Kayano 28 | Asics Gel Nimbus 23 |
| --- | --- | --- |
| Terrain | Road | Road, Treadmill |
| Arch support | Stability | Neutral |
| Weight | Men: 305g | Women 271g | Men: 319g | Women 260g |
| Pronation | Overpronation | Neutral Pronation |
| Arch Type | Medium arch | High Arch |
| Heel height | Men: 23mm | Women: 25mm | Men: 23mm | Women: 25mm |
| Forefoot height | Men: 13mm | Women: 12mm | Men: 13mm | Women: 12mm |
| Heel- to-Toe Drop | Men: 10mm | Women: 13mm | Men: 10mm | Women: 13mm |
| Uses | Daily running, long distance, marathon, jogging, walking | Daily running, long distance, marathon, jogging, walking |
| Features | AHAR, Flyte Foam, Gel, Impact guidance system technology | AHAR, Flyte Foam, Gel |
| Strike Pattern | Heel Strike | Heel Strike |
| | Check Price on Amazon | Check Price on Amazon |
What are the differences between the Asics Nimbus and Kayano?
Design-wise both of them are pretty similar, but they are still miles apart.
The major difference is the Nimbus 23 is a neutral trainer while the Kayano 28 is a stability shoe (for overpronators).
Other key differences are,
The Kayano 28 and nimbus 23– Both shoes have 10mm heel to toe drop
The Gel-Nimbus 23 is slightly lightweight than the Gel Kayano 28
Compared to Asics gel Kayano 28, the nimbus 23 has more cushioning and a wide toe box.
The nimbus 23 is ideal for a high arched foot and the Kayano 28 is for a medium arched foot.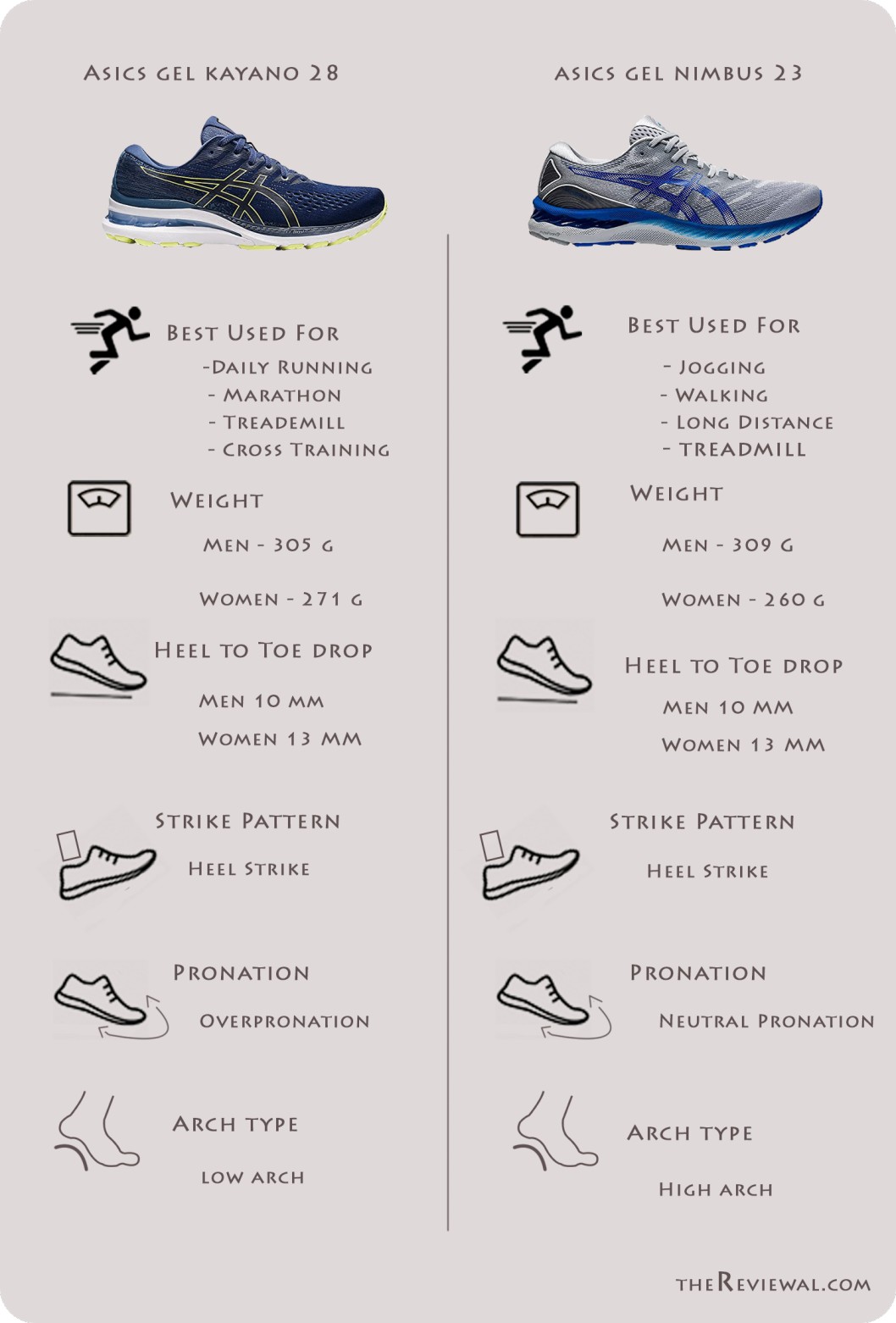 Comparing the Materials & Aesthetic- which is better Nimbus or Kayano?
Starting with the upper – the kayano 28 and nimbus 23— both of them have a two-layer (Jacquard mesh and FluidFit mesh) engineered-mesh construction, and they work together to give you an adaptable and comfortable fit.
The gel Kayano 28 has a tighter, non-stretchy mesh surrounding the arch. So they offer a snug, secure fit, although the toe box still stretches to accommodate wide feet.
In the case of nimbus 23, they might not be the good shoe for wide-flat footed runners due to space limitations at the forefoot. However, testers with narrower feet found the shoe to be comfortable throughout.
Both Kayano 28 and Nimbus 23 are well ventilated — a lot of users noted that the mesh upper ventilated efficiently during humid summer runs.
The previous version of nimbus is also done a great job for ventilation. if you want to know about the previous Nimbus, check out the comparison review for the nimbus 22 vs cumulus 22.
Comparing the Ride Quality (things to know)
The Asics is one of the highest-rated shoe brands. And for good reason — With a sleek look, durable construction, and thoughtful design features, this lightweight shoe does everything you ask of it—and is insanely affordable compared to some similar models.
The asics gel kayano 28 is a high-end stability shoe, and it's great for preventing excessive pronation (overpronation). 
The kayano has a DYNAMIC DUOMAX support system — it is basically a firmer foam than the flight foam.
It's on the inside of the shoe, and that's to help prevent the inward roll. So this is why you want to wear the shoe if you are an overpronator.
And the gel nimbus 23 is also plush and stable – it's mainly designed for neutral runners to supinator's. It's lightest weight proprietary FlyteFoam midsole and GEL cushioning in the forefoot gives you a smooth and stable ride.
Which Asics has the best arch support? Explained
The GEL Nimbus 23 have more arch support than the GEL Kayano 28.
For some other brands shoes probably not supporting your feet that much. You'll need to add arch support insoles that match the contours of your feet to your footwear.
But in the case of the Nimbus 23, features incredible arch support, and stability that making them suitable running shoes.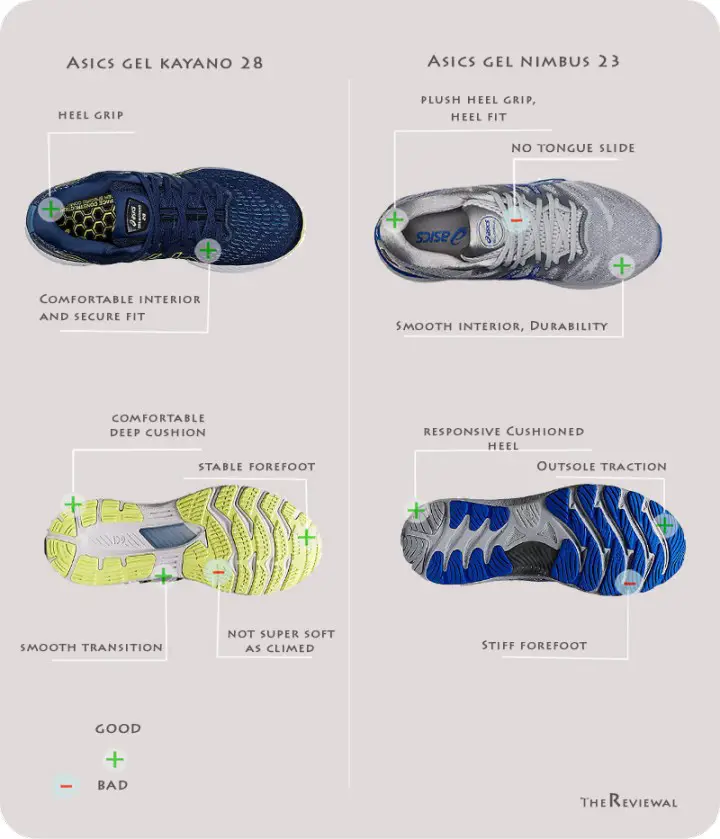 Which Asics are best for walking kayano or nimbus?
There is no doubt, the best way to choose a good walking shoe is to think about the comfort and protection of your feet. As per verywellfit a walking shoe must be flexible in the forefoot, or your foot will fight it as it rolls through each step.
Asics is basically a running shoe brand, however they make walking shoes like asics gel-contend 5 SL.
 But in terms of design, walking shoes tend to be muted. If you are looking for bright, sleek design and colorful look, then go with running shoes.
Both kayano 28 and nimbus 23 are best for walking, but I personally prefer the nimbus 23– because of its wide toe box, adequate cushioning, and comfortable fit.
Which Asics shoe is best for plantar fasciitis kayano or nimbus?
Both of the shoes provide nice cushioning, great shock absorption and adequate arch support.
However, compared to nimbus 23– the kayano 28 have a high favorability score from both runners and walkers alike for reducing plantar fasciitis.
Thanks to the kayano's impact guidance system technology — its adequate arch support that prevents overpronation and correctly align the foot while you walk or run. So the kayano is ideal for common foot conditions like Achilles tendonitis, plantar fasciitis, and bunions.
Which is the most comfortable Asics shoe kayano or nimbus?
The asics nimbus 23 is a comfortable and supportive running shoe built for long distances and training runs.
With the engineered mesh upper for lightweight breathability and comfort. Also, the improved FlyteFoam midsole and GEL cushioning technology offers more comfortable ride miles after miles.
The 28th edition of the kayano offers some significant changes compared to the previous edition, means that these shoe feels softer and more responsive in its shock-absorption than its forerunner. Like Nimbus, the kayano is the most comfortable shoes for the longer and more relaxed runs.
What shoe is comparable to Asics?
How long do Asics shoes last?
Basically, the Asics shoes are exceptionally durable.
On average a decent running shoe lasts about 300 to 500 miles.
Under normal usage conditions, the nimbus 23 will last at least 400 to 450 miles and the Kayano 28 will last about 350 to 400 miles.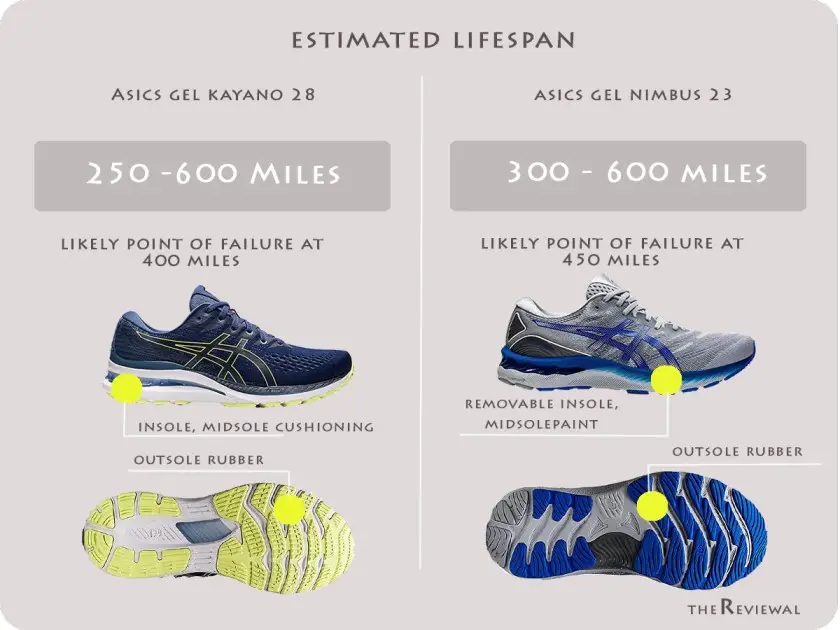 Now, probably you have a question in your mind "which is better Kayano or Nimbus?"
But really it depends on what type of runner you are, if you're a neutral runner, at least check out the nimbus 23. If you are somebody that overpronate, definitely checkout the kayano 28.
Of course the kayano is a little bit expensive but your feet and legs will thanks you if you are looking for stability and cushioning.
And now it's time to hear what you have to say.
So, which shoe would you choose for your next run?
Are you kayano 28 all the way?
Or do you prefer to use nimbus 23?
Let me know by leaving a comment below right now.
Thereviewal.com is a participant in the Amazon Services LLC Associates Program, and we get a commission on purchases made through our links.