Brooks Ghost 13 vs Brooks Adrenaline GTS 21 which one is best for you?
For those who don't know, Brooks is one of the top-selling shoe brands in the specialty running shoe market.
If you are confused about choosing the right Brooks pair. Check it out, it might save you a lot of trouble.
In this article, we are going to compare the brooks ghost 13 and adrenaline gts 21.
Without further ado let's get started…
| | Brooks Ghost 13 | Brooks Adrenaline GTS 21 |
| --- | --- | --- |
| Terrain | Road, Treadmill | Road, Treadmill |
| Arch support | Neutral | Motion Control |
| Weight | Men: 286g | Women 250g | Men: 295g | Women 258g |
| Pronation | Neutral Pronation | Severe Pronation |
| Arch Type | High Arch | Low Arch |
| Heel height | 32 mm | 30 mm |
| Forefoot height | 20 mm | 18 mm |
| Heel- to-Toe Drop | 12 mm | 12 mm |
| Uses | Cross-training, Daily running, long distance, marathon, jogging | Daily running, long distance, marathon, jogging |
| Features | Segmented Crash Pad more geared towards shock absorption | Guiderails Holistic Support system which is more focused on knee protection. |
| Strike Pattern | Heel Strike | Heel Strike |
| | check pricecheck price | check priceCheck Price |
What is the difference between Brooks Ghost and adrenaline?
For some runners, their movements on the run are in sync — called neutral runners. Those who deviate from that baseline are called support runners.
The main difference between the ghost and the adrenaline is is the type of shoe pronation.
The ghost series is designed for neutral runners and the adrenaline is for overpronators (support runners).
The ghost 13 delivers an overall softer ride with a balanced soft cushioning — at the same time, the adrenaline 21 offers a high energize cushioning, making you feel like you can run farther and faster.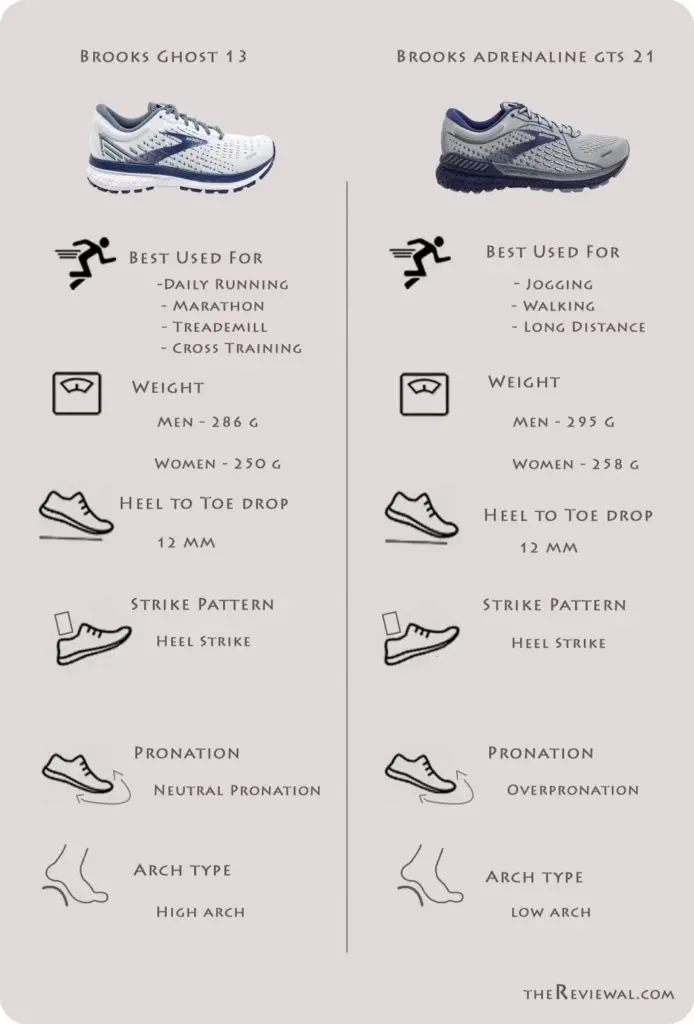 Which Brooks shoes have the best arch support? Ghost or Adrenaline
Compared to adrenaline the ghost 13 provides more arch support. It's the shoe that experts recommend to high arched runners because of its comfort and support. And also a lot of users satisfied with its soft cushioning and comfortable fit.
The adrenaline gts 21 has a spacious fit and wider platform, which good for flat feet. If you are a flat-footed person and looking for a supportive running shoe for flat feet these brooks adrenaline gts 21 is worth a try.
Are Brooks running shoes good for walking? Explained
A running shoe is totally different from a walking shoe — flexibility, cushion, support and all the characteristics are different.
Runners need more cushioning in the heel and forefoot than walkers, which is why most of the brooks running shoes uses advanced cushioning technologies like DNA LOFT and BioMoGo DNA.
Runners usually don't use a walking shoe for running. However, a walker can use a running shoe, experts say fitness walkers need a flexible, lightweight, and well cushioned shoe as they strike with the heel and roll through each step — and so brooks running shoes that work well for walking.
Brooks ghost 13 sole & upper unit
In the upper we got a new sleek design while the previous version's ghost wasn't that bad — this one to me just looks better.
And the 13 version has an engineered mesh throughout the upper that provides a good standard fit.
Performance and functionality in equal parts, these brooks ghost 13 are postulated as the perfect option to successfully complete the most demanding daily workouts.
Thanks to an excellent and reactive cushioning, thanks to the innovative EVA midsole, the neutral runner will be able to enjoy a lightness and permanent softness in the race along with a best-in-class energy return.
The outsole uses blown rubber throughout the shoe, and the rubber around the heel is a bit stiffer to provide a bit more durability.
The brooks ghost series for the past few models has been as durable as they come. So we expected this model to be able to hold you down for the long jogs.
Traction wise its good, if you are on road like surfaces you will be okay.
Now if you decide to go climb a mountain on a rainy day, well you might not make it — so pretty much don't climb wet mountains.
Are brooks ghost 13 good for plantar fasciitis? Explained
If you'd like a high-quality, and supportive shoe for plantar fasciitis, look no further than the brooks ghost 13 running shoe.
The brooks DNA LOFT and BioMoGo DNA cushioning system help dissipate the impact on your plantar fascia. And also it comes with a 12 mm heel-to-toe drop which is good for people who suffer from plantar fasciitis.
Are brooks ghost 13 good for flat feet?
The ghost 13 is REALLY good for people who have flat feet. Because it's a high arch shoe.
If your feet are flat but flexible, the brooks ghost 13 may be the way to go.
With a combination of comfort, fit, and safety features, they take care of your feet. So if you are a flat-footed person — the ghost 13 was worth a try.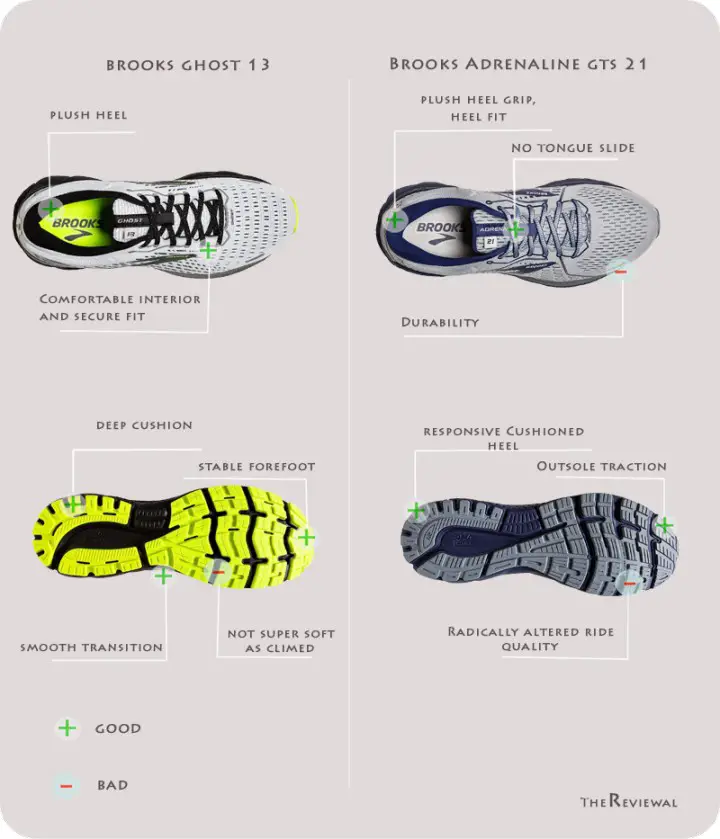 Brooks adrenaline gts 21 sole & upper unit
The upper uses the engineered mesh that has a bit of a stretch to it — and it is soft to the touch.
The heel and tongue are slightly more on the plush side and keeps a smooth stepping comfort that is probably one of the best in any shoe.
It's the shoe that running experts recommend to new runners because of its versatility, and soft cushioning.
The adrenaline delivers again with an almost spooky consistency, with some notable updates to its midsole.
A universal running shoe for all types of runners and optimized for all types of distances, from the fastest series to the longest shooting.
This adrenaline 21 includes the DNA LOFT cushioning in combination with the BioMoGo DNA technology in the midsole to ensure a smoother and more reactive footprint.
They also use a blown rubber with a segmented crash pad for a smoother transition. But, I will say I'm not sure if it was helping enough. The transition wasn't bad but the overall shoe just had that clunkier feel. 
The shoe itself reminded me of the brooks ghost. It is comfortable by most standards and will get you through most runs without any issue.
How long does a pair of Brooks running shoes last?
On average, the brooks ghost 13 last about 300 to 600 miles and the adrenaline gts 21 last about 275 t0 500 miles. However, it totally depends upon you. Careless usage will damage your shoes faster.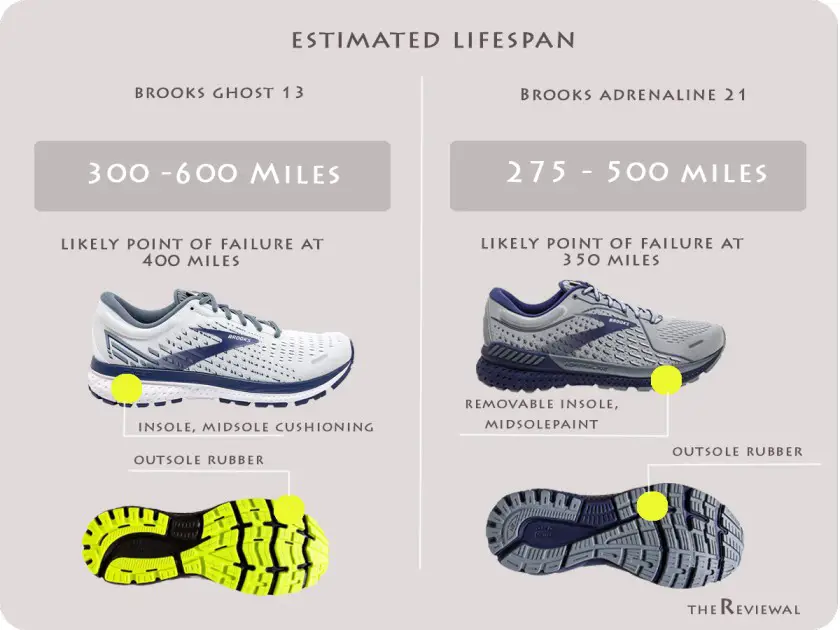 Are brooks adrenaline gts 21 good for flat feet?
Experts say people with flat feet should wear footwear that is more structured, meaning they have proper stability and cushioning — the adrenaline gts 21 have good mid-foot stability and a wide toe box. And also gives adequate arch support and heel cushion, which helps flat feet.
Compared to ghost, a lot of users with flat feet satisfied with adrenaline. If you have wide flat foot, the brooks adrenaline is the shoe that you are looking for.
Are brooks adrenaline gts 21 good for plantar fasciitis?
If you have plantar fasciitis and/or heel spur, footwear with good arch support, plush cushioning, shock absorption, and proper fit are what you want. 
And also both of these shoes have 12 mm heel to toe drop which is great for people who have Achilles tendonitis.
If you have been looking for the perfect fitting and extremely comfortable shoes, you should try out adrenaline gts 21 shoes for plantar fasciitis.
My overall thoughts is that the adrenaline gts 21 is exactly what it says, it does nothing fancy and nothing mind-blowing.
 Now this shoe is not meant for everyone, it's meant for those who like a bit more guidance in their runs.
 As far as brooks running shoes I'm probably gonna stick to the brooks ghost 13. But if that shoe isn't enough for you, I feel confident in saying that the adrenaline gts 21 will be.  
I hope that this article helps you to find the right running shoe for your feet.
Now I'd like to hear from you.
What is your favourite shoe and why?
Or maybe you have a question about something that you read.
Either way, go ahead and leave a comment below right now.
Thereviewal.com is a participant in the Amazon Services LLC Associates Program, and we get a commission on purchases made through our links.