In this article, we're going to compare the all-new Brooks Adrenaline GTS 22 and the Brooks Glycerin GTS 20.  
Without further ado, Let's Get Started. 
Technical Details
Brooks Glycerin GTS 20
Brooks Adrenaline GTS 22
Terrain
Road
Road
Arch Support
Neutral
Stability
Weight
286g
281g
Pronation
Underpronation
Supination
Neutral Pronation
Underpronation
Supination
Neutral Pronation
Arch Type
High Arch
High Arch
Forefoot Height
20mm
24mm
Heel to Toe Drop
10mm
12mm
Uses
Daily Run
Long Distance
Workout
Daily Run
Long Distance
Workout
Material
Mesh Upper
Mesh Upper
Strike Pattern
Heel Strike
Heel Strike
Toe Box
Medium
Medium
Women's – Check the Price
Men's – Check the Price
Women's – Check the price
Men's – Check the Price
Key Differences Between Brooks Adrenaline GTS 22 VS Glycerin GTS 20 
The major difference is the Glycerin GTS 20 has a DNA loft v3 midsole while the Adrenaline GTS 22 has a 100 percent DNA loft Midsole as opposed to the combination of DNA loft and bio-Mogo DNA in the Glycerin 20.    
Other key differences are,    
The Heel-to-Toe Drop of the Glycerin 20 is 10mm and the Adrenaline GTS 22 has a 12 mm drop.   
Both have a wider toe box.   
The Brooks Adrenaline GTS 22 is slightly more lightweight than the Glycerin GTS 20.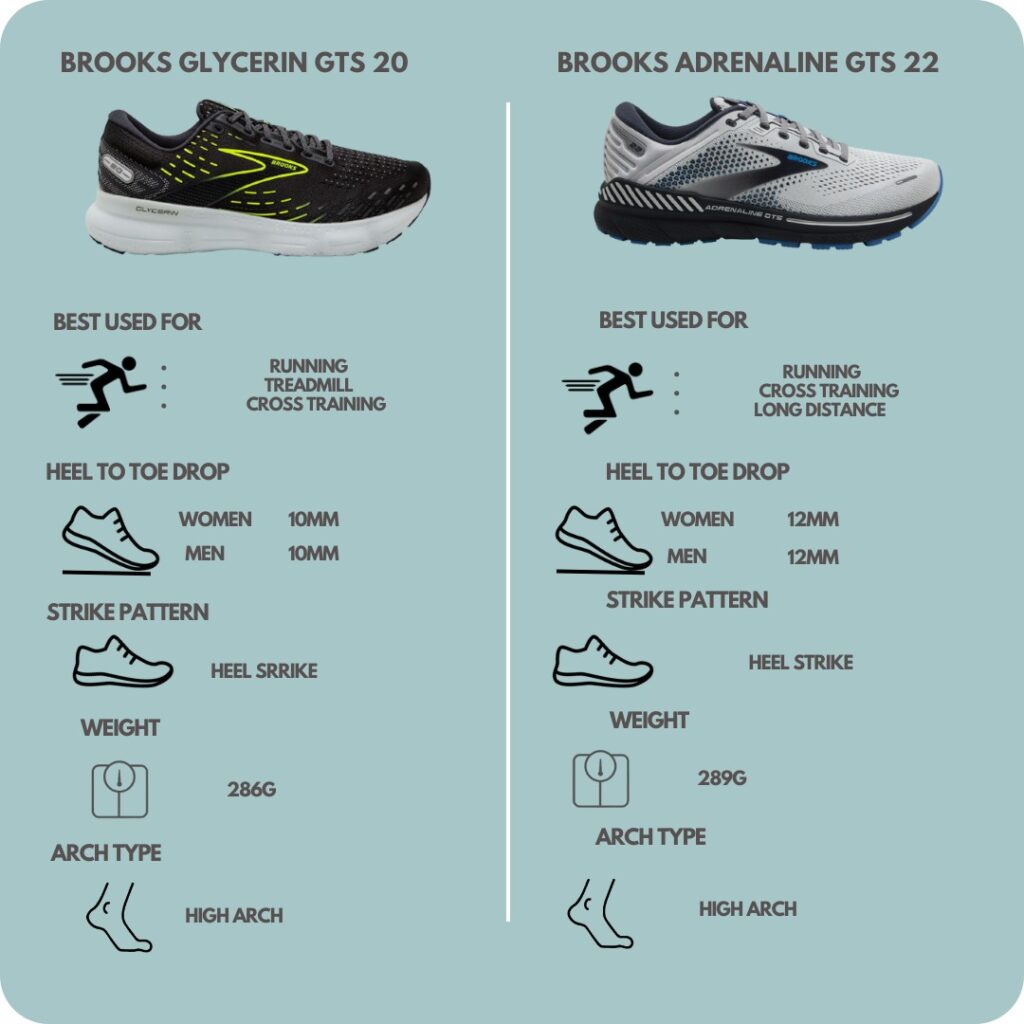 The brook's adrenaline is back and better than ever with a redesigned midsole and an upgraded upper.  
The latest version of the brook's adrenaline features a 100 percent DNA loft midsole, which creates a softer and smoother ride than previous versions.  
And brook's reliable guide rail support system keeps you moving efficiently for miles on end fleet feet.   
Features
First, let's go over some tech specs – so, the brooks adrenaline GTS 22 weighs in at 9.1 ounces (about 257.98 g) for women and 10.2 ounces (about 289.17 g) for men's this shoe has a 12-millimeter drop and it's classified as a stability shoe this shoe is perfect for daily training and it's best to be used on the road or the track.  
The brook's adrenaline has a reputation for being a comfortable reliable support shoe the latest version of the adrenaline takes things a step further with a completely redesigned midsole, the midsole is made with 100 percent DNA loft cushioning which is brook's softest midsole cushioning ever.  
Previous versions of the brook's adrenaline featured a mix of DNA loft and bio-Mogo DNA midsole. DNA loft is made up of EVA foam rubber and air ensuring a soft lightweight but durable ride although the midsole feels slightly softer than previous versions of the adrenaline. 
 It still offers the same reliable supportive fit.  
Brook's signature guide rail technology which is two firm pieces of foam along the outer sides of your heel prevents excessive inward or outward rolling to help reduce the effects of overpronation.  
Brook's segmented crash pad, a system of shock absorbers placed underneath the forefoot, offers maximum protection while helping you rebound off the ground.  
---
---
Upper
The brooks adrenaline GTS 22 features a lightweight breathable mesh upper that holds you in and provides a little bit of extra support.  
The upper is created with brooks' 3d fit print technology which uses screen printing to apply an engineered structure to the shoe's upper, this process maintains the shoe's integrity while allowing for a flexible lightweight feel.  
Reflective strips on both sides of the toe box add increased visibility for early morning or late-night runs and a structured heel cup holds you in. 
Midsole 
The biggest difference runners will notice in the brook's adrenaline GTS 22 compared to the 21 is the lighter softer midsole and this again is from the 100 percent DNA loft midsole as opposed to the combination of DNA loft and bio-Mogo DNA in the previous version.  
The latest version of the brook's adrenaline also uses a more refined print process for the upper allowing for a little bit more of a flexible feel while the latest version of the brook's adrenaline remains true to its roots as a comfortable stability shoe – a redesigned midsole and a refined upper make it a little bit more of a comfortable experience.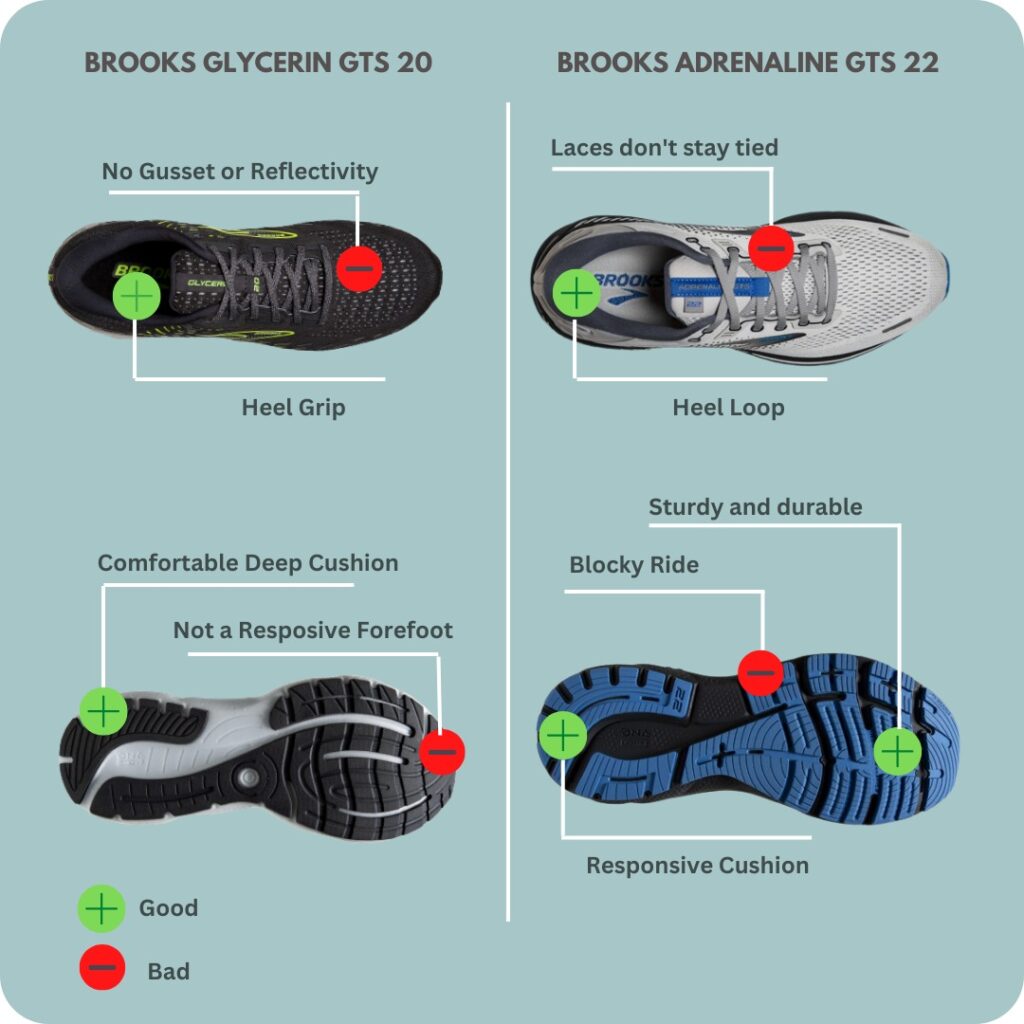 Let's Talk about Glycerin GTS 20 
Upper 
We have got a new upper design and an engineered mesh; it's got some minor changes over the last version.  
We've got some printed overlays that are just going to be a little bit tweaked to help fine-tune that fit but you're still going to have that luxurious comfort.  
Plenty of foam in the heel on the tongue. 
 When you slip this shoe on your foot, you're just going to feel a lot of comforts and it's going to feel like that glycerin experience you've come to expect year after year.  
Overall, the brooks glycerin GTS 20 is probably going to be the most exciting update to this series.  
In a while DNA loft v3 really adds a much better on-foot experience it feels livelier it feels softer it just feels like this shoe. 
New Features 
The new brooks glycerin GTS 20 is back, it's been completely revamped from top to bottom with a lot of unique features that are going to be seen in this new version, which is really going to elevate the series. 
 But of course, it is going to still live side by side that standard glycerin 20, but that GTS designation is going to give that added stability that is really going to enhance uh pronation features for moderate to maximum overpronators.  
First, the thing we got to look at with this shoe is, of course, going to be that new midsole compound we've got DNA loft v3 we saw in the glycerin 20.  
Now we're going to see it in the GTS version as well that loft v3 is going to be nitrogen-infused, it's very soft, it's very responsive, and it's very light.  
It has a similar feel to the DNA flash, but I do feel like it is just a little bit more fine-tuned for your daily training, maybe a little bit softer.  
I think it really works well as you're just putting in the miles.  
Now with the GTS version as opposed to the standard version you're going to get those a little bit higher sidewalls those guide rail systems that are really going to help guide your foot naturally. 
 As a neutral runner I've still been able to use this shoe, but it is going to be geared towards more moderate to maximum overpronators people who can need just that little bit of added stability in their daily training lineup.
Outsole 
Moving on down to the outsole, very standard with the glycerin we're going to have plenty of rubber from the forefoot to heal and have all the durability and traction you need to put in the miles. 
 There are going to be some small changes in flex grooves but overall, a very similar design to the past version. 
Average Lifespan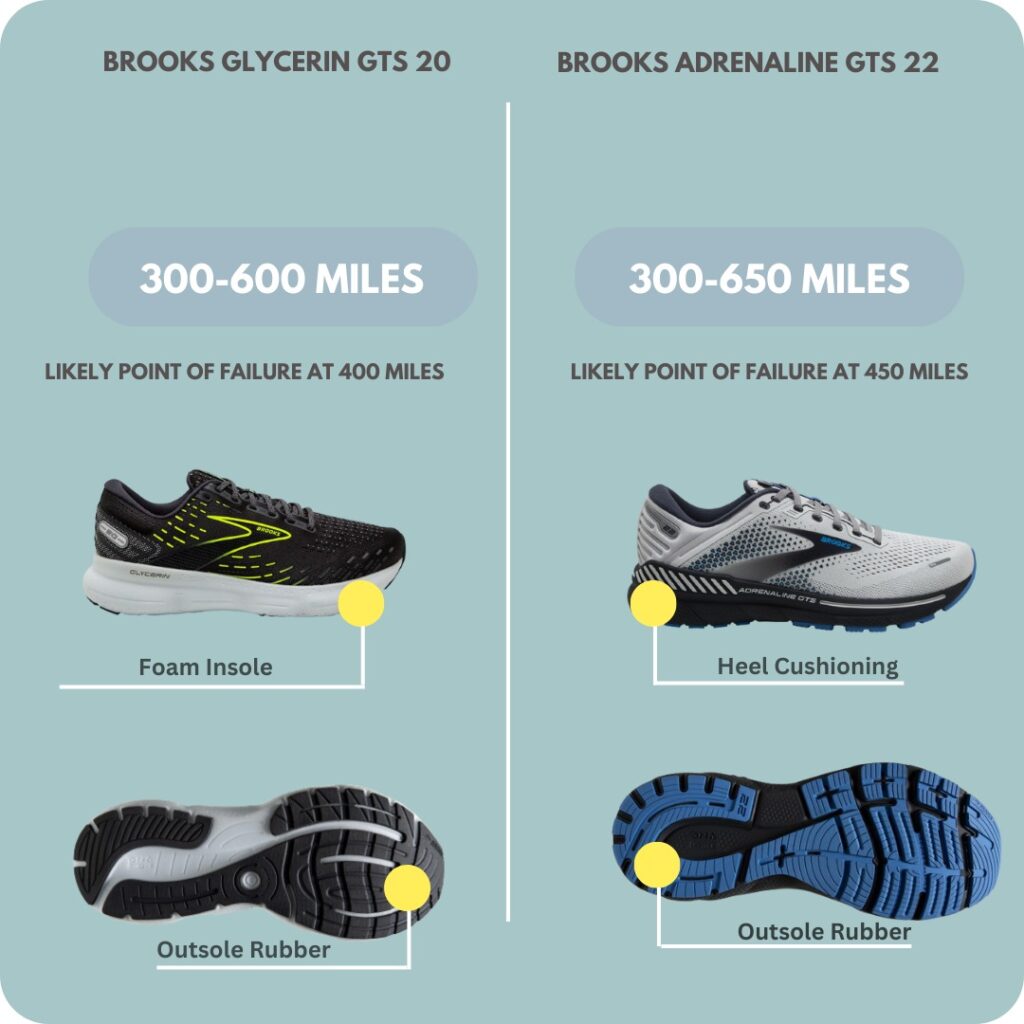 Final Thoughts- Should you BUY? 
Compared to the glycerin GTS 20, I like the Adrenaline GTS 22 more.   
Overall, the brooks adrenaline GTS 22 is a great everyday training shoe for runners and walkers seeking stability and support.  
They provide generous impact absorption without feeling too heavy or clunky.  
What are your thoughts on Glycerin GTS 20 and Adrenaline GTS 22?