In this post, I'm going to put Brooks Ghost 14 and Levitate 5 to the test. 
So, if you're looking for a DEEP comparison of these two popular shoes, you've come to the right place. 
Because in today's post I'm going to compare Brooks Ghost 14 vs Brooks Levitate 5 in terms of: 
Materials & Aesthetic 
Technology 
Support 
Comfort 
Durability 
Unique features 
And lots more 
Check out our detailed Article… 
Technical Details
Brooks Ghost 14
Brooks Levitate 5
Terrain
Road
Road
Arch Support
Neutral
Neutral
Weight
280g
311g
Pronation
Underpronation
Supination
Neutral Pronation
Underpronation
Supination
Neutral Pronation
Arch Type
High Arch
High Arch
Forefoot Height
24mm
21mm
Heel to Toe Drop
12mm
8mm
Uses
Daily Run
Long Distance
Workout
Workout
Speed Run
Treadmill
Material
Mesh Upper
Knit Upper
Strike Pattern
Heel Strike
Forefoot/Midfoot strike
Toe Box
Wide
Wide
Check the price for men

Check the price for women
Check the Price for men

Check the price for women
You May Also like – Brooks Revel 6 vs Levitate 6: Choosing the Perfect Running Shoe 
Key Differences between Brooks Ghost and Levitate 
Design-wise both of them are pretty similar, but they are still miles apart. 
The major difference is the Ghost 14 has a mesh upper while the Levitate 5 has a knit upper  
Other key differences are, 
Heel to Toe Drop of the ghost 14 is 12mm and the Levitate 5 has an 8mm drop.  
Both of them have a wider toe box. 
The brooks ghost 14 is slightly more lightweight than Levitate 5 
You May Also Like – Brooks Revel 6 vs Ghost 15:Which Is Best for You? A Comprehensive Comparison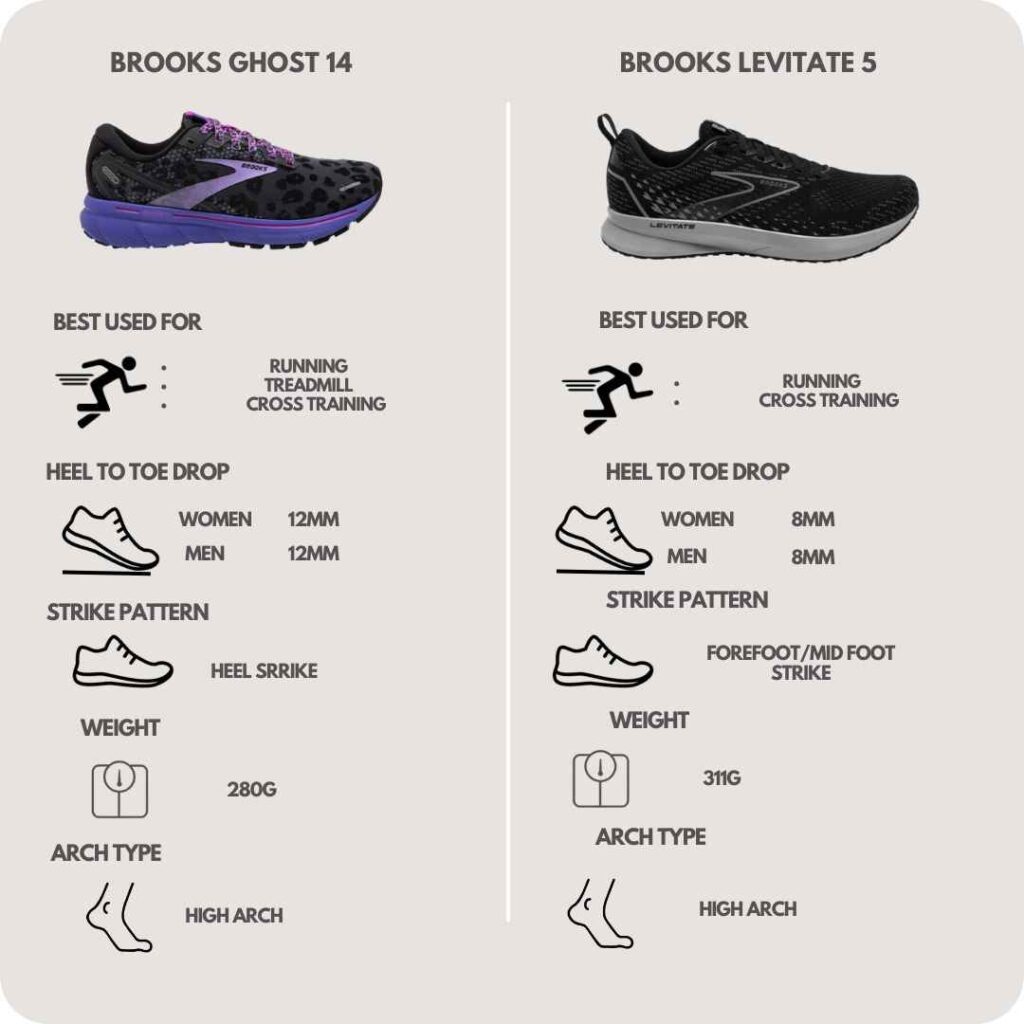 First talk about Levitate 5 
Design 
The levitate 5 is a shoe that's built for faster training sessions there may be a moderately thick wedge of DNA and midsole foam.  
But the shoe is a long way from a soft cushioned option, instead offering a firm responsive feel when picking up the pace. 
Design-wise towards more traditional with a well-padded upper and a generous shape.  
Although you can also pick up the levitate 5 stealth which has a leaner snugger fit.  
The levitate 5 also comes in a GTS edition which is the same design but with additional support 
You May Also Like – Brooks Cascadia 16 Vs Ghost 15: Which Running Shoe is Right for You?
Fit
So, in terms of fit, this is actually the first, levitate shoe that I run in the series.  
I have spent a lot of running time with the brooks ghost 14 and I think there are similarities in terms of the fit with this shoe and also those kinds of space-age brooks aurora shoes.  
I would say generally it's been a really comfortable kind of snug-fitting upper I've no real complaints actually. 
You're not getting as much kind of padding as you do in ghost 14.  
The tongue panning is very similar in terms of that, the lace is a pretty kind of standard fare for me.  
It's quite a nice generous shoe without being too loose it definitely fits true to size for me, and I found it to be very comfortable.  
It's got nice stepping comfort it's quite plush at the top and I have no issues with it at all. 
---
---
Midsole
It's a very firm midsole there's not a lot of energy returns or bounce even though brooks do say that quite a lot on the website that said shoe design for energy return.  
I think it is responsive because of that hard midsole. But I didn't really feel anything when I was wearing it. 
Definitely didn't feel like I was getting a lot of help in running faster, so I think if you like a shoe that's hard and you don't want any bounce or you don't want any modern technology that adds any sort of energy return or any sort of feeling that gives you that proportion, I think it's fine.  
It feels like a very traditional hard-training shoe. 
Also Read – Brooks Launch 10 vs Levitate 6: Unveiling the Ultimate Running Shoe Showdown 
Pros And Cons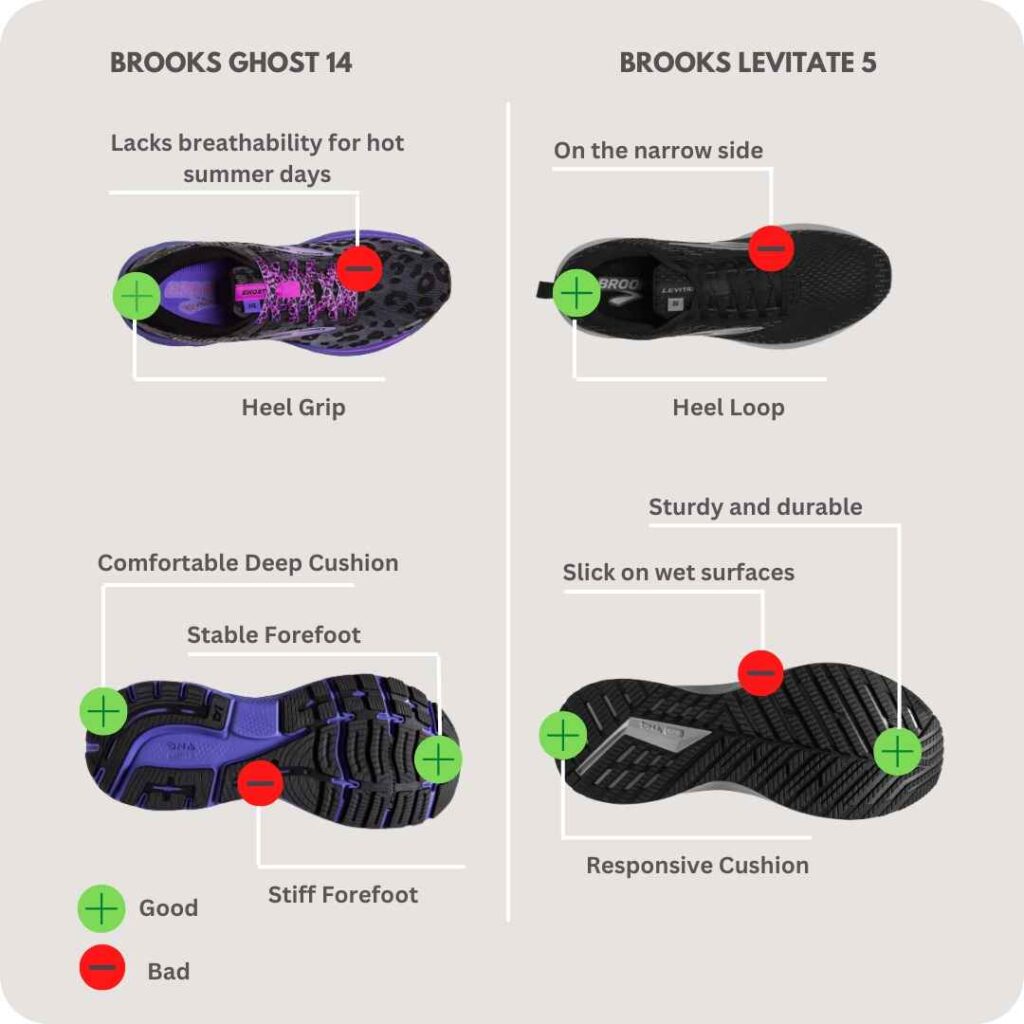 Let's talk about the ghost 14 
Design
The gross 14 is the latest version of brooks' popular daily shoe lineup, designed to offer comfort and cushioning over daily training miles focused on comfort. 
 It comes from a soft plush upper alongside a thick midsole that's now made from 100 DNA loft cushioning that's brooks' popular foam that's built to offer a balance between responsiveness durability and comfort.  
The shoe features 3d printing on the soft upper to add structure whilst the outsole incorporates a generous level of rubber to help improve durability and traction on the road in different conditions. 
Fit
So, the ghost 14 fits true to size for me. It's the same size I've worn in kind of all brick shoes I've ever tested really ranging from Hyperion racing flat all the way to things like glycerin.  
It's a reasonably roomy toe box around the front, it's a bit tighter around kind of the side but not in uncomfortable ways it's a nice stretchy fabric. 
I've been using the brooks and ghost 14 over the last few weeks of marathon training, and I took him actually away on holiday as well. 
 I've been using kind of lots of quite big fairly big mileage weeks for me and doing kind of a lot of easy and steady running in the kind of the thing that really, they should eat up.  
Overall, I have enjoyed running in them, I think you've ended up kind of falling in between a couple of categories from me and not really being all-out comfortable like some shoes are while still being quite as versatile as the better kind of all-rounders on the market. 
The ghost 14 falls in between kind of useful categories, compared to some others it is comfortable but it's not as comfortable as something like said Nike invincible or brooks glycerin. 
How long do Levitate 5 and Ghost last?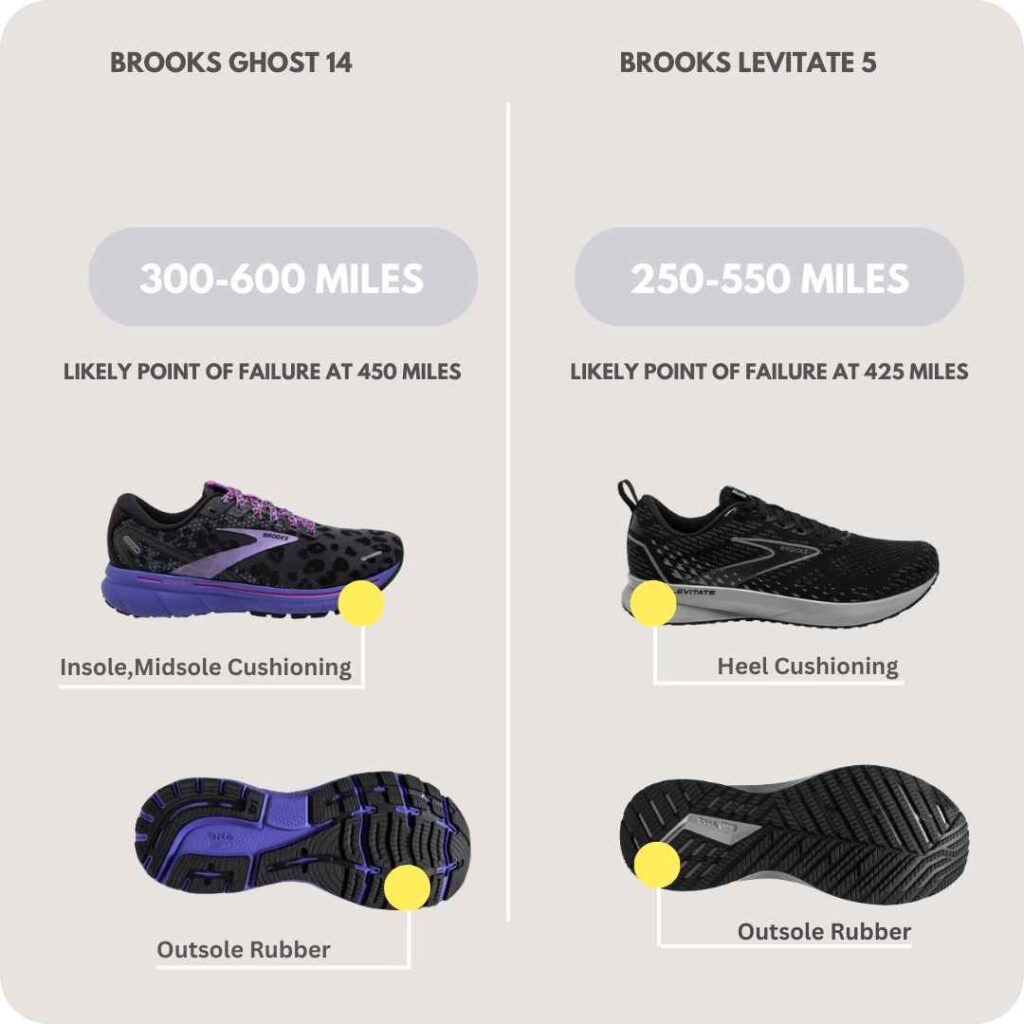 Final Thoughts – Should You Buy? 
So, the verdict for me on the brooks levitate 5 is it's there's not much really to it that I can talk about really. I just don't think it's a strange sort of middling shoe. 
It's a daily trainer but it doesn't feel very comfortable to wear for most of your daily miles. 
It's a temporary trainer, but it doesn't feel like it's really designed as well as most of the other sorts of tempo-faster shoes out there at the moment.   
It just makes me feel like I'm just putting in more work in it which I don't really want I never want an issue. 
So yeah, I think the Brooks Ghost 14 may be slightly softer than this.   
I think it's designed for a similar thing I think you can use that for faster training miles and it's a bit more enjoyable.