Asics Nimbus 22 vs Cumulus 22 which one is best for you?
This is a SUPER detailed comparison review of Asics Nimbus – (usually known as their flagship shoe for neutral long-distance runners), and Asics Cumulus – (made for the neutral runner who prefers a more stable and cushioned shoe to fuel their long runs.)
So if you're looking for a DEEP comparison of Asics Nimbus 22 VS Cumulus 22, you've come to the right place.
Let's dive right in.
Asics Nimbus 22 vs Cumulus 22 Comparison Table
| | Asics Nimbus 22 | Asics Cumulus 22 |
| --- | --- | --- |
| Terrain | Road, Treadmill | Road, Treadmill |
| Arch support | Neutral | Neutral |
| Weight | Men: 309g | Women 255g | Men: 261g | Women 238g |
| Pronation | Neutral Pronation | Neutral Pronation |
| Arch Type | High arch | High Arch |
| Heel height | Men: 25mm | Women: 27mm | Men: 31mm | Women: 31mm |
| Forefoot height | Men: 15mm | Women: 14mm | Men: 21mm | Women: 21mm |
| Heel- to-Toe Drop | Men: 10mm | Women: 13mm | Men: 10mm | Women: 10mm |
| Uses | Daily running, long distance, marathon, jogging | Daily running, marathon, jogging, walking |
| Features | AHAR, Flyte Foam, Gel | AHAR, Flyte Foam, Gel |
| Strike Pattern | Heel Strike | Heel strike |
| | Check Price on Amazon | Check Price on Amazon |
Starting with the Cumulus – The upper on the Cumulus 22 is really nice, I mean Asics has always done an awesome job with their uppers.
When you slip on any Asics you're gonna be comfortable. Past models of Asics like any version had just had superfluous materials throughout the upper, but this one stripped down it's just a piece of 3D engineered mesh. It's breathable, comfortable really what you wanted to see from Asics.
The midsole features like foam EVA-based foam now it isn't the flight foam blast which is their new midsole right now.
The only shoe that has is the Asics Novablast — we are expecting that from more models in 2021.
So right now the cumulus 22 is stick with the flight foam which has been around for a couple of years, but it's light and reliable, I had no problems on the run.
It's soft and comfortable and it holds it well. It's a really durable foam so hold up for hundreds of miles for you. Overall aesthetically it's actually pretty sweet.
Probably, you may ask why are they still using gel why can't you just put foam or insoles under the foot? Actually, the gel does have some that vibration and medications, so it keeps your legs fresh especially on those longer runs, which is what the shoes meant for.
Let's move on to the Nimbus 22
Obviously, you may know that the nimbus 21 had some flaws and faults but in this 22nd edition, they improved a lot.
Starting with the upper, the upper of the latest nimbus is the sleekest upper thus far. It has an engineering mesh that seems to have made small yet appreciated improvements. It has a sleeker look, adequate cushioning and the fit is actually quite nice.
While this is a neutral style shoe, if you are looking for a shoe that provides guidance to runners who have excessive pronation (overpronation), check out our detailed comparison review for Asics Kayano vs Nimbs.  
Let's come to the Nimbus 22, it does provide a supportive feel as far as your heel giving you a good lockdown your foot staying in place and overall comfort feel. Compared to the previous model, the overall aesthetic is just better now.
The Nimbus is meant to be a heavy-duty daily trainer or maybe even a dedicated long-run shoe for some and this is where the Nimbus gives the people what they want.
GEL cushioning technology – The GEL cushioning technology is the brand's legendary patented cushioning technology for high-density shock absorption and that makes you bounce off the ground as you move forward.
Impact guidance system technology – People who have low arches or flat feet may tend to roll their foot inward with each stride. The Gel-nimbus have an Impact guidance system technology inside the shoe to help correct this motion.
What's the difference between Cumulus and Nimbus?
The main difference is, Cumulus slightly lighter than the Nimbus.
Flexibility wise the Cumulus 22 is little bit more flexible than the Nimbus 22.
Many runners found that the Nimbus 22 is more durable and softer for long runs compared to Cumulus 22.
Both of them are well ventilated
Nimbus 22 is a bit more expensive than Cumulus 22.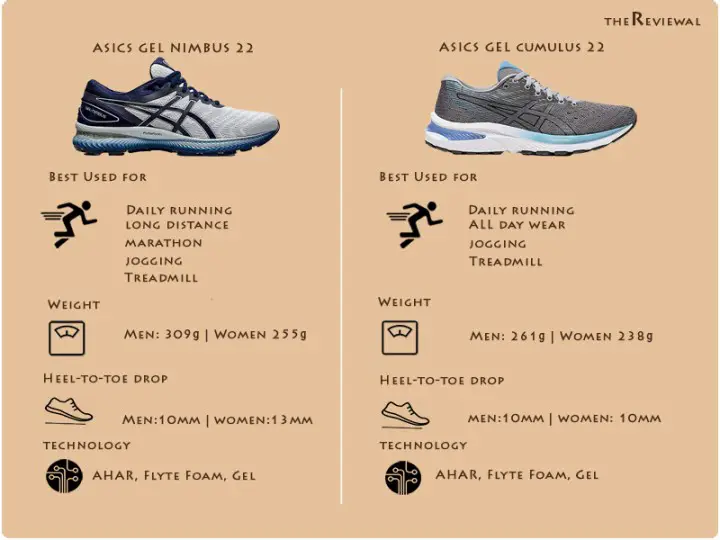 The Asics Nimbus 22 is a neutral type running shoe designed for long-distance and trail runs– same in the case of Cumulus 22. Anyone who's looking for a well-supported neutral trainer that can also take on distance will enjoy both of these shoes.
Probably some of you may have a question (especially for non-runners) are these shoes good for walking?
Yes, the Nimbus 22 and Cumulus 22 are good for walking. But if you choose to buy any running shoe for walking is not a good idea. Because, all running shoes are not created for equal, so find the fit and features that are right for you. The right shoes can help prevent injury and make walking more enjoyable.
Both of these shoes are designed for high arched feet. However, the Asics Gel Nimbus 22 provides more arch support than the Cumulus.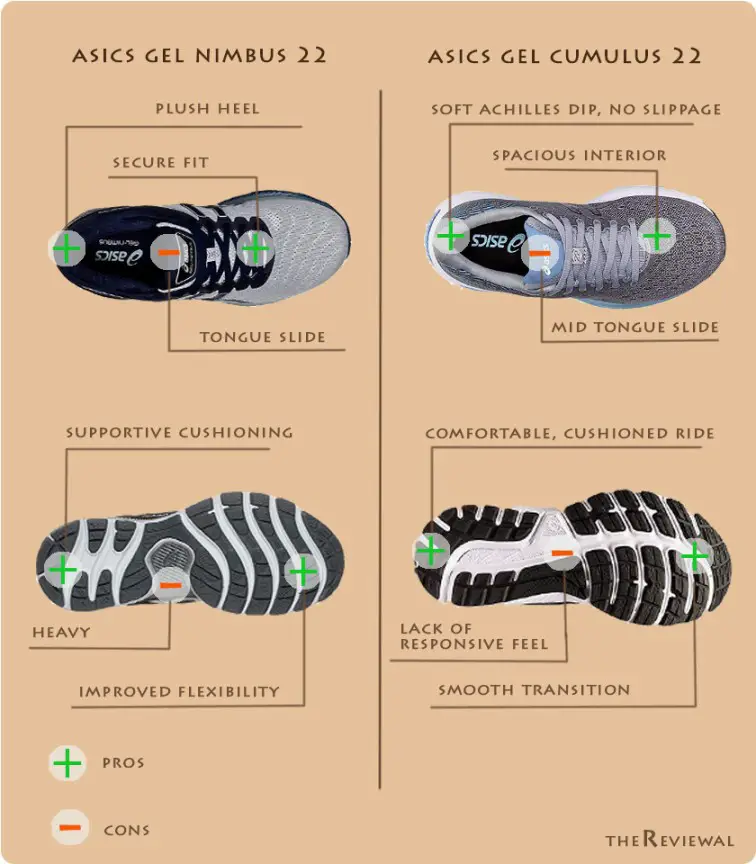 What shoe is comparable to Asics Nimbus and Cumulus?
Shoes similar to Asics gel Nimbus 22 – If you are looking for alternatives for nimbus 22 that provide similar features at an affordable price, the Brooks Glycerin 17 and the Saucony triumph 17 are excellent picks for you.
Shoes similar to Asics gel Cumulus 22 – The Adidas Solar Glide and the New Balance 880V9 give you a softer ride which is also immune to swings in temperature.
How many miles do Asics Nimbus and Cumulus last?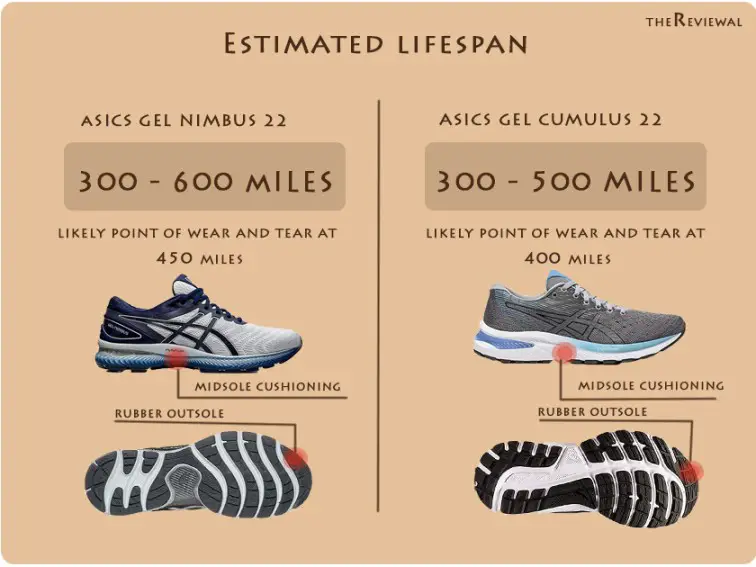 Now, probably you have a question in your mind, which is better Cumulus 22 or Nimbus 22?
Probably you may know that the nimbus 21 had some flaws and faults but in this version, they improved a lot.
My overall thought is that the Cumulus 22 is exactly what it says, I think it's gonna be a really good training shoe option for people who wants that mid-range cushion in there. Personally, I like it better than the Brooks ghost.
I hope that this article helps you to find the right running shoe for your feet.
Now I'd like to hear from you.
What is your favorite shoe and why?
Or maybe you have a question about something that you read.
Either way, go ahead and leave a comment below right now.
Thereviewal.com is a participant in the Amazon Services LLC Associates Program, and we get a commission on purchases made through our links.