In this post, I am going to review some of the best shoes for both insertional and non-insertional Achilles tendonitis. 
As a physiotherapist, I see a lot of people come to us with this condition.  
Recently, I conducted a survey among approximately 80 clinical visitors who were diagnosed with Achilles tendonitis.
Unfortunately, the results were quite alarming: more than two-thirds of them were wearing the wrong shoes, totaling around 56 people.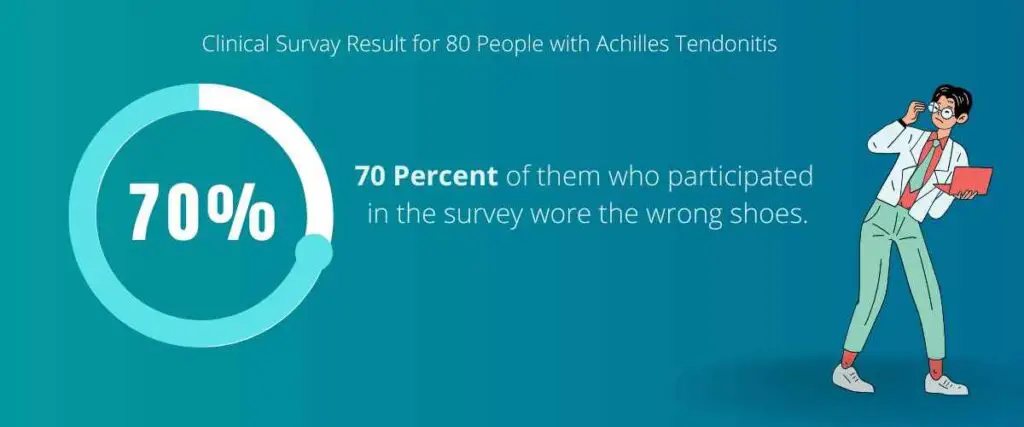 Actually, people are not aware of what types of shoes are good for them. 
That is why I created this post. 
Without Further Ado, 
Let's discuss what type of shoes are good for Achilles tendonitis. 
Running Shoes for Achilles Pain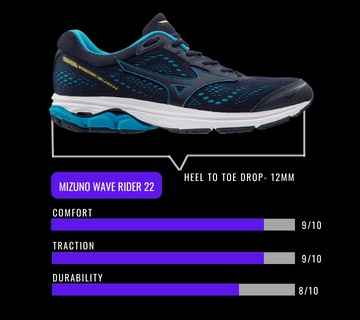 Podiatrist Recommended Shoes for Achilles Pain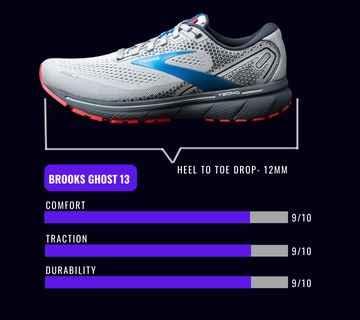 Walking Shoes for Achilles Pain
Basketball Shoes for Achilles Pain
Understanding about Achilles Tendonitis
Achilles tendonitis is a common foot problem that most commonly occurs in athletes, especially runners who have suddenly increased the intensity or duration of their runs. 
It's also common in middle-aged people who play sports, such as tennis or basketball. 
Types of Achilles Tendonitis 
There are two types of Achilles tendonitis Insertional Achilles tendonitis and non-Insertional tendonitis. 
Insertional Achilles tendonitis is a common foot problem that most commonly occurs in athletes, especially runners who have suddenly increased the intensity or duration of their runs.  
Common treatments include physical therapy, orthotic insoles, and supportive shoes, although, if several months of more-conservative treatments don't work or if the tendon has torn, your doctor may suggest surgery to repair your Achilles tendon. 
Wearing properly fitted shoes help with Achilles tendonitis by cushioning your footsteps and reducing the impact your inflamed tendon feels, therefore reducing pain.  
What actually causes Achilles tendonitis? Explained
In most cases, Achilles pain is due to overuse of the foot, it is rarely caused by an injury. 
Tendonitis due to overuse is more common among young people. It can happen in walkers, runners, or other athletes. 
Wrong foot wearing habit can also cause Achilles tendon pain if you want to learn how does it happen check out this article. 
Avoid those that put constant stress on the tendon. You should also look for them to be soft on the sides, in the back, and with a thick enough sole to avoid the need for extra support. 
The Achilles tendon connects the calf muscle to the bottom of the foot. Injuries to this tendon are common in sports and can afflict athletes such as runners. 
There are many things you can do to treat Achilles tendonitis, and the choice of your shoes can help or hinder the healing process. 
What type of shoes do podiatrists recommend if you have Achilles tendonitis
Let's discuss what type of shoes podiatrists recommend if you have Achilles tendonitis 
Special warning for women: I would strictly be recommended to avoid high-heeled shoes. At least for a few months after your pain goes away. 
Choose Flexible Soled Shoes
The soles of the shoes must be flexible and move with the sole of the foot, otherwise, the heel can slip and aggravate the Achilles tendon. 
Consider About the Shoes Age: Can new shoes help?
Your footwear must not be old or worn out. If the sole is worn, the Achilles tendon will be overloaded and will not heal. 
Heel to Toe Drop: Does it matter
Of course, Heel to toe drop is an important thing.  
Shoes that have the heel higher than the ball of the foot are best. This will ensure that the tendon is not overstretched. 
Cushioning and Arch Support
Shoes with the right amount of cushioning and arch support are important when you have Achilles tendinitis.  
The shoe should have enough cushioning that there aren't a lot of impacts when running or walking, but not so much that foot movement is hampered. 
Motion control
Motion control in running shoes can help keep your foot in the correct position, speeding healing and preventing re-injury. 
Podiatrist Recommended Shoes for Achilles tendonitis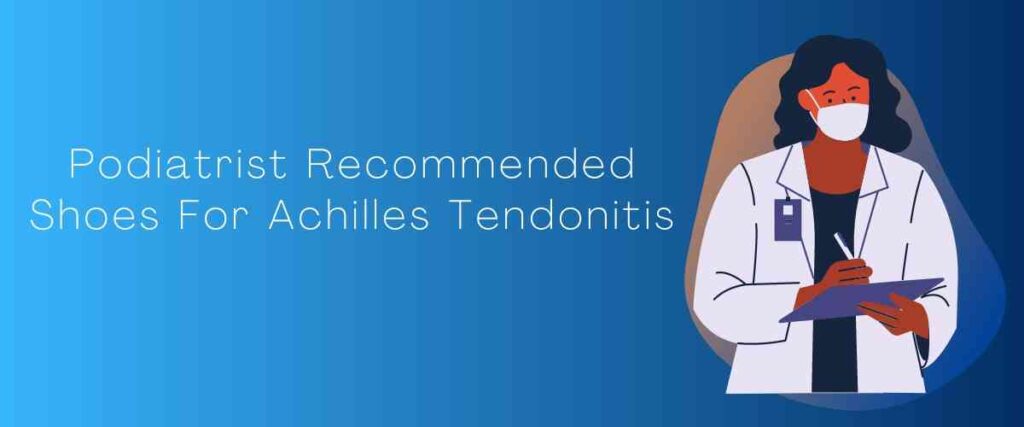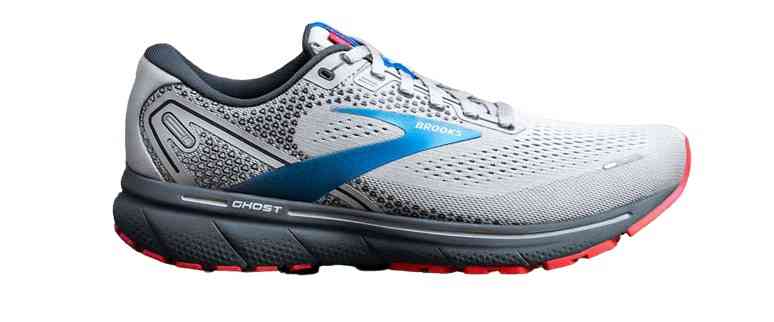 Pros: The new construction locks your foot in place a little bit better.
Cons: Expensive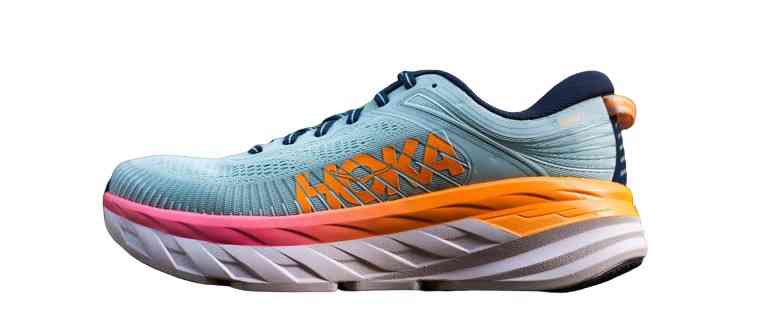 Pros: The Cushioning and Ankle support
Cons: Expensive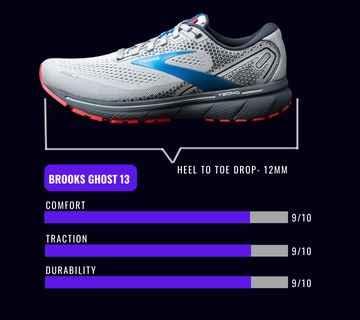 The first running shoes for Achilles tendonitis in our list is the Brooks Ghost 13. This shoe is another one of Brook's extremely versatile shoes.
They look almost identical to the previous models so you really have to dig in to figure out what's new.
It has all the qualities to handle a typical long distance running, but it also doubles as an overall workout and everyday shoe. These are extremely lightweight and best for interval training or your daily long-distance running. However, if you're logging a lot of miles you'll want to consider this minimal support in the shoe.
The soles are very supportive, responsive, flexible and providing comfortable arch support. The deep cutout around the ankle and the padded fabric around the Achilles tendon eliminate rubbing, chafing and blisters.
The inside of the heel cup is a new strip of material that's to prevent them from stretching so when you're running or sprinting you don't want that heel to stretch out or have your foot pop out. They've got a 12-millimeter heel to toe drop which is a nice feature; if you have Achilles tendon pain.
Can running shoes cause Achilles tendonitis?
The condition of Achilles tendonitis can also be caused by biomechanical issues, including flat feet with high arches or intense strain on the Achilles tendon. 
A sudden increase in training mileage or beginning speed training, wearing worn-out running shoes, running on hard surfaces like may lead to Achilles tendonitis.
Running with the wrong pair of shoes also can cause pain in your Achilles tendon, especially if the running shoe is inflexible and poorly constructed.
This Brooks Ghost 13 running shoe provide great cushioning for your heel and have firm arch support to help reduce the tension in the Achilles tendon. If you are a runner with Achilles tendonitis this shoe is for you.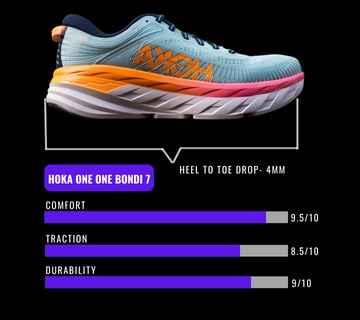 The Next shoe in our list is the Hoka One-One Bondi 6. If you are looking for the best shoes for Achilles tendinitis and like pillowy cushioning you will love Hoka One One Bondi 7. 
The cushioning is thicker at the heels making it very helpful for people with Achilles tendinitis.   
This is a shock absorbent running shoe and doesn't let any kind of impact travel upside, this helps your Achilles tendinitis as it gets aggravated due to shock and impact. 
It comes with an early-stage meta rocker helping you with your heel to toe transition, also the outsole is made from blown rubber which makes this running shoe very stable and long-lasting. 
The upper comes with a breathable mesh which is a combination of textile and Lycra material, this gives you a nice glove-like fit and keeps you very comfortable when you were wearing these shoes. 
What are the best running shoes for Achilles tendonitis?
The Achilles tendon is the thickest and strongest tendon in your body, connecting your calf muscles to the back of your heel. Achilles tendonitis most commonly occurs in athletes, especially runners who have suddenly increased the intensity or duration of their runs.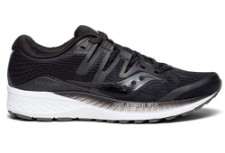 Pros: The foot bed really absorbs shock and makes a work day much more bearable. 
Cons: The medium width profile was a bit narrow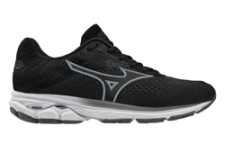 Pros: The underfoot cushioning system was considered to be very comfortable
Cons: The toe box of the shoe is not roomy enough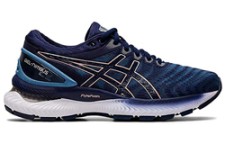 Pros: Toe box is great, provides nice cushioning. Also the shoe offers a more structured midfoot and heel design.
Cons: Expensive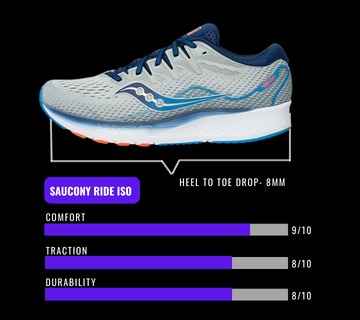 Saucony is constantly striving to improve performance on their footwear and these Ride ISO running shoes are definitely hitting their stride.
The toe area of the shoe looks different than pretty much every other shoe, it's much wider thanks to this foot-shaped toe box.
This lets your toes splay on every strike which is super comfortable compared to those aggressively tapered trail shoes. It also keeps you in a more natural position and allows the foot to pronate as it's built.
The upper section of the Ride ISO has a lot of enhancements that I think work really well for a shoe like this. You've got a really nice wide open mesh that's reinforced by a smooth durable synthetic material, this keeps the shoe structured but also gives you great airflow.
Saucony's built in these mesh ports which will allow water or moisture to drain through as well. I ended up with my prior brand because I loved how lightweight they were for a shoe with a good deal of support. Saucony has a ton of cushion and a stable side construction that doesn't feel like running in rain boots.
Are Saucony shoes good for Achilles tendonitis?
Yes, many of the users with achilles tendonitis is satisfied with the Saucony Ride ISO.
If you are diagnosed with Achilles tendonitis, supportive shoes can be used to correct foot misalignments- if you have flat feet, are believed to be causing or contributing to Achilles tendon pain.
The heel cushioning and arch support of this Saucony Ride ISO running shoe is well constructed and also it offers adequate Achilles foam padding to prevent blisters. If you are looking for a comfortable running shoe for Achilles tendonitis, this is for you.
This trusted shoe brand uses advanced cloudwave technology to make super supportive and cushioned shoes that are ideal for runners and athletes of any kind. The mega-popular Mizuno Wave Rider 24 running shoes offer a dual compound midsole that's still very stable, along with a cushioned insole that's really soft and comfortable.
Running in footwear that are worn-out or are not meant to be used for running can also cause Achilles tendonitis. The best treatment of an injury to the Achilles tendon is to focus on wearing a proper fitted shoe. Also stretching your Achilles area before running, even at the start of the day, will help to maintain flexibility in the ankle joint.
If you have Achilles tendonitis, the Mizuno Wave Rider 24 running shoes is really helps you. Wearing this shoe is almost like wearing a comfortable sock with a sole — it provides a great cushion and adequate arch support. So if you suffer from Achilles pain while running or need the extra support, these sneakers are your best choice.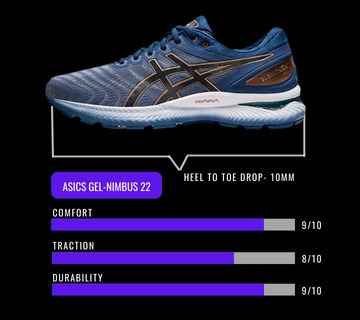 This running shoe is perfect for the Neutral to underpronator. It's very lightweight and flexible, perfect for the trail running.
The toe box is improved, not tight as the previous nimbus. Made with durable mesh and synthetic upper material so it is breathable and your feet are going to feel fresh all day.
The Gel-nimbus 22 shoe implements more foam in the midsole to reduce the severity of harsh impact, which is a great feature for Achilles tendonitis suffers.
There is Rear-foot GEL cushioning in the heel that absorbs impacting shock, give you a smooth transition. The removable sock liner lets you insert custom orthotics for an even more personalized fit.
The uppers are definitely thinner and provide better overall support around the foot than the Gel-Venture 5. However, the finishing is on this shoe is compared to gel venture 5s is not good.
These have a very lightweight and flexible design to help keep your feet moving while you are out there running. The bottom they have a trail specific outsole, it can handle just about any type of surface.
The outsole is sticky and gives good traction on rocks and boulders. However, the outsole will wear out fairly quickly as it is a softer compound.
Are Asics running shoes good for Achilles tendonitis?
Yes, the asics gel nimbus 22 is found to be a good shoe for achilles tendonitis because of the Rear-foot GEL cushioning system in the back to give you amazing shock absorption and provide adequate arch support for your tendonitis foot.
Runners with Achilles tendonitis need excellent support and cushioning, especially in the heel area, and the Asics Gel-nimbus 22 running shoe delivers in both areas. They feature Asics' popular GEL cushioning, which really pampers the back of the foot.
What are the best walking shoes for Achilles tendonitis?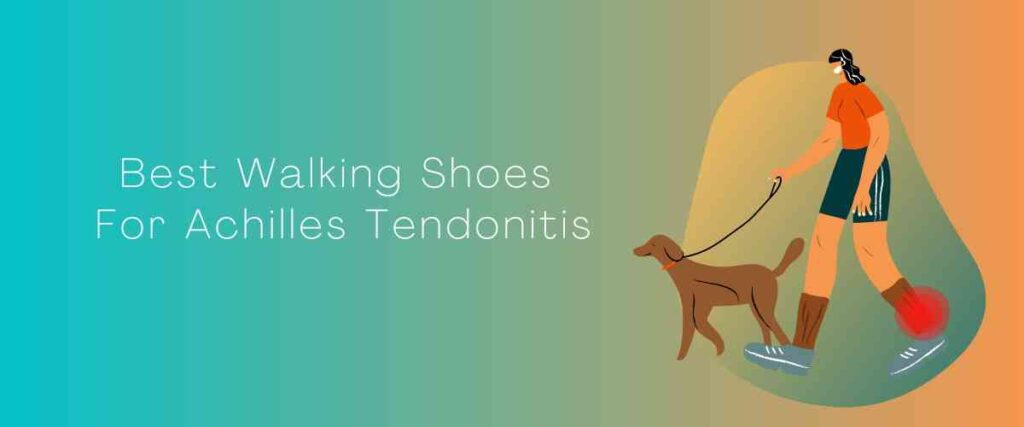 If you continue to train with Achilles tendonitis, the pain in the tendon will be increased and you will feel it more often, eventually impeding your ability even to jog lightly.
Properly fitted shoes or orthotics that slightly elevated your heel can relieve strain on the tendon and provide a cushion that lessens the amount of force exerted on your Achilles tendon.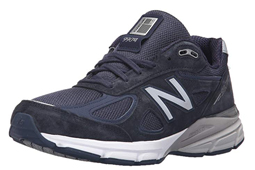 Pros: Great arch support and nice cushion.
Cons: Bulky look
Pros: They are comfortable to put on, roomy and wide in the toe area.
Cons: Not slip resistent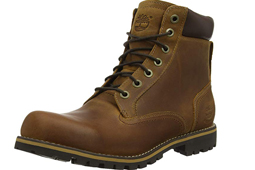 Pros: Removable anti-fatigue footbed
Cons: Expensive
The New Balance 990 series is known for providing superior stability features along with comfort. These running shoes are really lightweight in their design.
They have a heel-to-toe differential of up 12 millimeters and are made with tough materials the mesh of the upper is already strong but the strength is increased by the addition of a pigskin leather cover the EVA and polyurethane combo that makes up the midsole does not break down easily.
This 990v4 has increased breathability due to a greater amount of mesh in the upper, added reflective details, and ENCAP technology for comfort.
There is a significant amount more cushioning in the 990V4 and a little more stability than the 990V3. Ultimately, that is the only main difference compared to the previous model. They changed appearance a bit and also a bit more cushioning.
The three most notable features of the shoe are stability, comfort, and durability. The New Balance 990 v4 was designed to support your entire foot and provide stability while you run. The main features that keep your foot stable are the ENCAP unit which has increased medial support to help combat overpronation.
A midsole made of a combination of EBA and polyurethane provides just enough cushioning so that you feel cushioning with each step and can have an effective toe-off.
The mesh upper of dispersion has a slightly looser weave to increase the comfort of the shoes overall fit as well as its breathability. The tongue has been redesigned to include a lace keeper which also helps the tongue stay in place avoiding the annoyance of having to stop your walk to adjust your shoes.
Are New Balance walking shoes good for Achilles tendonitis?
Yes, the Newbalance 990V4 walking shoes are one of the best walking shoes for Achilles tendonitis. 
Walking with Achilles tendonitis is painful, however, walking for exercise is good therapy for it. This New Balance makes comfortable shoes for those who suffer from Achilles tendonitis. The New Balance 990v4 has a lot of cushions in the Achilles area and it offers incredible arch support and great cushioning. If you are looking for a running shoe for Achilles pain, this New Balance 990v4 is a better option for you.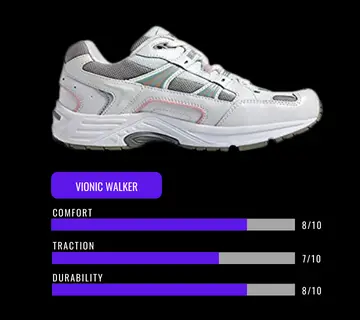 This popular women's walker is durably constructed in full grain leather uppers and a lightweight EVA midsole for flexible comfort. 
A durable rubber outsole provides stability and traction also heel italic technology lift see the arch and help support and realign the feet, which often provides relief from these common aches and pains associated with overpronation.
 The construction is good and the footbed is well padded and provides really good support. Look no further for workout motivation than this sneaker which may help alleviate the discomfort of many common foot ailments such as heel pain, Achilles tendonitis, plantar fasciitis etc.
The Walker has water-resistant full-grain leather and breathable mesh uppers along with a foam padded polyester mesh lining for interior comfort. However, they are not a perfect waterproof shoe.
This walker including anatomic reveal treatment for freshness the insole has a foot cradling arch support with a deep heel cup but the insole is also removable if you need to use custom orthotics. However, the Vionic inserts seem to be hard and the tongue of the shoes seems hard also.
The firm heel counter helps to reduce overpronation restoring the foot to its natural position for greater comfort and proper alignment when walking or standing.
 APMA seal of Accepted Vionic with Ortho heel technology Walker sneakers have a traction rubber outsole with flex grooves to promote a natural walking motion encouraging you to get the most out of your day.
Are Vionic shoes good for Achilles tendonitis?
As anyone who has Achilles tendonitis knows, it can be a real activity killer. But wearing Orthopedic or comfortable shoes may allow some healing and reduce your pain.
Studies show wearing Vionic shoes or orthotics effectively alleviate heel pain and reduce stress in your foot. This Vionic women's walker provides great arch support and adequate cushioning, podiatrist recommended this shoe for various foot ailments such as heel spur, Achilles tendonitis, plantar fasciitis etc.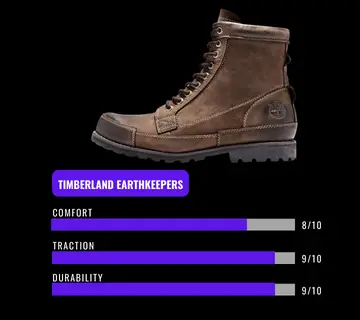 This water-resistant men's boot features a soft high-quality full-grain leather upper with a removable anti-fatigue footbed.
This boot doesn't compromise style functionality at all with incorporated antibody technology providing all-day shock-absorbing comfort for people working long days on their feet.
This superb boot is quite flexible in construction, and the uppers have been crafted from this waterproof full-grain leather with plenty of detailed stitching throughout. There is a lace-up closure to provide a proper fit you also have a pull loop at the heel for easy on and off.
 A gusseted tongue construction is gonna help keep debris out of this boot and away from your feet. Under the hood, there's a completely removable anti-fatigue footbed that's gonna provide awesome underfoot cushioning and comfort throughout the course of your day.
The boot features a comfortable lining made of 100% recycled PET fabric, a recycled rubber outsole that provides excellent traction, and even organic cotton laces that are made from start to finish chemically free and without toxins in the production.
These boots are great for traveling as they are stylish enough for a night out, warm enough to trudge through the snow, and sturdy enough to withstand the day-to-day of a backpacking holiday.
Are Timberland is the best walking boot for Achilles tendonitis
Achilles tendonitis is often caused by poor arch support or wearing old or poorly fitting shoes, wearing high heels daily or for prolonged durations, wearing shoes with a lack of general foot support, and more.
However, orthotics and walking boots with great support and cushioning can help to reduce stress in your foot and also reduce pain in your Achilles tendon. This Timberland walking boot offers great support and moderate cushioning for your feet. If you are looking for a walking boot for Achilles tendonitis, this is a better option for you.
Columbia Newton Ridge Plus II
Pros: Nicely padded collar and tongue for all kinds of added comfort
Cons: Waterproofing wasn't effective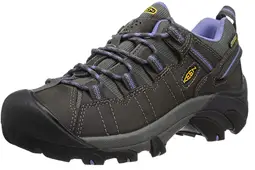 Pros: Multi-directional lugs for dependable traction
Cons: Slightly sweats your foot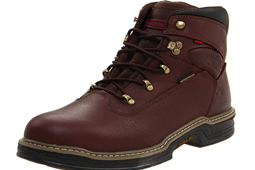 Pros: Slip-resistant and heat resistant outsole
Cons: Expensive
I know you're used to Columbia for great apparel bags whatever but did you know they make great excellent shoes?
The Newton Ridge plus II does feature a durable polyurethane coated leather upper and it's very sturdy in construction.
There is a durable mesh tongue for breathability and comfort during treacherous days out on the trail or on the mountain. Its EVA foam construction provides cushioning, impact reduction, and energy return to the user.
It has thick padding around the tongue and the collar and provides nice cushioning on your Achilles area. If you suffer from Achilles pain this hiking boot offers great comfort for your feet.
Columbia's Newton Ridge Plus II hiking boot is a fairly true-to-size boot for male hikers. This gear is available in standard and wide width options and also it comes in whole and half sizes as well. It features a lace-up closure to provide a proper fit and a pull OOP with the heel for easy on and off.
The lightweight midsole adds all kinds of added cushioning and energy response and it all sits very confidently atop a sticky and durable non-marking Omni grip rubber outsole step into the world. The Omni grip rubber outsole features rugged, grippy traction specifically designed to evacuate mud.
Are hiking boots good for Achilles tendonitis
Achilles tendonitis is a very common foot injury. But it can also affect basketball players, hikers, dancers or people who put a lot of repeated stress on their feet. It can be very painful.
Hiking with Achilles tendonitis may increase your pain. However, some supportive and well-fitted hiking boots help to reduce pressure and stress in your foot. If you are looking for that type of supportive hiking boot, this Columbia Newton Ridge plus II is for you.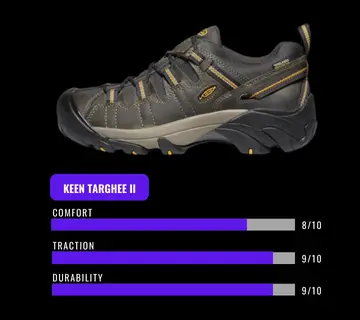 Keen based on a Portland, Oregon has been making Footwear for the past 15 years they make a wide variety of footwear from sandals to casual shoes to winter hiking boots.
The shoes are known for their wide toolboxes comfortable fits and signature rubber toe cap. They're made out of mostly leather with cloth in areas where flexibility is important.
The Keen Women's Targhee II hiking shoes will keep your feet dry comfortable and protected when covering big distances on damp days throughout the spring summer and fall.
 They have keen nubuck leather waterproofing upper, but because of this waterproof membrane and leather exterior, they're slightly sweating. The soles provide adequate traction but are the biggest downfall they're not durable.
It's a special shock-absorbing design engineered to support your foot on impact minimizing your chances of twisting an ankle on rough terrain. The EVA midsole and removable footbed offer exceptional support and comfort. The unique S3 (Shock, Suspension, and Stability) heel support prevents ankle injuries. If you are planning to hike with Achilles tendonitis, plantar fasciitis, or heel spur, this keen hiking boot is provided adequate comfort and support for your feet. 
Will wearing a boot help Achilles tendonitis?
These injuries tend to happen when repetitive or intense strain on the Achilles tendon. It commonly affects athletes. The location of the pain may vary—it can be felt closer to the bottom of the calf muscle, along with the actual tendon, or lower down near the heel bone.
Wearing properly fitted, well constructed and adequate arch-supported boots may reduce the stress on the Achilles and also reduce the pain. 
Wolverine boots are built to withstand the toughest of environments and provide all-day comfort.
These boots are constructed out of a waterproof full-grain a leather material so definitely be able to keep your feet dry while you are wearing them.
The leather does scuff easily, but this is par course for all leather footwear. Besides, these are hiking or work boots, scuffs should be a badge of honor.
You do have a traditionally lacing system at the front with two-speed hooks for a nice and secure fit. They look sharp and the eyelets for the laces are pretty convenient. It offers a lot of padding along the inside, collar, and tongue for added ankle protection.
You have a really comfortable footbed with a removable insole make sure your feet stay comfy all day long on those long work days, comes right out it gives you a ton of added cushion with great arch support. We have a very lightweight polyurethane midsole to give you some added shock absorption and protection as well. On the bottom side, the Buccaneer features a multi shocks rubber lug outsole, that is slip resistant it's also very flexible making sure your feet stay nice and protected. The outsole is slick oil abrasion chemical and heat resistant all while maintaining ASTM safety standards for electrical hazards.
Does a boot help Achilles tendonitis?
Achilles tendonitis is often caused by poor arch support or wearing shoes or sandals with a lack of general foot support. This condition is often treated with physical therapy or stretching exercises. However, orthotic services and walking boots can also help to reduce stress and pressure in your Achilles tendon.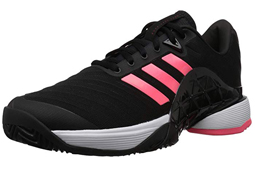 Pros: Geofit construction for anatomical fit and comfort
Cons: Expensive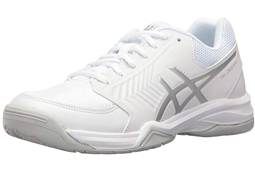 ASICS Women's Gel-Dedicate 5
Pros: Trusstic System Technology
Cons: Limited color options
These have a Geo Fit construction which means they're gonna give you a really locked in secured anatomical fit. The upper is made out of forged mesh which is really breathable and will keep your feet nice and cool once you lace up.
These Adidas men's barricade tennis shoes are built to deliver the exceptional level of performance demanded by professional players.
The upper on these are made out of that seamless forged mesh material it's really gonna adapt to your foot lock it into place give you amazing customization and keep your feet breathing.
It also has a roomy toe box up in the front as well so your toes can lay naturally which is important. It's got lots of padding around that collar footbeds nice and cushioned with that really soft and shock-absorbing material. The heel to give you impact protection really help keep your feet feeling energized when you're playing.
Can I play tennis with Achilles tendonitis?
Achilles tendonitis is an inflammatory injury of the tendon that most commonly affects athletes, especially runners, or people who play sports that require lots of starting and stopping, such as tennis, basketball, etc.
If you are diagnosed with Achilles tendonitis, running, playing tennis or basketball may increase your pain. However, it is not necessary to stop activity completely, as long as you pay attention to muscle soreness and reduce activity accordingly. The podiatrist recommends wearing well-fitted and supportive shoes can help to reduce Achilles tendon pain.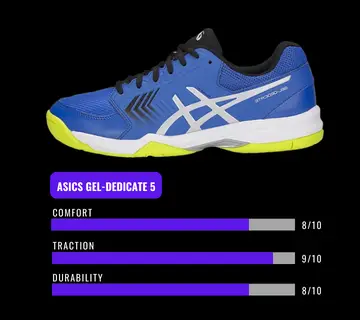 Whether you are a newbie or an experienced tennis player, these are perfect for taking your game to the next level.
 These Gel-Dedicate have a mesh textile and synthetic throughout the upper to give you long-lasting durability.
These shoes have a breathable mesh textile and synthetic upper with a lace-up closure for a secured and adjustable fit. Synthetic materials and mesh offer nice comfort, support, and breathability. We have got reinforced areas around the toe. There is added cushioning around the collar and tongue area and also a fabric lining for a great next-to-skin feel.
It has a very nice shock-absorbing midsole and a unique gel cushioning as well as a rustic system (Which reduces the weight of the sole unit while retaining the structural integrity of the shoe.) and gives you that perfect combination of support and cushioning.
They have great support and have a hardened rubber sole to keep the shoes from wearing off.  It has a nice smooth transition bottom sole and is made out of a really solid rubber to keep you steady. The non-marking rubber outsole plays great on any court surface.
What are the best shoes for tendonitis in the ankle?
Tendinitis in the ankle can involve the Achilles tendon, the posterior tibial tendon, or the peroneal tendon.
A podiatrist says one of the best ways to prevent tendonitis is to do foot and ankle stretching exercises before you play or do any activity.
Self-care and wearing proper supportive shoes will usually heal these injuries over the course of a few weeks.
Wearing properly fitted and supportive shoes may reduce your pain and inflammation in the ankle. Asics makes orthotics grade supportive shoes for their users, Asics Gel-Dedicate is one of the best shoes for tendonitis in the ankle. If you are suffering from Achilles tendonitis pain, it was worth a try.
What are the Best Basketball shoes for Achilles tendinitis?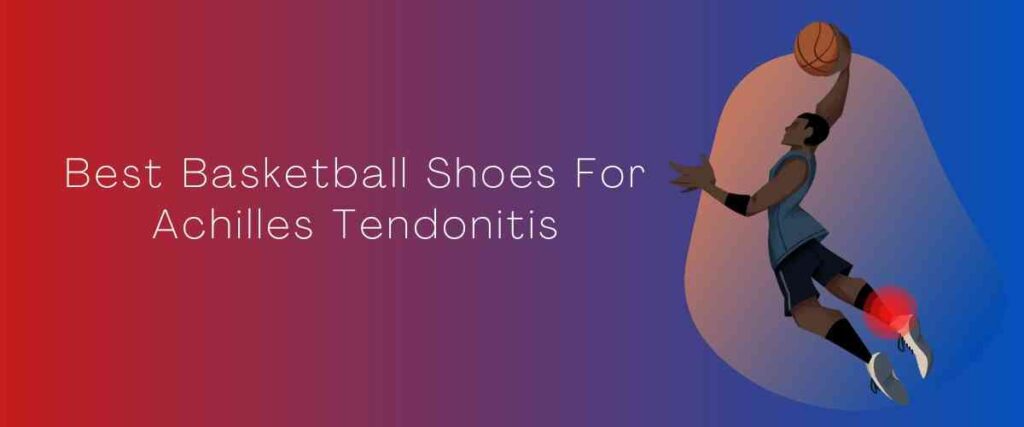 If you're looking for comfortable basketball shoes for Achilles tendonitis, the Under Armour Embiid one is an excellent pick. 
This model utilizes multiple levels of stability, all of which work together to protect your entire foot.  
Every trade in this model works to give you extra power including the excellent five slash eight construction that delivers amazing ankle support.  
There is a lot of cushions throughout the forefoot ball and heel as well as a ton of flexibility, it is reasonably lightweight too.  
The Embiid one is a big chunky shoe with plenty of power that desks great if you need to push hard or bang in the post but they are definitely not the slimmest model around those that like more low profile or sleeker sneakers will likely want something that's a bit more out of the way. 
The shoe has plenty of ankle support and then backs it up with an incredibly flexible design, so this is a nice option if you are looking for basketball shoes for Achilles pain.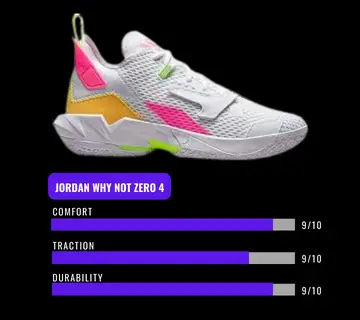 If you are looking for the best basketball shoes for Achilles tendonitis this Jordan why not zer0.4 is another good option for you.  
The entire construction of the shoe is lightweight and it will offer you plenty of breathabilities to prevent overheating.  
The why not zer0.4 shoe has a lot of cushioning in the heel area and also it provides great ankle support and stability.