The American Academy of Orthopedic Surgeons reported that the average shoe size for men worldwide is between 9 and 12, while the average American male shoe size is 10.5.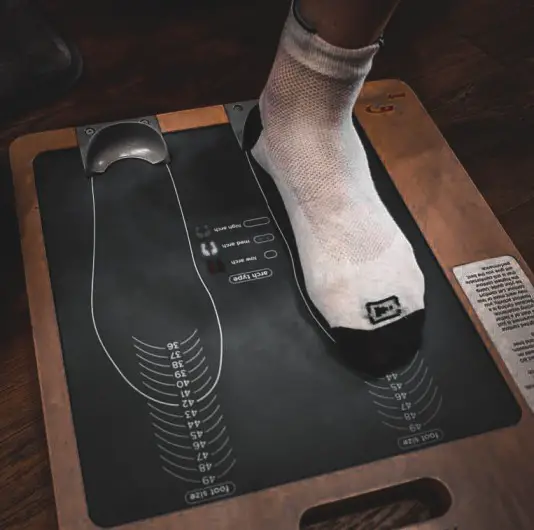 However, the difference between various sizes is not much and is really only about an inch difference. 
You will find a variation in sizes according to different places. For example, if we talk about Europe, you will find that they have a slightly different size than the US.  
The shoe size here starts between 32 and 50, which is equivalent to US shoe sizes 5 to 15.5. 
This means the average shoe size in Europe is between 42-43, which is around 10 in the US. 
Average shoe size for men by height 
Every person is different, even in terms of physique. Therefore, the difference in the size of the feet is bound to happen.  
The same thing happens when you go to stores or buy online and find different sizes of clothes. 
Finding the right shoe size for men isn't rocket science. Like other traits, including height, even foot size is dominated by genes.  
In fact, did you know that there is a connection between your height and your shoe size? Surprised? 
How is height and foot length connected? 
The feet are the foundation of the body and help maintain body balance. 
So, if you're tall, you'll need more support to keep your balance and control your body weight. 
Therefore, on average, you will find that taller people often have a larger shoe size.  
Other factors that contribute to your overall health and bone length are your diet and lifestyle. 
For example, if you've been consuming foods rich in vitamins, protein, and other vital nutrients from a young age, this can help you increase your height and ultimately affect your shoe size. 
| | | | | |
| --- | --- | --- | --- | --- |
| Average Height | Average Shoe Size( CM) | Size (US) | Size(EU) | Size(UK) |
| Under 5ft 5inch | 25.1-26.3 | 7 – 9 | 39-43 | 6.5-8.5 |
| 5ft 6inch – 5ft 9inch | 26.7-27.3 | 9.5 – 10.5 | 43.5-44.5 | 9-10 |
| 5ft 10inch – 6ft 2inch | 27.6-28.6 | 11 – 12.5 | 45-46.5 | 10.5-12 |
| Over 6ft 3inch | 28.9+ | 13 – 20+ | 47.5+ | 12.5+ |
Brand Size: Important Aspect to Consider for your Shoe Size 
As said in this article about average shoe size for women, the size of the shoe is different for most brands. 
Therefore, it is crucial to double-check your shoe size against the size chart of the specific brand. 
In fact, at some point or another, you may have discovered that a specific shoe size that fits you might end up being a little smaller or bigger when you try on shoes from another brand.  
This is due to the lack of common standardization between brands. For example, even prominent brands like Nike, Asics, and Adidas with size 10 shoes will often have different foot length measurements. 
The difference in standardization can make it difficult for you to blindly follow your shoe size for any brand.  
However, it could also be a good thing. Brands have their own shoe size guides and charts that you can review before making a purchase.  
This will help you determine the correct size and fit for your feet. This is especially helpful if you prefer to shop online rather than in-store. 
What shoe size is considered big for a men 
You might not find the official data on men's shoe sizes in the United States and maybe other countries.  
However, it is commonly considered that the size 14 shoe was considered a big shoe size for men in the past.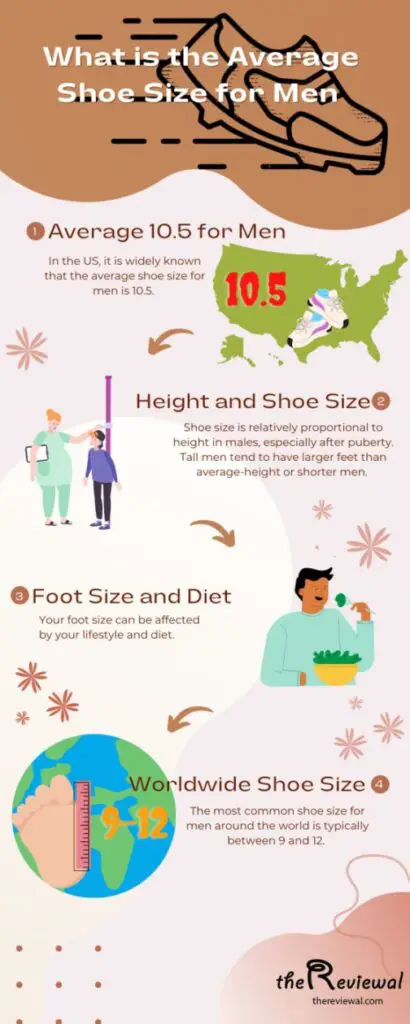 Do Your Feet Ever Stop Growing? 
Over time, the ligaments in the feet begin to stretch, and it is normal for wearers to begin to notice that their shoes fit more tightly.  
Almost all people, when they get older, want to buy wider lasts that give them more space for their fingers. 
You should re-measure your feet before you get new shoes or take your old ones to a cobbler to see if you can style them up a bit so they don't fit as tight and are less bothersome. 
The arches in the feet begin to flatten over time, which can cause the feet to become longer, almost growing up to shoe size.  
Therefore, it is normal that when you are older you have one more shoe size than when you are young. 
When buying new shoes, try to measure them before leaving home or try on different models in the store until you find the one that best fits.  
Although it can be something a bit desperate, it has no solution; therefore, take it patiently and pay more attention to changes. 
How to Figure out Your True Shoe Size 
One of the possible reasons is a question that surely has crossed your mind:  "How am I going to buy some shoes without trying them on? And if I don't get the right size?"  
Although each shoe brand has different sizing, there is a formula that ensures success when choosing the size of some shoes.  
Applying it is very simple: it only requires a pencil, paper, a ruler, and a couple of minutes. Once you have this material, follow the steps below and write down the results. 
You will discover what your shoe size really is, you will be able to buy them whenever you want online and you will avoid problems derived from the use of incorrect footwear, such as chafing and sprains. 
Sitting on a chair, put your foot on the floor on the sheet. 
With the pencil, draw the outline of the foot on the paper. 
Inscribe the drawing in a rectangle, making a straight line on each of the sides: on the toes, on the sides, and on the heel. 
Measure the distance between the parallel lines: from the toes to the heel (LENGTH) and from one side to the other (WIDTH). 
Add 5 millimeters from each measurement to make them more precise. 
What is the correct size according to the type of shoe?
The first thing to consider is the type of shoe. Since a boot does not have to have the same clearance as a sandal.  
And we are not only talking about aesthetics but about the discomfort of wearing a small boot or a large sandal. 
The boots, ankle boots, and slippers that we are going to wear with a sock or stocking must have more size. 
With sandals and Menorcan sandals, just like untied shoes, they have to be attached to our feet. The strips with the use yield in width and length cannot exceed more than half a centimeter. 
A trick for shoes that oppress us in width but the length is ideal and the size is correct, is to spread a little bit of hand cream on the neckline of the shoe.  
Don't make the mistake of buying one size up and losing your shoes after wearing them a couple of times. 
Final Thoughts 
Reviewing the metrics and size guide to find the right shoe size is really important. 
It is important for your feet as it not only improves your comfort but also prevents blisters and bunions from wearing tight shoes. 
You can find the perfect shoe size for you, but before you make a purchase, it never hurts to double-check your shoe size for that particular brand. 
Always remember that shoe size may not apply universally and each brand has its own size guide which may vary slightly from the following. 
In summary; Choosing the correct shoe size means you have to consider different things, including shoe width, brand type, brand size, and even geographic location. 
Anyway, I hope you enjoyed this article about average shoe size for men   
Now I'd like to hear from you: What is your shoe size?  
Let me know by leaving a quick comment below right now.