In the world of sneakers, few collaborations have captured the attention and admiration of sneakerheads and fashion enthusiasts quite like the Dior Jordan collaboration.  
The fusion of luxury fashion house Dior and iconic sneaker brand Jordan has resulted in a series of highly coveted and undeniably expensive sneakers.  
In this blog post, I will delve into the reasons why Dior Jordans carry such a hefty price tag, offering insights and shedding light on their allure.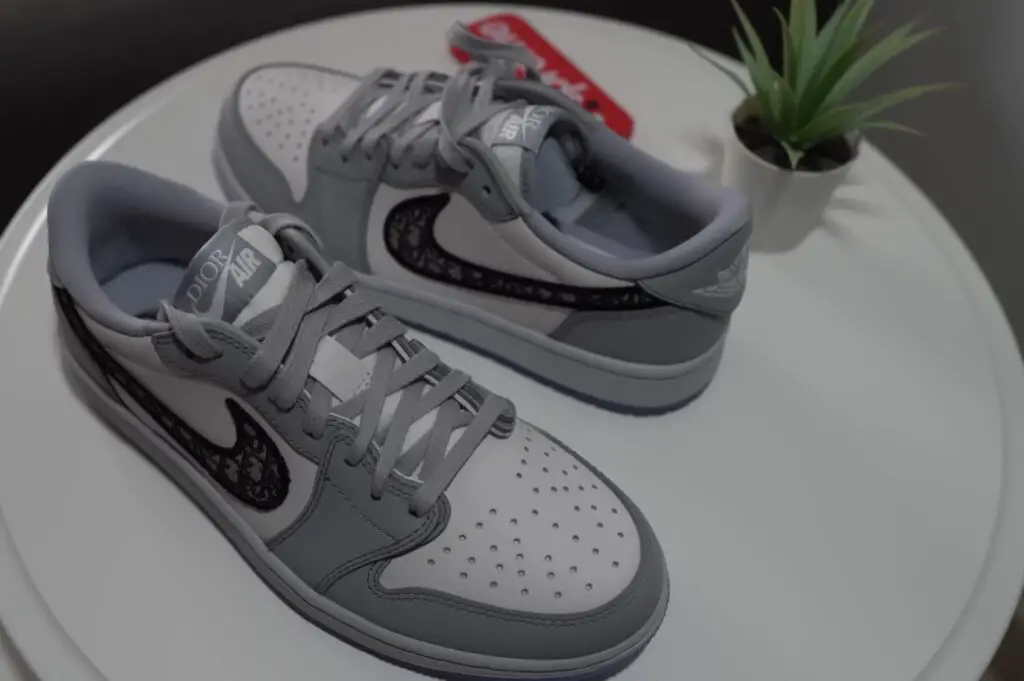 The Power of Brand Collaboration: 
The collaboration between Dior and Jordan represents a unique blend of two iconic brands, each with its own dedicated following.  
The merging of their distinctive aesthetics and legacies creates a synergy that resonates with sneaker enthusiasts and luxury fashion aficionados alike.  
The exclusivity and desirability stemming from this collaboration play a significant role in driving up the price. 
You May Also Like – Why Are Repetto Shoes So Expensive: Unveiling the Intricacies of Their Price Tag 
Limited Availability: 
Dior Jordans are produced in limited quantities, making them highly sought after and, consequently, more expensive.  
This limited availability creates an air of exclusivity and rarity, appealing to collectors and individuals looking for a unique addition to their sneaker collection.  
The scarcity factor significantly contributes to the high price of these sneakers. 
Superior Materials and Craftsmanship: 
Dior Jordans are meticulously crafted using premium materials, showcasing the commitment to quality synonymous with both brands.  
From luxurious leathers to intricate stitching and detailing, no expense is spared in the creation of these sneakers.  
The use of high-quality materials and meticulous craftsmanship elevates the overall aesthetic and ensures a durable and long-lasting product. 
Iconic Design: 
The design of Dior Jordans is a testament to the fusion of streetwear and high fashion.  
The sneakers feature the classic silhouette of Jordan sneakers, infused with Dior's unmistakable design elements.  
The attention to detail and the incorporation of Dior's signature motifs add a touch of elegance and exclusivity to these sneakers, further justifying their high price. 
Handmade and Artisanal Touch: 
Dior Jordans are often handmade or feature intricate handcrafted details, adding an artisanal touch to each pair.  
Skilled artisans meticulously construct and embellish these sneakers, ensuring that every pair is a work of art.  
The labor-intensive nature of the production process contributes to the elevated price point. 
Also Read – Decoding Authenticity: How to Spot Genuine Dior Sneakers and Avoid Counterfeit Disappointment 
Collectible Value: 
The collectible nature of Dior Jordans increases their appeal and value among sneaker enthusiasts and collectors.  
These sneakers often appreciate in value over time, making them an investment for those who can afford them.  
The combination of limited availability, iconic design, and the allure of a collaboration between two renowned brands further enhances their collectible status. 
Brand Reputation and Prestige: 
Both Dior and Jordan are globally recognized brands with a rich history and a reputation for excellence.  
The association with these esteemed names adds a layer of prestige and status to Dior Jordans.  
Owning a pair of these sneakers symbolizes a connection to the worlds of luxury fashion and sneaker culture, making them highly desirable among fashion-forward individuals. 
Marketing and Hype: 
The marketing strategies employed by Dior and Jordan play a significant role in generating hype and anticipation for Dior Jordans.  
Through strategic campaigns, celebrity endorsements, and limited release events, the buzz surrounding these sneakers is amplified.  
The hype generated by marketing efforts fuels the demand, driving up the price and desirability of Dior Jordans. 
Resale Market: 
The resale market also contributes to the high price of Dior Jordans.  
Due to their limited availability, many individuals turn to reselling platforms to acquire a pair.  
The demand in the resale market often surpasses the original retail price, leading to inflated prices driven by supply and demand dynamics. 
Read Also – Are Dior Sneakers True to Size? Unveiling the Perfect Fit 
How much do Dior Jordans usually cost? 
Let's talk about numbers, shall we?  
When it comes to Dior Jordans, we're entering a realm where price tags reach staggering heights. 
 These sneakers don't come cheap, but they're worth every penny for those who appreciate the fusion of luxury and street style.  
So, let's dive into the question burning in your minds: How much do Dior Jordans usually cost? 
Now, it's essential to remember that the cost of Dior Jordans can vary depending on several factors.  
These include the specific model, the rarity of the release, and the overall demand.  
So, while I can't give you an exact figure, I can certainly provide you with a ballpark range to give you an idea of what to expect. 
On average, Dior Jordans can range anywhere from a few thousand dollars to several thousand dollars.  
Yes, you heard that right. We're talking about a significant investment here.  
The collaboration between two iconic brands, Dior and Jordan, along with the exclusivity and limited production, contributes to the premium price tag. 
Now, keep in mind that certain limited editions or highly sought-after releases can command even higher prices in the resale market.  
It's not uncommon to see collectors and sneaker enthusiasts shelling out hefty sums to get their hands on a rare pair.  
The rarity factor only adds to the allure and desirability of Dior Jordans. 
But hey, don't let the price discourage you. Remember, investing in Dior Jordans isn't just about the sneakers themselves.  
It's about owning a piece of fashion history, a symbol of status and style that sets you apart from the crowd. 
So, if you're considering adding Dior Jordans to your collection, be prepared to dig deep into your pockets.  
But trust me, the satisfaction of owning these coveted kicks and the envy-inducing looks you'll receive make it all worthwhile. 
Just remember, sneakerheads, it's essential to stay informed about official retail prices, be cautious of counterfeit products, and explore legitimate avenues to purchase your Dior Jordans.  
Keep your eyes peeled for official releases, exclusive collaborations, and authorized retailers to ensure you're getting an authentic pair. 
In the end, the cost of Dior Jordans is a reflection of their craftsmanship, design, and the fusion of two iconic brands.  
If you're a true sneaker aficionado and appreciate the intersection of luxury and streetwear, these kicks are a worthy investment. 
So, lace up those Dior Jordans, step out in style, and let your feet do the talking.  
Remember, when you're rocking these kicks, you're not just wearing sneakers; you're making a fashion statement. 
Final Verdict 
The allure of Dior Jordans lies in the fusion of luxury fashion and sneaker culture, resulting in highly sought-after and expensive sneakers.  
The collaboration between Dior and Jordan, limited availability, superior materials, impeccable craftsmanship, iconic design, and the prestige associated with both brands all contribute to the extravagant price tag.  
Owning a pair of Dior Jordans represents more than just a fashion statement; it signifies a connection to the worlds of luxury, streetwear, and sneaker culture.