In this post, I am going to review some of the best shoes for plantar fasciitis. 
There are a number of important factors to consider when choosing a plantar fasciitis shoe to protect your feet.  
Approximately 10% of people have plantar fasciitis at some point during their life, and also studies show that 58.3% of plantar fasciitis patients wear inappropriate shoes.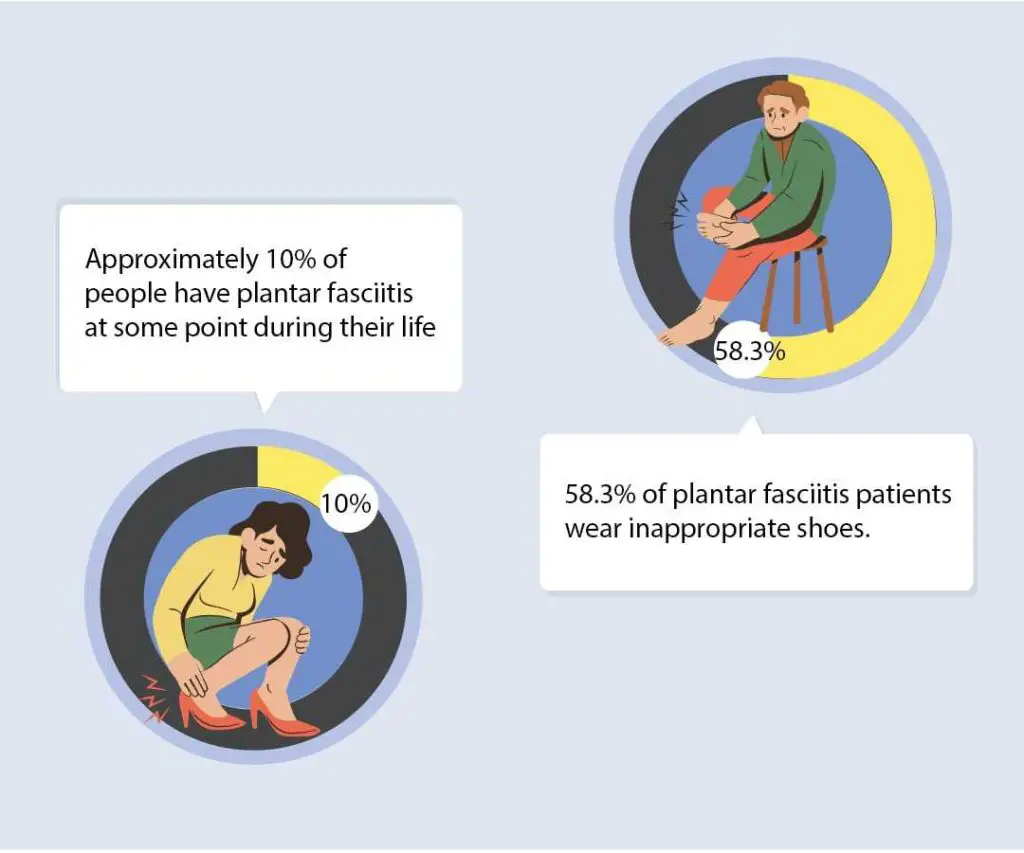 As a physiotherapist, my job is to inform you about which footwear is right for you especially if you have foot conditions like plantar fasciitis. 
So, before you rush for the best-looking shoes on the market, think about your purchase and how it can keep you safe and comfortable while walking, running, playing, or even hiking. 
This post is pretty thorough with lots of information, but here's the short version of my recommendation on choosing a plantar fasciitis shoe:  
It's worth spending a little more on shoes.  
Now, I'm not trying to convince you to spend more money on your footwear.  I'm trying to SAVE you money because if you get a nice pair of shoes that helps to ease your pain, you'll be happy with them and it's worth the money you spend. 
Understanding Plantar Fasciitis
It is a type of ailment more frequent in athletes (for example, runners, soccer players, or athletes) due to the exercise they usually do, but plantar fasciitis can also appear in people over forty years of age who do not have to practice sports.  
In fact, the cause for which it arises is not always clear, but there are certain behaviors that make the risk of plantar fasciitis more likely. 
We have already said that one of these main factors is the practice of a high-impact physical activity for the foot 
(We are talking about running long distances on hard ground, athletes who practice jumps, or dancers or people who do aerobic gymnastics in which excessive effort of the plantar fascia is required).  
If this activity has also started suddenly and insistently, the risk is even greater. 
Obesity is a major risk factor, because the greater the weight of our body, the more tension will be applied to the plantar fascia and, therefore, the easier it will be for it to end up inflamed. 
Other times, plantar fasciitis is more related to the anatomy of our foot. For example, it may be a common ailment among those who have flat feet, or on the contrary, a plantar arch that is too high. 
On other occasions, it is our particular way of stepping that ends up causing the fascia to become inflamed.  
That is if our footprint is pronated (we rest the weight on the inside of the foot) it is more likely that we will suffer from plantar fasciitis.  
We recommend carrying out a footprint study with your podiatrists in plantar fasciitis before starting to carry out a certain activity.  
Thus, it will be possible to know if the use of insoles is necessary or not, as well as to recommend the best footwear to choose for plantar fasciitis. 
Standing up for a long time

 
It is also common for this ailment to appear in people who spend a good part of their daily work on their feet.  
Let us think, for example, of customer service personnel, nurses, teachers, supermarket cashiers, factory personnel, etc. 
If you are looking for a shoe for nurses with plantar fasciitis check out this article. 
Tips for Choosing Shoes for Plantar Fasciitis
As we have said before, the shape of our footprint can be one of the risk factors for plantar fasciitis.  
Taking into account this, and always advised by expert podiatrists in plantar fasciitis, we will recommend the types of shoes that best suit your case and that can help prevent the appearance of new episodes of plantar fasciitis.  
In any case, the proper treatment does not only involve the use of specific shoes that prevent plantar fasciitis but also the use, as we have already pointed out, of personalized insoles. 
Of course, in general, for people who have not yet suffered any problem with their plantar fascia, it is always recommended to use good footwear that collects the plantar arch and cushions our footprint.  
In this regard, it should be noted that the continued use of high-heeled shoes or completely flat shoes is not good.  
And in the case of runners, it is convenient to change their shoes every 800 kilometers approximately. 
1. Choose shoes with enough cushioning. 
When you run, both feet are off the ground at the same time very often. When they hit the ground, your body supports the impact. The foot is responsible for absorbing and dispersing it.  
Many people with heel pain wear shoes that don't have enough cushioning. 
Or they continue to use the ones that are already very worn on the heel from running from heel to toe.  
In either case, your shoes don't provide the support your foot needs. 
2. Orthopedic Insole  
Shoes with a good orthopedic insole can offer some pain relief. Especially if flat feet are causing heel pain. Your daily running or walking shoes should have an orthopedic insole in the midsole. 
This provides the structure that flat feet need to reduce pressure on the ligaments and tendons in the area. By default, they also provide more stability to the ankles to further reduce the risk of experiencing heel pain. 
3. Wide Toe Box 
Many shoes such as high heels and dress shoes have a narrow toes. This restricts the movement of the toes and can cause pain in the tendon that runs through the foot to the heel. 
Choose shoes that have enough room for your foot to move naturally. This also works for people born with wide feet. Shoes designed for wide feet offer more room. 
How Long Does It Take to Cure Plantar Fasciitis
Plantar fasciitis is a condition with a long healing process, it is also an anomaly that generates a lot of frustration in the patient since the pain in the foot can become so intense that it prevents us from taking a step. 
That, you can imagine can affect our daily lives in a direct way. 
The estimated recovery time for a full recovery is usually around 10 months, which is why it is very important to go to the podiatrist at the first notice that our feet throw us. 
What are the Best Running Shoes for Plantar Fasciitis
The Bondi is designed with one and a half times the midsole volume of a traditional running shoe provides a tremendous amount of cushioning and impact protection for the runner.
 If you are suffering from plantar fasciitis, Achilles tendonitis, or osteoarthritis in the big toe joint the Hoka One One Bondi 6 is a better option for you. It is one of the great cushioned running shoes available on the market.
For the sixth edition, they really focused on streamlining the upper one to get the weight down to around 10 ounces. The active footprint cradles the runner's foot much like a bucket seat on a race car promoting a stable efficient smooth ride.
 This is a compressed rubber shoe, the midsole is made with compressed rubber. This is a very lightweight shoe for the amount of cushion that it has. Some users were disappointed with their breathability, they said the Bondi 6 is not breathing like other mesh shoes. The fit was too snug to accommodate the foot swelling that comes with longer distances and the upper was too warm making the shoes very sweaty.
Are Hoka shoes good for plantar fasciitis?
The podiatrist says poorly constructed shoes, including high heels and worn-out shoes, with less support, cause increased stress on the mid-foot and heel. Shoes with poor arch support, lack of heel cushion, or flexibility can also result in plantar fascia pain.
The Hoka One One Bondi shoes are one of the most cushioned shoes out there, and also they give you great arch support. Hoka shoe is a better option for people who suffer from plantar fasciitis.
Upper
The upper of the Bondi 6 is made from a breathable mesh that sits comfortably against the foot and allows cool air to flow into the shoe at the same time as releasing warm air out of the shoe, allowing the foot to remain as cool, dry, and comfortable as possible. The 3D Print structure is also used throughout the shoe upper which is made from a superbly lightweight material and offers a precise fit for secure and comfortable wear.
Midsole
The Early Stage Meta-Rocker chosen for the midsole is specifically designed with a low heel-to-toe differential and works like a rocking chair for your foot which allows the foot to be guided effectively through the natural gait cycle. A plush EVA material has also been used in the construction of the midsole which offers long-lasting cushioning and comfort
Outsole
The improved zonal rubber placement on the outsole provides better long-term durability so you'll run with confidence now comfort is simply not an issue with this shoe. The outsole is made from a durable rubber that will keep the bottom of the shoe from wearing away easily. Zonal rubber has been strategically placed in key areas along the outsole that are more likely to wear to give it extra durability.
If you are looking for podiatrist recommended running shoes for plantar fasciitis, the New Balance 1080v8 is for you.
The New Balance approach to running shoes is pretty interesting. They wanted to make advanced cushioning running shoes – one that can do a little bit of everything pretty well – and that's what they delivered.
The 1080v8 has very little to separate it from the previous model 1080v7. Its wider footprint provides greater stability and supportive ride. However, the midsole did not seem as responsive as it claimed, a couple of disappointed users said.
Upper
They have a breathable engineered mesh upper with a molded foam collar- it really secure and lock
in your foot but also keep you comfortable at the same time.
Its cush-collar construction is actually gonna lock in your heel back, so you don't have to worry about slipping out.
Midsole
The new Fresh Foam midsole technology provides advanced cushioning mile after mile. It really helps keep you cushion to the entire time to your run, and it's super comfortable. 
Outsole
This model improves upon its predecessors with newly reconfigured flex grooves on the blown rubber outsole. It also retains the crash pad located near the edge of the heel.
The New Balance Fresh Foam 1080 v8 comes in a variety of size options. These shoes come with profiles (width) of narrow, medium, wide, and extra wide for both the men's and women's versions.
On the upper part, a synthetic/mesh material used to improve the comfort, and appears to be a bit more durable than the previous version.
The flex grooves in the forefoot remain and add flexibility which provided a smooth ride. The full forefoot construction enables a comfortable toe splay, even for runners with a large foot.
People who suffer from plantar fasciitis, arthritis in the knee and occasional sciatica, these cushioned shoes are very comfortable! They fit well and feel like they have good support.
The next shoe in our list comes all the way from Asics. The Asics Gel-Kayano's are stability road running shoes, meaning that they are primarily made for people that slightly roll inwards or overpronate, but to be honest with you that correction is not so drastic that neutral runners can't get the Asics Gel-Kayano 24's so it's more moderate.
The cushioning system is really good – it's a combination of Asics flight foam and a little gel cushioning. They also have a 10-millimeter heel to toe drops now even though they feel a little bit less clunky. They are not going to give you that minimalist feel 10 millimeters are probably about the average for long distance running shoes. And then on top of that, they are super comfortable shoes they've got a really soft sock liner with just the right amount of padding throughout, it's not so much that it's annoying and kind of gets in your way and it's not so little that you're going to get a lot of blisters.
The only critique is that it applies a lot of pressure to the tips of your toes and the nails can dig in after a while, but this is not a big problem. Some user reported that the cushioning was not to the same level as Gel Kayano 21s, and their feet got sore just wearing the shoes around the house, however many runners were satisfied with the construction of Asics Gel Kayano 24. These shoes are extremely comfortable and let your foot use its natural fall when running.
Which Asics shoe is best for plantar fasciitis?
Asics Gel Kayano 24 just the newest in the line of great running shoes they've produced. Not only did they improve the cushion fit and stability of previous models, but it also features a new fluid ride midsole and even more forefoot gel cushioning for top-of-the-line shock absorption.
This Asics Gel Kayano 24 is mainly designed for overpronators and also it is one of the best shoes for runners with plantar fasciitis and heel spurs. Asics made different types of shoes that great for plantar fasciitis – Asics Gel Nimbus, GT-2000, Gel- Quantum etc. However, users who suffer from plantar fasciitis claim that Asics Gel Kayano 24 is better for heel pain.
Upper
Thanks to the new engineered mesh upper which is super lightweight, it's flexible, it's breathable. The upper technology combines multi-directional stretch mesh with stretch reinforcements that adapt to the athlete's foot, creating a truly customized glove-like fit.
Midsole
The midsole provides an ultimate combination of bounce back and cushioning properties with reduced weight and exceptional durability.
Outsole
The outsole provides reliable traction over the surface, especially on the heel area. The Rear Foot Crash Pad delivers a sleek heel-to-toe transition for an agreeable running experience.
It has a really stable heel counter like incredibly solid but it's not heavy. The Kayano 24's have a much more comfortable toe-box than the previous version, and one noticeable difference looks-wise – the raised
parts behind the heel are gone, and that back area is flatter now.
if you are looking for a detailed review of Asics women's running shoes check out this article.
What are the best walking shoes for plantar fasciitis
Walking with plantar fasciitis is painful! However, walking for exercise is one of the best therapies for it.
As you get older, the chances are highest for developing plantar fasciitis. It's also slightly more common in women than men. Wearing comfortable shoes can decrease the chance of developing plantar fascia pain. If you are walking every day with plantar fasciitis, these are the shoes for you.
Just like any other Saucony shoe, the Integrity ST2 is a great walking shoe for people with plantar fasciitis.
It is exceptionally comfortable-thanks to its ProGrid Cushioning. It provides incredible cushioning in a lightweight package.
Majority of users reported that prolonged walking and standing felt comfortable in the Saucony Integrity ST2.
It does have good arch support and also they keep your legs from being tired.
The insole is super comfy and also the sole isn't too skinny that you feel every pebble on the sidewalk. They seem to be well made. It may be a walking shoe but works perfect as well as a workshop in a medical office.
The Saucony Integrity ST2 comes with a great design, however, I wished for more color schemes to choose from. 
These have a generous and wider toe box in the medium width and they feel great just trying them on.
The midsole is comprised of a full-length compression molded EBA to deliver lightweight responsive cushioning to you, even have a highly responsive compound in the forefoot to help optimize cushioning throughout your entire gait cycle.  The addition of the pro-Hill grid system in the hill absorbs impacting shock for even more comfort and a walk track system throughout the entire midsole and outsole design gives you smoother transitions. If you want the best women's walking shoes for plantar fasciitis this is the better option for you
Are Saucony shoes good for plantar fasciitis?
The Saucony offers a variety of shoes, such as running, trail running, racing, walking, and a college collection. Each of these types of shoes utilizes specific technology relevant to the type of targeted activity. These shoes are also made by focusing on the arch type, pronation, and comfort.
The Saucony ProGrid Integrity ST2 provides great arch support and nice cushioning. Many of the consumers believe it is one of the best women's walking shoes for those who suffer from plantar fascia pain.
The Vionic women's walker is simply the ideal walking shoe for women with plantar fasciitis. The tongue and collar are padded for maximum cushioning and support. As anyone who has plantar fasciitis knows, it can be a real activity killer. But wearing the right shoe really helps to ease your plantar pain.
It is not an inexpensive shoe, $100 for shoes hits the wallet hard, but it well worth it in comfort and durability. Some disappointed users reported they don't look as nice as the white ones and they don't breathe as well.
There's enough room in the shoe so the side does not get disturbed. The orthotic is perfectly placed to allow the rest of your foot to rest. And the design does not look like an old lady shoe. You can't even tell by looking that I'm wearing an orthopedic type shoe.
 The Vionic women's walker is durably constructed in full grain leather uppers and a lightweight EBA midsole for flexible comfort. A durable rubber outsole provides stability and traction also heel italic technology lift see the arch and help support and realign the feet which often provides relief from these common aches and pains associated with overpronation.
Are Vionic shoes good for plantar fasciitis?
The Vionic shoes great for people who experience discomfort in their heels/arches – a common problem with plantar fasciitis. The pronation control provided with Orthaheel Technology helps to properly align the lower limbs and can reduce discomfort found in the knees and lower back.
If you want a good pair of everyday shoes to walk in and not experience pain in your feet; these Vionic shoe is for you.
As a man looking for the best walking shoes for plantar fasciitis, the Gravity Defyer is the shoe to go for. If you have numerous foot problems, it's advisable that you maintain an active lifestyle all year round.
The comfort fit insoles inside the shoes provide standard arch support. The G-Comfort Orthotics are condition specific. They provide you with support if you suffer from flat feet or high arches.
The Gravity Defyer is also fashionable and even the podiatrist was asking about where the shoe could be purchased. However, a disappointed user said that the footbed itself is curved upward, especially at the toes, which is painful for those suffering from hallux rigid us or fixed toes. It would be preferable to have a FLAT footbed and save the curving for the sole of the shoe. 
Are Gravity Defyer Shoes good for plantar fasciitis?
The Gravity Defyer comes with unique Verso-Shock sole. They absorb harmful shock and relieve the stress of your entire lower body. With the standard arch support and unique design of the sole, the rocker forefoot diminishes the stretching of the Plantar Fascia. So the Gravity Defyer shoes are great for those who suffer from plantar fasciitis.
Although, it's not inexpensive, It costs more than $130 but if you are willing to spend a little bit on your foot the Gravity Defyer is the better option for you. Their patented shock absorption and stability features can help relieve your plantar pain. This lightweight, breathable sneaker provides a secure fit with a soft interior lining and a low profile design that packs the same pain relieving VersoShock technology you've come to love.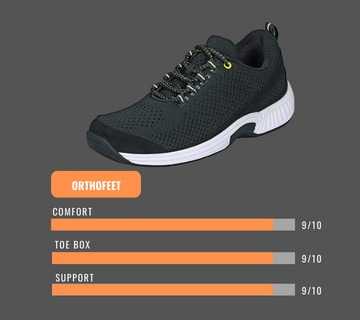 Orthofeet Comfortable Orthopedic Sneakers
Orthofeet Sprint sneaker is simply the ideal walking shoe for men with plantar fasciitis. It is podiatrist approved and features the most sophisticated technology to provide the required anatomical arch support and non-binding relaxed fit.
The fit is perfect and they give you extra lifts in case the shoe is not tight enough at the arch.
The shoe comes with extra inserts to individualize the shoe to your exact foot size and feel, the shoe also has additional velcro straps that help mold the shoe to your heel.
For the support this shoe offers, the price seems very reasonable also. They are as attractive as any name-brand sneaker and are great for walking.
What shoes do podiatrists recommend for plantar fasciitis
Many people have a question – What shoes do podiatrists recommend for your plantar fasciitis? Based on your pronation type and arch support level needed, podiatrists prefer different brands like Newbalance, Asics Gel, Hoka One One etc. However, the majority of podiatrists recommended Orthofeet shoes for their patients.
Dr. Steven Gershman, DPM, a podiatry specialist in Auburn says -"The Orthofeet shoes are designed with unique ergonomic features that cannot be found in any other brand. My patients love them, and in fact, I wear them myself daily, as they are the most comfortable shoes I have ever worn."
 A disappointed user says the toe box uncomfortable, rubbing their hammer toes. However, these shoes
support your feet and have most definitely helped with your pain and discomfort.
Next up is another incredible plantar fasciitis walking shoe from Brooks. In all honesty, the Brooks addiction walker is the ultimate option
if you are in search of plantar fasciitis walking shoe that can perfectly accommodate your feet for long hours.
The Addiction Walkers are available in white, black, and brown. The Brooks Addiction is constructed similarly to the Brooks Beast 16 and has the same therapeutic effect. 
The wide tall heel platform provides excellent support and prevents ankle rotation. The tall heel is a must for folks with plantar fasciitis.
The Addiction Walker offers excellent support, is very well made and not bad looking for a walking shoe.
 This Brooks shoe has a supersoft full-grain leather upper for added durability and it's a ton of style. It's nicely lined on the interior too with cushioning in the footbed and a complete amount of textile lining for added comfort- plus the footbed on the inside is completely removable – allowing you the opportunity to completely customize it with your own personal orthotic.
 You have hydro flow technology throughout the full-length bio MoGo midsole to absorb shock like no other with each and every step – you even have an edition of the diagonal row bar technology on the instep to help reduce pronation with each and every step as well to give you more support and guide your feet for an effortless transition and it's all on a durable slip resistant HPR green outsole that's made of environmentally-friendly silica and gives you more stability.
Are brooks shoes good for plantar fasciitis?
The majority of consumers say that these Brooks shoes are very comfortable and provided instant relief from their plantar fasciitis.
The Extended Progressive Diagonal Rollbar and the dual density post at the medial arch allowing for progressive pronation control, even the insoles they came with gave good arch support. Many of those who suffer from foot issues such as spurs and plantar fasciitis claimed that the brooks shoe relieved pain and discomfort.
 They fit well and are quite superior in fit and comfort to New Balance Walkers of a similar style for half the price.
What are the best dress shoes for plantar fasciitis
Whether you're looking for shoes for the office or for a social event, these best dress shoes should protect you feet from plantar pain, without sacrificing the style.
We've included some stylish examples of dress shoes below that can support your feet.
Orthofeet Gramercy is unquestionably one of the best walking shoes for men with plantar fasciitis. If you're looking for a comfortable pair of dress shoe for your plantar fasciitis feet, then look no further than this executive offer from Orthofeet.
Some people complain about their price, but you get what you pay for.  As for comfort during long standing sessions like all day trade shows they work great. They come with two sets of thin inserts to tighten them up a bit.
The upper body of this casual shoe is made with full grain leather. The Ortho-Cushion System is biomechanically engineered to alleviate stress on the joints, enhance stability and help facilitate foot motion. Walk comfortably and pain-free every step you take.
The Gramercy's soft, non-binding upper with extra depth design and wide toe box eliminates pressure on bunions and hammer toes.
What shoes work best for plantar fasciitis?
Wearing well fitting shoes is sometimes not enough for people with foot conditions and specific foot types. In these cases, the podiatrist may recommend orthopedic shoes.
You may require orthopedic shoes if you have a foot or toe deformity a complicated or severe foot injury extremely wide bunions and open sore or Plantar fasciitis pain that affects your feet.
The more abnormal your foot mechanics are the more likely you will require orthopedic shoes.
Nowadays orthopedic shoes don't have to be ugly, there are a number of relatively stylish options available for patients of all ages and fashion tastes.
If you need professional looking men's dress shoes that are stylish and yet comfortable in extra wide, extra large sizes this is the shoe for you.
Dr. Comfort Wing is another fantastic Men's dress shoe for plantar fasciitis. As the name suggests, this shoe is a comfortable shoe with classic craftsmanship yet sophisticated style.
They look very professional, yet they almost feel like a
sneaker. They do have a rubber outsole so you're not getting that nice click when you walk on a hard floor. 
The upper is crafted from the finest leathers and the laces are also made with good quality leather. They feature extra width and depth in the toe box and forefoot to relieve pressure from key areas of your feet.
The Dr. Comfort sneakers are designed as a therapeutic shoe, and they also provide many protective and comfort features.
 It features fine leather interiors and hand-burnished finishes which you can comfortably fit your feet into without any problems. Stitching is on the outside of this dress shoe. Stitching on the inside can cause skin irritation or breakdown.
 Most users love this shoe because it's very functional yet comes with a stylish design. Although it is not inexpensive, if you want a stylish dress shoe that actually reduces your plantar pain, the Dr. Comfort Wing is a better option for you.
Just because you suffer from plantar fasciitis doesn't mean your shoe options are reduced to a few, dull choices. In addition to being an exceptionally elegant shoe for work, Vionic is dedicated to combining comfort and style with superior performance.
They don't flip off your feet while walking, and they provide nice support and comfort. These Vionics worked very well and looked great with slacks, leggings, or skirts. They offered good arch support and were comfortable. However, some people say that they don't think it would be comfortable for long walks.
The upper of these Vionic shoes are made with full-grain leather. The shoe appears to be well made and has a nice non-slip rubber outsole.
What are the best shoes for being on your feet all day?
The front top is a little bit tight at first and started to rub. However, wearing these shoes for limited time to fix that problem. The upper and the insole are made with soft leather so it doesn't hurt your feet for wearing a long time.
If you are looking for a women's dress shoe that provides great support and is capable of wearing all day without any pain, these women's Vionic shoe is the better option for you.
The majority of consumers who suffer from plantar fasciitis and heel spurs say the Vionic Spark Minna provides excellent support and helps to reduce their pain.
Next up is another incredible professional clog from Dansko. It features an all-leather upper and polyurethane outsole that's specially designed to provide your feet the comfort they deserve.
They are completely comfortable and have excellent shock absorbing potential, which cuts down on back pain after working or long hours standing. The color pattern choices are cute and range from plain and simple to wild and colorful, depending on your preferences.
Are Dansko shoes good for plantar fasciitis
Majority of Dansko fans who suffer from plantar pain have a question, Are Dansko shoes good for plantar fasciitis?
This Dansko professional mule is a podiatrist recommended the shoe. It provides good arch support and nice cushioning. Most of the people who suffer from plantar fasciitis say's Dansko shoes help to reduce their plantar pain.
Medical organizations like mayoclinic.org say avoid high heels and wear shoes with a low to moderate heel, good arch support, and shock absorbency to reduce your plantar pain.
When you find that your feet start to get sore from standing too long, on the soles of your feet, it may be that the shoes are worn out.
 The clog's arch should be under your arch and you should not feel the back of the shoe on your heel or your toes touching the front of the clog.
 Most people have two different sized feet. Be sure to try on both clogs and fit them to the larger foot.
These shoes are perfect for work and weekends if I don't have to walk really long distances. They are a great winter shoe option for jeans. If you spend long hours on your feet, you have to pick up a pair from Dansko's Stapled Clog collection. Each has a polyurethane rocker-bottom sole, designed to protect the feet, legs, and back from the stress of standing or walking, and to propel the foot forward, helping you stay on the move.
What are the best tennis shoes for plantar fasciitis
If you are serious about your game, whatever it is tennis, football or basketball etc; proper footwear should be an important thing for all players.
If you are looking for the best tennis shoe that protects your feet from planter fasciitis or that provides maximum support for your feet on the court, this list is for you.
For years, Adidas footwear series of tennis shoes have been dominating the market for all the right reasons. After several years, I am looking at the Adidas Barricade 2018 tennis shoe. A newly released version that is more suitable for sporty users.
The sole is very thick material and so far it is holding up very well. Adidas Barricade 2018 is one of the perfect shoes for tennis because they're very comfortable and have just the right grip on the court.
They were a tiny bit more narrow than preferred but will hopefully stretch out a bit so these are good fitting for large plant feet.
Good traction in changing directions, soft enough to feel the floor, rigid in the right points to protect you from injuries. People who suffer from plantar pain say Adidas Barricade Club is one of the best tennis shoes for plantar fasciitis.
This lightweight tennis shoe comes with a decent price and offers a removable insole. This shoe provides a nice cushioning and the arch support is slightly low. So we recommend this tennis shoe for those who suffer from low or moderate planter pain.  
New Balance has been one of the best companies out in the market releasing some fantastic user-friendly products. The company was founded in 1906 as the New Balance Arch Support Company and now it is one of the world's major sports footwear manufacturers.
The New Balance 608 v4 made out of smooth leather or sweet material throughout that upper, that really gives you a locked in secure fit. The material is not stretchy like mesh fiber.
They are very comfortable and durable. The inside has good arch support and padding that allows for a comfortable feel. These shoes really hold up well. They have done a great job for correcting your excessive pronation and helping with your plantar pain.
The shoes are made of leather and appear well made, the laces are flat, so they stay tied tight. The soles feel hard when you just stand on them, but you can feel the cushion when you walk. The toe-box of these shoes are a little bit narrow than the other types of New Balance shoes.
 The only downside we have found that they are not slip-resistant. If there is water on the floor, they seem to be just a little slick. They have a higher back than other athletic shoes, so we found them, more comfortable as they are more supportive in the heel. Several users recommended using the shoe for cross-training because it provides great support. We recommend them if you are looking for supportive shoes for your plantar pain and heel spurs.
What are the best work shoes for plantar fasciitis
If you are working on construction sites or any environment like that, a solid pair of work boots is worth the investment if you spend all day on your feet. A lot of problems are caused by wearing inadequate boots; Working in any environment where there is a risk of causing foot problems are high.
 If you suffer from plantar fasciitis, you need to provide additional protection for your feet while doing physical activities.
When you work in a place where accidents are more likely to happen, the most important thing you need to do is invest in is your safety. Probably you know that the safety begins with your feet, selecting the proper
work boots for your job is essential.
 Choosing the wrong work boot may cause plantar pain, so we decided to include these Timberland work boot that actually helps with your plantar fasciitis.
The Timberland White Ledge Boots are constructed from full-grain waterproof leather and seam-sealed for complete protection from raindrops and water crossings.
These boots include a breathable footbed and a durable rubber outsole contains lugs that help you brake, accelerate, and climb with ease.
The upper backing has a horizontal cord stitched in to keep the shape fitted to the ankle. However, the toe area is, in particular, seems narrow, if you wear and truly need a wide width, you may want to look elsewhere.
These boots are extremely comfortable after a short day or so break-in period. They're also very lightweight and have performed very well in flooding, and puddles.
The boots come from the factory waterproof. It is a great choice for a slightly more stylish boot, especially when you have a slightly picky teen.
The outsoles are made with a light-weight rubber, this makes the boot lightweight and very comfortable. The tread is excellent – very grippy and capable when climbing or descending rock, gravel, dirt, slippery surfaces, etc.
 The top and sides are soft and don't apply pressure that hurt like most shoes, great grip in snow here in NE, and bottom seems to be a great support.
We recommend these boots if you're looking for solid support, especially if you have plantar fasciitis.
The downside of this boot is, they are not warm, so make sure if you're looking for a winter boot that you wear socks with these.
This is another great work shoe that delivers great support coupled with a beautiful design. If you are looking for the best work shoes for plantar fasciitis, this Skechers Energy Afterburn Sneaker is a better option for you.
These rugged and stylish shoes are made out of a very
durable synthetic upper with a molded quarter detailing on its sides that look really nice.
The inside lining super soft and padded, you have a lot of comforts down there in that footbed with that padding down. You also have a compression molded EBA midsole that gives you a ton of added shock absorption and comfort all day long. This lug rubber outsole gives you a real stable ride over a variety of surfaces.
The stitching on the toe has sometimes had a thread come loose very soon after purchase but it never caused the toe rubber to come loose and I just trimmed it off with no issues. The laces have always lasted the life of the shoe.
The insoles in these Sketchers were glued in but were very easy to remove. However, if you use custom orthotics or insoles it is slightly disappointed for you.
It only took a little patience and they peeled out in one piece. This is good for providing lateral stability for people who put most of our sole wear on that portion of the heel. We recommend these shoes to anyone who needs solid support and spends time walking on hard floors.
What are the best hiking boots for plantar fasciitis
The hiking boots are one of the most important items of hiking gear since their quality and durability can determine a hiker's ability to walk long distances without injury. Nonetheless, if you are a hiker you probably know that hiking with plantar fasciitis is a hard thing.
Wearing right kind of boot may decrease the risks of your hiking journey.  Many traditional hiking boots have a flat sole, so be careful about choosing the right boot. We've included some comfortable boots below that can protect your feet.
In my opinion, Keen is one of the companies that tried to make the hiking shoes relevant by perfectly mixing the design elements of modern sports shoes with the advanced features of hiking shoes.
 It's designed to keep your feet dry and let them breathe, and the aggressive outsole bites into the terrain. This hiking shoe is ready for off-road adventure. Durable waterproof protection stands up to wet weather, and the lucky outsole adds traction. Please note, the leather might be a little darker than shown.
These Targhee's are a perfect example of Keen quality and, with the insoles, are very comfortable for prolonged periods when walking on dirt and gravel or standing on concrete.
The heel area feels like stepping on a sponge. There was plenty of width in the toe area, and with wool socks and the laces snugged up, they are extremely comfortable, even though a bit large.
The Targhee II is waterproof, which is great if you hike into wet environments. The shoes do get a little warmer than non-waterproof shoes, so if you don't need the waterproofing you might opt for a more
ventilated shoe.
Are Keen hiking shoes good for plantar fibroma
A plantar fibroma is a fibrous knot (nodule) in the arch of the foot. It is embedded within the plantar fascia, a band of tissue that extends from the heel to the toes on the bottom of the foot. Want to know more?
As per Healthline magazine, If your fibroma is stable, meaning it is not changing in size, custom orthotic devices (shoe inserts) may relieve the pain by distributing the patient's weight away from the fibroma. Although their usefulness is questionable, there is no risk in trying them.
As a result, wearing shoes and standing may become more comfortable. People who suffer from plantar fibroma say the Keen shoes are one of the best shoes for plantar fibroma, it really helps to reduce their fibroma pain.
Are keen shoes good for plantar fasciitis?
Plantar fasciitis is one of the most common causes of heel pain. Podiatrists recommend wearing shoes and using orthotics may become more comfortable for plantar pain. Keen shoes are one of the podiatrists recommended shoes for people with plantar fasciitis. These Keen Targhee II hiking shoes provide great arch support and nice cushioning, also it reduces your excessive pronation and reduces plantar pain.
The next one on our list is the Merrell Moab 2 Vent hiking shoe. They are a very good shoe with many high-quality features that made your hiking very pleasurable experience.
The core of the shoe is rugged and provides lots of support and protection for rocky technical trails. The upper is durable suede leather and mesh and of course, you have a substantial protective rubber toe cap for
added protection.
Of course, only in a premium shoe are you going to find excellent waterproofing, the Moab two's have Merrill's M select dry which seals out water but let's moisture escape so you stay dry when you're on the move.
They breathe really well and they are comfortable in all types of terrain. They are heavy enough to give good stability on loose gravel trails, but not heavy like a classic hiking boot.
The Moab 2 is very comfortable and made with breathable material as to minimize sweating. If you are looking for a hiking shoe that reduces your plantar pain or heel pain, the Moab 2 is worth the money because of its comfort, support, durability, and style.
Are Merrell shoes good for plantar fasciitis
Merrell has great support in the sole and provides nice cushioning but they are not the best option. Many people with heel pain still love them though, so they may be worth a try.
If you have a moderate or low plantar pain and if you are planning for hiking, climbing or other outdoor activities this Merrell Moab 2 Vent hiking shoe is a good option for you.
What are the best Clarks shoes for plantar fasciitis
The company has over 1,000 branded stores and franchises around the world and also sells through third-party distribution.
 This Clarks Unstructured shoe has a removable vegetable-tanned leather insole to reduce foot friction. 
The lambskin lining of this women's shoe encases your whole foot in comfort while the unique air circulation system keeps your feet cool. The shoes are lightweight and offer excellent quality. If you are looking for a well made everyday shoe this is it. They aren't the most attractive shoes, but they look great with jeans.
These also look fine for semi-casual office wear. If you're looking for something really dressy these are probably not the shoes for you, but if comfort is what you're after then these are it.
Built into each shoe is a unique system that increases the airflow for better comfort. The exclusive sole design features air intake vents that bring fresh air in from the outside exhaust vents and then release the warm
moist air from inside your shoe.
Are Clarks shoes good for your feet?
Clarks is one of the major brands that manufacture high-quality footwear. With more than 200 years of experience, they made comfortable shoes for their consumers.
This Clarks Unstructured shoe provides good support for your feet and offers comfortable wear. The medium width accommodates the bunions, and the arch support and cushioning are great for those who suffer from plantar fasciitis and heel spurs.
The last one on our list is the Clarks Women's Sillian Bella Mary Jane Flat shoes. They are very lightweight and have a soft and cushy insert that can be lifted up so you can put in an orthotics.
It features an adjustable hook and loop strap closure, so you can really have easy on and off wear. Unfortunately, there is very little arch support across the velcro strap.
The rubber outsole is thick enough to raise me above small puddles in bad weather but thin enough for them to look a little dressy as well– not so thick to be clunky and heavy.
The soft, cushioned insole makes them super comfortable, and also can be pulled right out.
As well as more customized fit inside there's a soft fabric lining along with a cloud steppers foot-bed.
 It is so cushy and comfy you're definitely gonna be in good care throughout the day, however, if you have your own custom orthotics that you just cannot wear the thought of parting with, then you can use them on the shoe.
These shoes are more of a medium walking shoe than for heavy-duty support use, such as standing on concrete floors.
Are Clarks shoes good for plantar fasciitis?
Clarks are passionate about making dress shoes and laid-back boots and other comfortable footwear, these are not the best shoes for plantar fasciitis. However, many users who suffer from plantar fasciitis, heel spurs & Morton's neuromas say these Clarks Sillian Bella Mary Jane Flat shoes really help to reduce their heel pain.
If you have foot issues like plantar fasciitis, heel spurs & Morton's Neuromas, you want to try these shoes.