In this article, I am going to review some of the comfortable shoes to wear after bunion surgery.  
The bunion is accompanied in most cases by redness and pain as there is continuous friction with the footwear and there may be involvement of the nerves of the sole of the foot. 
According to NCBI research, up to 23 percent of adults between the ages of 18 and 65 and 36 percent of people over 65 have bunions.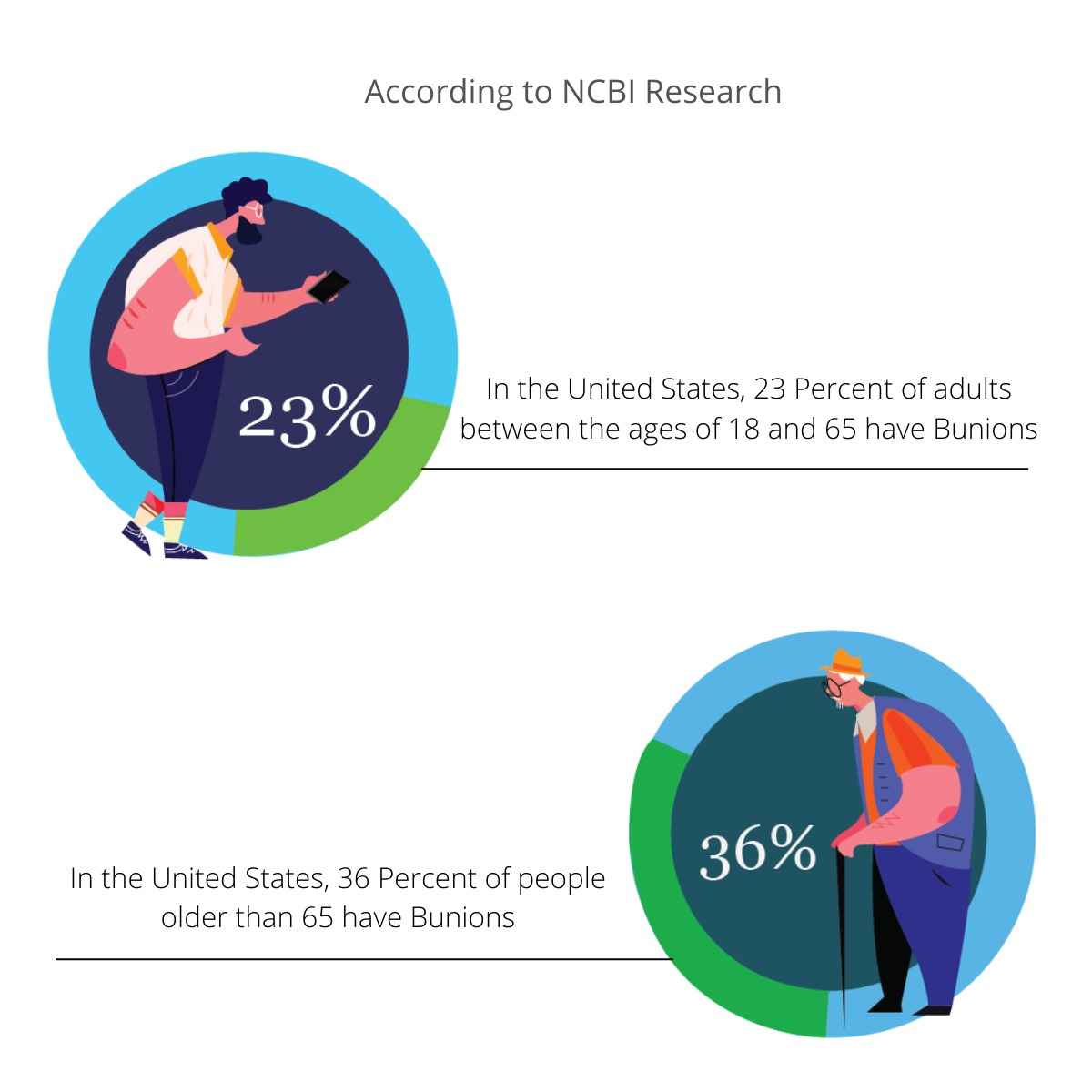 Did you know, that about 150,000 bunion procedures are performed in the United States each year, and when a highly trained foot surgeon performs the surgery, the success rate for pain relief is 90 to 95 percent says Dr. Mark Drakos. 
A study in the Journals of Gerontology says that wearing constrictive footwear between the ages of 20 and 39 may be critical for developing bunions in later life. 
It is crucial that individuals wear supportive and proper footwear to prevent bunion recurrence even after surgery. 
Without further ado,  
Let's look what are the best shoes to wear after bunion surgery. 
Post OP Shoes After Bunion Surgery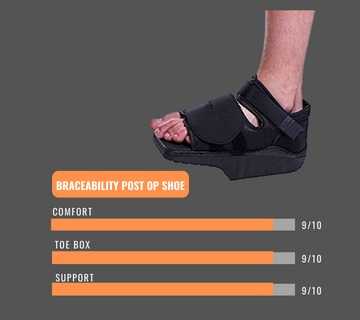 Walking Shoes After Bunion Surgery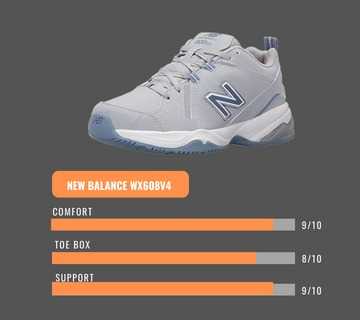 Orthopedic Shoes After Bunion Surgery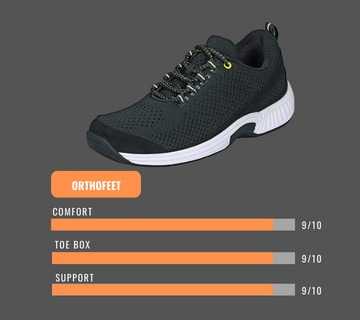 Dress Shoes After Bunion Surgery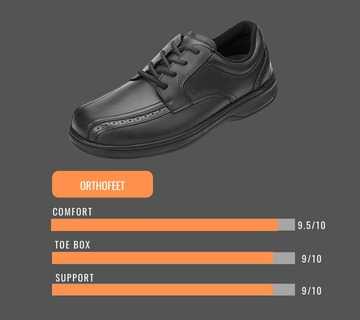 Understanding About Bunions & Bunionectomy
What actually causes Bunions? Explained
There are several causes for the appearance of bunions (hallux valgus), but the most frequent reasons are the use of inappropriate footwear, inflammatory bone diseases, and a genetic predisposition. 
Incorrect use of footwear is considered to be a risk factor in the development of bunions. 
In turn, studies indicate that children of parents with bunions are prone to suffering from this condition, even from puberty or early adulthood. 
Gender plays a role in the incidence of bunions, with women affected much more than men. 
In any case, much of this female preponderance is also related to the use of inappropriate footwear, especially those with high heels and narrow toes. 
This type of footwear forces the person to walk almost on tiptoe, altering the relation of effort and tension in the muscles and joints of the foot. 
During walking, the entire weight of the body is concentrated, in stages, on different points of the sole of the foot: heel, joint of the fifth toe, and finally on the joint of the first toe 
In addition, narrow-toe footwear presses on the first toe, which in turn affects the second toe, causing it to deviate up to 45º from its original longitudinal axis. 
Can a bunion grow back after surgery? Things you should know
Many people have a question in their mind If I have surgery, will I not suffer from bunions again? 
Bunion corrective surgery helps correct the original alignment of the big toe by removing abnormal bone growth. 
However, the bunion can develop again since its appearance depends on factors that cannot be completely eliminated with any surgical intervention. One of these factors is wearing the wrong footwear after surgery. 
In the case of many women who have done bunion surgery, continuing to wear inappropriate footwear will influence the future development of this problem. 
However, with proper foot wearing, it is possible to prevent the bunion from returning after surgery. 
Tips for Choosing Good for after Bunion Surgery
The surgical shoe is the first thing you should use after surgery, and you will usually have to wear it for about two or three weeks.  
The doctor or your foot surgeon will be in charge of saying when to stop using it. From there, you should pay special attention to the type of shoes you use. 
Check out this article if you want to learn more about tips for choosing good shoes after bunion surgery. 
It is important to start by wearing shoes with a wide toe box that does not cause compression or irritation in the operated toe.  
It is a mistake to think that the solution is to buy a shoe of a larger size. 
The aesthetic of these shoes is usually a bit roomier than normal and they tend to be a bit boxy in appearance.  
The sole should be flexible and the toes should have enough room to move.  
This allows the fingers to have a correct posture, avoiding the displacement of the big toe and thus preventing inflammation. 
2. Choose a quality breathable and elastic upper
The best thing is to go for soft leather as a suitable material for footwear, especially in the upper part that covers the toe. Lace-up sneakers can be a good option. 
The shoes you wear must have a resistant and soft sole, such as rocker bottom shoes.  
Rocker bottom shoes are designed to provide better balance and weight distribution so you don't experience uncomfortable sensations in your feet while standing or walking. 
4. Avoid strapped footwear
Avoid shoes with straps that cut close to the bunion. The edges irritate the area and will cause more pain. 
5. Avoid the use of high heel shoes
Also, high heels should be discarded until the foot is fully recovered from the intervention. 
The key once there is a full recovery in the foot, is to use shoes that fit correctly. It is the way to prevent bunions from coming back. 
How long after bunion surgery can you wear normal shoes?
Your foot surgeon may typically remove the stitches after 2 weeks, but people have to continue to wear crutches or post-op shoes for 6 to 12 weeks. 
It can be up to 8-10 months before a person makes a full recovery and their foot returns to its normal size. 
However, it totally depends on your surgery and healing progression – you may wear normal shoes or athletic shoes in about 4 weeks, and be able to wear sandals or dress shoes, in 8-10 weeks.  
Although, women should try to avoid wearing high heels for at least a year after bunionectomy. 
Does shoe size change after bunion surgery?
The size and the shape of the foot can change after bunion surgery. Keep this in mind when shopping for new shoes. So, make sure that properly measure your foot before buying a new one.  
Are Crocs a good shoe to wear after bunion surgery? Here is the TRUTH!
Although Crocs shoe is undeniably popular, its daily use could have consequences on the health of the feet.    
Specialists warned about the main consequences of the abuse of its use, such as tendinopathies, bunions, and especially problems in walking posture. 
The lack of flexibility also impairs the natural gait of the "heel arch toe" foot. Forcing the forefoot area could generate pathologies, such as hammertoes or bunions. 
A member of the American Institute of Podiatry Alex Kor mentioned that "I see patients coming into my office complaining of arch or heel pain and the reason is that they are wearing Crocs. The only types of patients who can benefit are those with a very high arch" 
Best Post OP Shoes to Wear after Bunion Surgery
If you are looking for post-op shoes to wear after bunion surgery these post-op shoes are clinically proven to reduce pressure loading on the forefoot and promote faster healing after surgery or trauma. 
Comfortable

 

Squared toe section

 

Breathable, open design.

 

Light Weight

 
Swelling and fluid retention can often be a natural part after bunion surgery, but excessive swelling may delay the healing process and lead to other complications, which is why we recommend these Vive post op shoe.
These Vive Post Op shoe provides stable protection after post-operative procedures and forefoot trauma. It is lightweight and durable. The adjustable surgical walking boot has a rocker sole that supports the arch and reduces pressure on the foot while keeping dressings dirt-free and dry.
Although, the Vive post op shoe doesn't cost more money. Many satisfying users say it is one of the best post op shoes they ever wear after bunion surgery, and the soul is really supportive and walking in it is easy and comfy.
The shoe has three straps that are adjustable using velcro. Out of the box, the straps are probably too long for most people and need to be adjusted with the excess strap being cut off with a pair of scissors. Do note, there is a one inch piece of velcro on each strap that is removable. Pull this one inch piece of velcro off and move it along the strap to fit your foot, then cut off the excess strap.
What shoes can I wear after a bunion operation?
As per Healtline magazine – expert podiatrist say's, for the first two weeks following your foot surgery, you'll wear a surgical boot to protect your foot. After removing the boot, you'll wear a brace (Post OP shoe) to support your foot while you heal.
Velcro is adjustable for a custom fit.

 

Lightweight and Comfortable

 

The square toe design provides additional protection.

 

Reduce front load
If your surgeon recommended wearing post-op shoes, the BraceAbility off-loading shoe is a better option for you. It features a unique forefoot closure that provides uniform security without the pressure point of buckles and straps.
The sole of the shoe is hard and does not bend at all, so you can walk normally without worrying about your toes bending. The strap over the ankle and the flap that goes over the front of the foot are both soft padded, and very comfortable. In addition, the rocking heel allows you to put the shoe on loosely and use your heel to balance a little bit. The shoe is well made and has held up perfectly with daily wear.
The Velcro closures for both ankle and foot closure provide a wide range to accommodate different thickness socks. Easy to pair a regular shoe with on your other foot, if you wear it with dark socks no one will even notice you are wearing a post-op shoe, sure you would not hesitate to buy it again.
Best Walking Shoes After Bunion Surgery
You can wear more comfortable walking shoes after 6 weeks after surgery. These shoes should also have sturdy midsoles and outsoles to absorb shock and provide the necessary arch support for all-day wear. Let's look at some of them. 
Availability of wide-width variants.

 

Good arch and heel support

 

Leather upper.

 

Wide Toe box

 
Your doctor say, after surgery, the foot must be protected to allow the broken bone to heal, and the inflammation to subside. The use of Post OP shoe or crutches will depend on the particular procedure that needs to be performed.
After removing the cast or post OP shoe, you'll need to wear comfortable shoes like New Balance 600 series. Absolutely, these New Balance shoe is one of the most comfortable shoes after bunion surgery.     
The wide width is just perfect for you, because it accommodate your whole feet without hurting the surgery area.
The outside of the shoe is well-constructed and made of leather and the outsole is rubber, which is another positive quality feature. Rubber reduces the likelihood of slipping on wet or slick surfaces, provides a cushion to the feet and holds up much longer than plastic. Plastic type soles don't provide the same kind of traction as rubber and can cause you to slip on surfaces. Also, plastic has no cushioning effect or flex. If you are looking for a most comfortable shoe to wear after bunion surgery, the New Balance WX608v4 is a better option for you.
When can you walk normally after bunion surgery?
After the surgery, patients may also expect faster relief from pain and swelling than the procedure allows, it depends on your condition and type of operation. 
However, bunion surgery can be quite uncomfortable and may require about three months or more to completely heal.
So comfortable, that you can wear it all day long.

 

Orthotic inserts

 

Durability

 
The outsole lacked traction on wet surfaces

 
Having a secure fitted and comfortable shoe is paramount when it comes to recovery process. A secure fit will promote the healing process and keep the foot from moving around in the shoe.
The Saucony ProGrid Integrity ST2 walking shoe provides a more comfortable and forgiving forefoot fit and incredible cushioning in a lightweight package.
The construction is good and the foot bed is well padded and provides really good support. The only drawback to me is they seem rather chunky in person. It's fine for fall and winter wearing.
It is wider, but doesn't suffer from the slop factor of many wide orthopedic brands available in the market. Delighted to say, after bunion surgery procedure these are the best walking shoe you need to try. The bonus is that the stitched reinforced areas of the shoe pretty much stay clear of the big toe joint area. If you are looking for a waling shoe to wear after bunion surgery, the Saucony ProGrid Integrity ST2 walking shoe is for you. 
Best Orthopedic Walking Shoes After Bunion Surgery
Orthopedic shoes are the conventional, arch-supporting, wide-spaced, cast-capable shoes typically required after foot surgery. 
If you are looking for an orthopedic walking shoe to wear after bunion surgery this is for you. 
Wide Toe Box
Orthopedic Insole
Comfort
Great design
Traction
Limited color choices
This orthopedic shoe comes with a rubber sole and orthotic insole with anatomical arch support and cushioned pads that mold to the contours of your foot as you walk. 
Ortho feet shoes are not only good for bunions, but it also great for many foot conditions like Plantar fasciitis, Achilles tendonitis, and Peripheral neuropathy.     
Its design is soft and gives comfort to those who use it. Its biomechanical system relieves pain caused by stress in the joints and provides greater stability, which facilitates movement.  
It has a wide toe box design that eliminates pressure on the bunion area. 
Wide Toe Box
Orthopedic Insole
Comfort
These shoes were designed to relieve your feet and reduce pressure, as well as allow better stability when starting your walk. 
This shoe offers a high level of cushioning and robust structures that provide more stability. 
And the wide toe box design is ideal for people who looking for a shoe after foot surgery. 
Best Dress Shoes After Bunion Surgery
If you are looking for a dress shoe to wear after bunion surgery, this is for you. Also, keep in mind that don't wear high heels and narrow-toe boxed shoes. If you wear them, it may grow back the bunions again.    
Great support
Wide Toe Box
Orthopedic Insole
Comfort
This beautiful leather dress shoe is a great option for you if you had bunion surgery.   
It comes with orthopedic insoles that support the anatomical arch of the foot.  
This shoe has a light cushioning system with an extra soft bottom that eliminates pressure on the bunions. 
It is ideal for people who had foot surgery as it offers comfort and relief to foot ailments for both men and women. 
Great support
Comfort
Design
An excellent choice for those who looking for a shoe after surgery, the Skechers Women's D'Lites Memory Foam Lace-up Sneaker is a high-quality but budget-friendly walking shoe.
Skechers are so comfortable and they look good and they last. If you need good quality shoes that are wider, these are the best. It features an air-cooled memory foam insoles, you can feel the gel cushioning when you walk.
These shoes have a stretchy material along the sides of the toe box, allowing for extra relief in the bunion area, yet these are made with sturdy Suede Leather. This style of sole is more for street or gym use, rather than for walking on trails, however; the sole is great for the use it was made for. The arch is better than average, giving good support, and the heal height is ample for relieving stress in your back when walking.
I would highly recommend this for people who have problems with their walking ability also. Skechers D'Lites is one of the great orthopedic shoes at a very reasonable price.
Best Sandals After Bunion Surgery
Sandals that are not rubbing the operated area are good to wear after bunion surgery, also make sure that the sandals give you a good amount of support.    
The arch design of the sandal ensures that your weight is evenly distributed between the toes, the arch, and the ball of your feet.  
One of the techniques used in this pair of sandals is the sole made of nano-foam – the new generation of memory soles that will transform to fit and comfortably hug your feet, wherever you go. 
The AEROTHOTIC sandal's orthopedic design effectively relieves bunion pain and improves foot posture. A weak imbalance can lead to pain in the knees, hips, and other muscles in the body.  
These AEROTHOTIC Orthopedic sandals help prevent hip and muscle imbalances, bowed knees and legs, and other future toe complications. 
The physical therapist recommends shoes that do not have a raised heel. In other words, try to avoid any shoe that tilts your foot forward toward your toes.  
If you're looking for serious all-around comfort on your walks after bunion surgery, these Vionic Women's Tide II Toe Post sandal is just for you.  
The Vionic innovative outsole designs are engineered with top-quality, tested materials and then extra-cushioning insoles are added to enhance comfort and feel.  
These sandals provide enough arch support for you and you can wear them for several all day without any problem.  
Also, they are super lightweight, if you have an extremely painful foot after bunion surgery, these Vionic sandals would probably be an excellent solution.