Walking with plantar fasciitis can be painful, yet walking for exercise is one of the best therapies for it.
Podiatric experts say you may not be able to walk as far or as fast as you did prior to developing plantar fasciitis, but continuing to walk will help you heal further.
How can you walk without pain?
The better solution is wearing an orthotic insole.
Studies have shown that wearing a supportive footwear and orthotics (both prefabricated & custom fitted) reduce pain and improve function in adults with acute plantar fasciitis with few risks or side effects.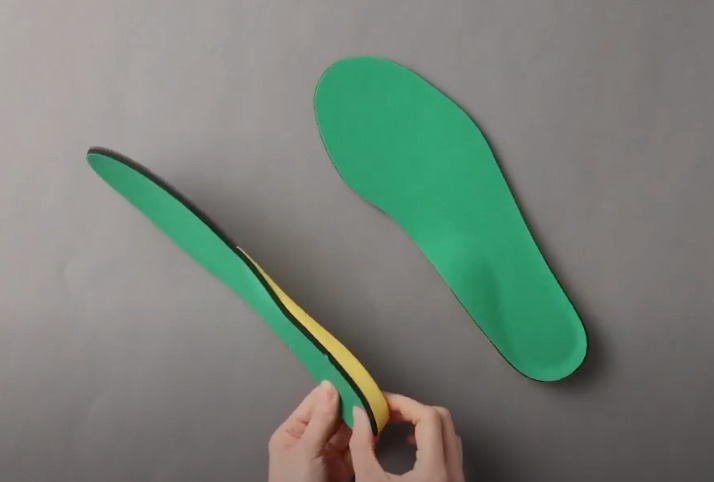 What are the best shoe inserts for plantar fasciitis?
Great arch support and provide nice cushioning for the heel and metatarsal area.
Easy to trim and fit
Solid construction
Lo Profile
When seeking relief from plantar fasciitis and heel pain, you'll want to look for an orthotic insert with good cushioning — An over the counter arch support with either a semi-rigid foot-bed or rigid foot-bed works best.
If you are having significant heel pain caused by plantar fasciitis, these SuperFeet orthotic inserts will solve your problem over time. They are much more comfortable and cheaper than a custom orthotic made by an orthotist.
Some reviews say that if you are flat footed, you should buy SuperFeet blue. But, the arch support in the blue is lower than the green.
Do insoles help with plantar fasciitis? Here is the TRUTH
The Short answer is YES, Orthotic insoles help with planter fasciitis.
The American College of Foot and Ankle Surgeons (ACFAS) has published clinical practice guidelines for treating plantar fascia pain. The initial treatments in this guide include mechanical interventions such as plantar arch strapping, over-the-counter arch supports and heel cups.
Many people find that, this Superfeet insole not only makes their feet feel better but it also reduces stress on the knees and ankles! It does this because the biomechanical shape and design supports and aligns the bones of the foot.
Although these are not inexpensive, it's a small price to pay to be able to walk again without wincing in pain or even thinking about your heel pain.
Great arch and metatarsal support
Nice heel cushioning
Durability
Reasonable Price
May be squeaky while walking
Most likely, anyone who spends long periods of time standing typically suffers from plantar fascia pain. To prevent this, seek a cushioned arch supported insole, which will help keep the foot gently supported throughout the day and relieve pressure off the plantar area.
If you happen to have plantar fasciitis and heel spur, the Spenco Total Support Original Insole is a great option for you.
The material and construction looks sturdy and professional also its low-friction antimicrobial top cloth helps prevent blisters and control odor. They are also pretty durable and seems to last as long or longer than the shoes they are in.
This is an excellent insole for people in need of a comfortable and affordable way to provide high arch support under their feet.
The Spenco's forefoot crash pad provides an extra cushioning under the ball of foot for a smooth transition to toe-off.
Do you have a question in your mind Is hard or soft orthotics good for you?
Studies have shown that, wearing arch supported orthotics is an efficient conservative strategy to reduce pain in patients with plantar fasciitis.
If you have plantar fasciitis pain & are new to insoles, recommend trying a semi-rigid orthotic arch support for a good combination of support, flexibility, and comfort. 
People who have worn foot orthotics before and are seeking more aggressive arch support, we recommend choosing a hard orthotics.
Comfortable and offer nice cushioning
Supportive structure
Works well for plantar fasciitis and heel spur
Durability
Not ideal for large-foot people
For those who don't know, the company has a long history of providing some of the best wellness products and the Dr. Scholl's Plantar Fasciitis Pain Relief Orthotics isn't here to tell a different story. 
It's perhaps one of the most comfortable insoles we have encountered.
Plantar Fasciitis occurs when the plantar fascia is overstretched and aggravates the attachment at the heel bone. 
This can cause pain with while you walk. This Dr. Scholl's PF orthotic insole provides a nice cushion to help absorb the shock of each step that leads to the intense heel pain.
These over the counter orthotics provide dual-action relief by treating the source of your pain. 
The insoles cushion and protect your foot from the aggravating shock of each step, and support your arch to prevent the plantar fascia from stretching further so it can heal.
The only drawback is that if you have a large wide foot they seem to run a tiny bit small in regard to the shoe size, however really it's more of a nitpick complaint.
Are dr scholl's insoles good for plantar fasciitis?
Yes, Many people find that the Dr. Scholl's orthotic insoles help with their plantar pain. Also, it is prescribed by many podiatrists in their treatment period.
The underlying shock guard technology provides immediate and all-day relief of pain from plantar fasciitis and can help reduce the occurrence of morning plantar fasciitis pain.
 Great arch support
Well made and great for plantar fasciitis
Reasonable price
Low profile design
Lack of cushion
Slightly wider
The next up on our list is the Physix Gear Sport Full Length Orthotic Inserts, and in case you don't know, Physix Gear Sport is perhaps one of the best orthotics seller out in the market, that shouldn't come as a surprise to anyone because it's simply too good.
They might feels more aggressive at first you have to get used to, it comes with a little higher arch and maybe a little bigger.
They don't appear to be as cushioned as some others for instance at the ball of the foot but that does not seems to be matter, because of its ergonomically designed structure.
Its durable EVA foam base and variable cushioning technology provide long-lasting comfort and targeted cushioning with a soft, supportive feel to the heel and foot ball.
You may know that excess pronation is a major contributing factor in many foot injuries including plantar fasciitis, achilles tendonitis and shin splints. The Physix Gear Sport insole helps to reduce stress and strain of the plantar fascia.
Do arch supports help plantar fasciitis?
Wearing arch supports won't solve the plantar fasciitis overnight, but it helps by allowing you to keep active without causing more damage and pain.
If you are looking for a supported insole for plantar fasciitis and high arches, this Physix Gear Sport Full Length Orthotic Inserts is great. 
 Anatomical design
Nice cushioning and arch support
Material is anti-microbial, moisture-wicking, and helps reduce odors
Podiatrist recommended insole
Orthotic insoles are more than just a heel pad or shoe inserts, they're highly customized shoe or heel insole made for your feet.
These orthotic inserts provide premium support, engineer to help with a variety of foot pain conditions. They're designed by Powerstep, another leading maker of plantar fasciitis insoles.
Its anatomical design provides the right amount of arch support to keep the Plantar Fascia stretched throughout the day. With several insole options to choose from, you can find the perfect blend of cushioning and support to alleviate foot pain.
They are much more comfortable than the custom ones costing at least 10 times as much as the Powersteps. These insoles are well-padded, providing a stable and exceedingly comfortable walking experience from the heel all the way through the instep area.
Will insoles help heel pain? Explained
It depends on the foot condition you have. If you have plantar fasciitis, heel spur, achilles tendonitis, or high arches — an orthotic insole may work.
Studies have shown that orthotic inserts, both prefabricated and custom made, reduce pain and improve function in adults with acute plantar fasciitis with few risks or side effects.    
These Powerstep insoles are an excellent value and well worth purchasing if you have any of the foot conditions that normally can be relieved by the use of orthotic inserts.
Comfortable for daily use
Compatible with most footwear 
Plantar Relief Bridge provides sturdy support to painful arches.
Some users say they slide forward
This is another great insole that offers great support coupled with a beautiful design. Some plantar fasciitis insoles are full-shoe inserts similar to the insoles present in many athletic shoes — others are a smaller heel insert that fits into the back cup of the shoe — these are 3/4 length inserts.
The reason we like this is the specific style is that, it does not hurt the sides of your feet after wearing many hours like most other brands. This insole focuses on supporting the plantar fascia and does not attempt to overly support the foot with a lot of plastic or hard material. 
It works best for most of the shoes when placed on top or under a very thin insole since it's not full-length. However, they can slide forward in your shoe. They should be positioned before you put your foot in your shoe, which isn't hard because you just look and tap them back if they have slid forward.
Let's discuss the gel insoles good for plantar fasciitis.
The problem with most plantar fasciitis insoles is the lack of cushioning to better provide support. Many users say's, the gel-cushioning in these soles are great, much more than any plantar fasciitis insole on the market today. 
It has a blue sticky gel material under the heel to help the sole stick to your shoe since at 3/4 size it will slide around.
Medically prescribed orthotics

Durable

Comfortable

 
Most shoe inserts are designed simply to cushion the bottom of the heel and the arch of the foot. If you suffer from planter pain, the casual inserts can slightly reduce pain, but does nothing to treat the cause of the condition.
The Heel Seats unique technology applies targeted acupressure to the base of the heel bone where it meets the plantar fascia ligament, helping to relieve pains and to realign the bottom of the foot to reduce inflammation.
Are heel cups good for plantar fasciitis?
Studies say's heel cups are used to decrease the tension on the plantar fascia by elevating the heel on a soft cushion. If you are looking for a heel cup for plantar fasciitis, this Heel Seats cup inserts are great option.
When you first receive them, they appear so insubstantial and you wonder how they could do anything to resolve foot pain. It is quite a surprise to find that they definitely work on your feet to relieve pressure and support your entire foot just where it needs to.
Comfortable and provide nice arch support

Gel forefoot and heel with air capsules enhance the shock absorbing

Great for flat feet

 
If you have low arches theoretically you may have decreased the ability to absorb the forces generated by the impact of foot strike — the three most commonly used mechanical corrections are arch taping, over-the-counter arch supports and custom orthotics.
Researches shows over-the-counter arch supports can be useful in patients with acute plantar fasciitis and mild pes planus (flatfeet). If you find your arches getting tired with other inserts then these are for you! The soft heel along with the rigid arch provides outstanding support. Also, these Easyfeet insoles are very sturdy, yet easy to cut to fit most any athletic shoe.
Its anti-pronation biomechanical reinforcement technology offers a superb level of arch supports, and the shock absorbing insoles with gel forefoot and air capsules enhance cushioning.
If you are looking for an arch supported inserts for plantar fasciitis and high arches, it was worth a try.
Relieves tired sore feet by providing lots of support and cushioning

Good for walking Budget-friendly

 
The Walk Hero inserts provide additional support and cushioning in key areas of the feet, such as the heel or ball of the foot.
This inserts provide support and an extra layer of cushioning to absorb shock from working on hard surfaces, which helps reduce muscle fatigue–this helps you feel more energized throughout the day. They seem to be well-constructed, but they're very thick and add a lot of height to the shoe.
These are not some flashy composite of foam, plastic, gel, or whatever else. It's a single material with a fabric covering. It's firm, supportive, and does not seem like they would easily deform. Satisfied customers say's—it really helps and if you have a heel spur or plantar fasciitis, this might be worthy to remember.
They are not flimsy or floppy and they have a nice sturdiness from the heel to the toe. If you are looking for a budget friendly insole for your plantar pain, this Walk Hero is just for you.
Thereviewal.com is a participant in the Amazon Services LLC Associates Program, and we get a commission on purchases made through our links.