Back Pain Statistics Everyone Should Know
Do you spend a lot of time in your car or at an office desk?
Are you constantly uncomfortable because you feel pain in your back?
Well, it came as no surprise. You may be a victim of this stats.
Let's have a look…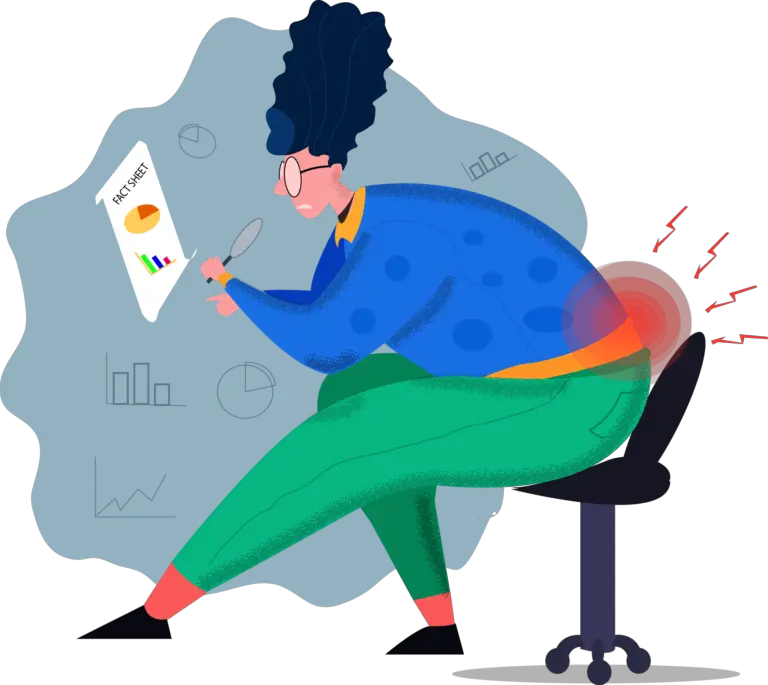 In general, back pain is not something we should worry about.
Most of the time it is caused by poor posture, a muscle strain, or in the "worst" case, a herniated disc, but there are endless possibilities for pain to dissipate on its own.
However, the long-term back pain should not be ignored!
It is normal to have some pain and discomfort in the morning, but if the pain persists more than 30 minutes go to the doctor.
Medical experts say's – if the underlying condition isn't treated, it will likely worsen, in terms of joint degeneration or chronic muscle spasm.
Back pain is one of the most common reasons for visits to the doctor's office.
Is that true… or an exaggeration?
Let's look at some recent stats…
About 80% of adults experience low back pain at some point in their lifetimes.[1]
In a large survey, more than a quarter of adults reported experiencing low back pain during the past 3 months. 
According to a survey done by Statista, 13 percent of respondents had back pain every day. [2]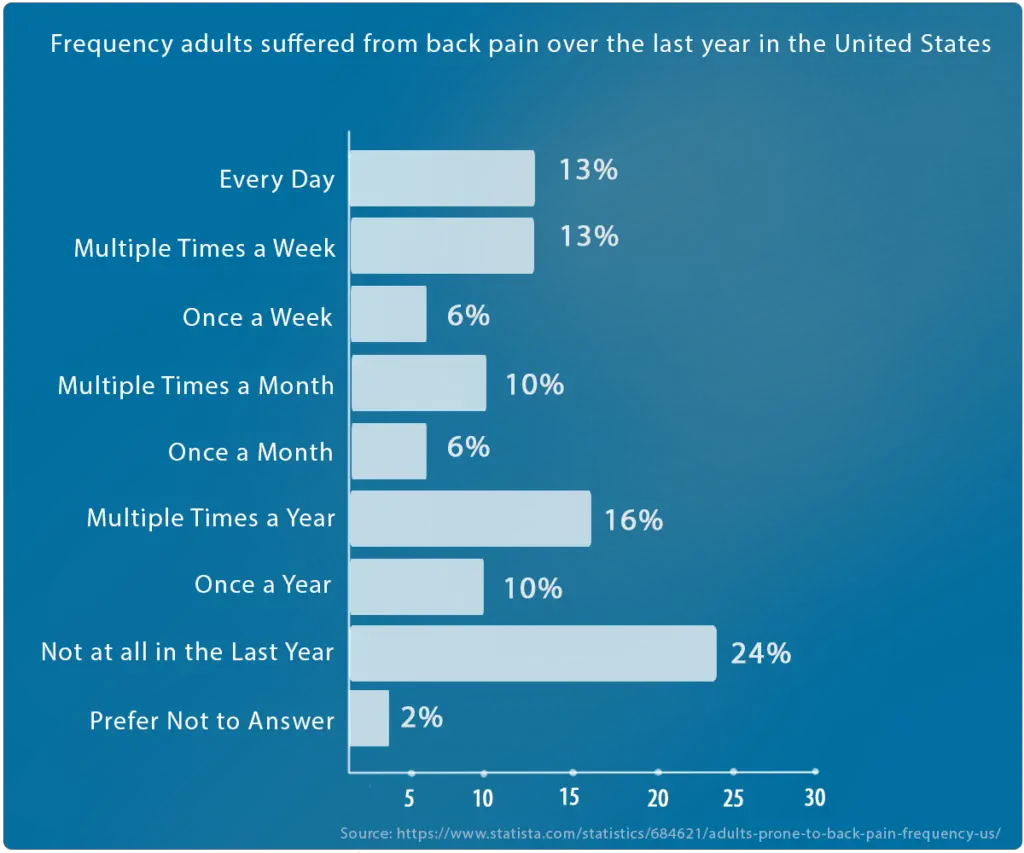 "Low back pain is the 5th most common reason for all physician visits in the United States." says Michael Campian, DO
The hard truth is, more than 85 percent of these visits are for nonspecific low back pain, or pain that's not caused by a disease or spinal abnormality. [3]
Can you guess what is the main cause of your back pain?
A 2017 survey found that 29 percent of people believed stress was the cause of their back pain. [4]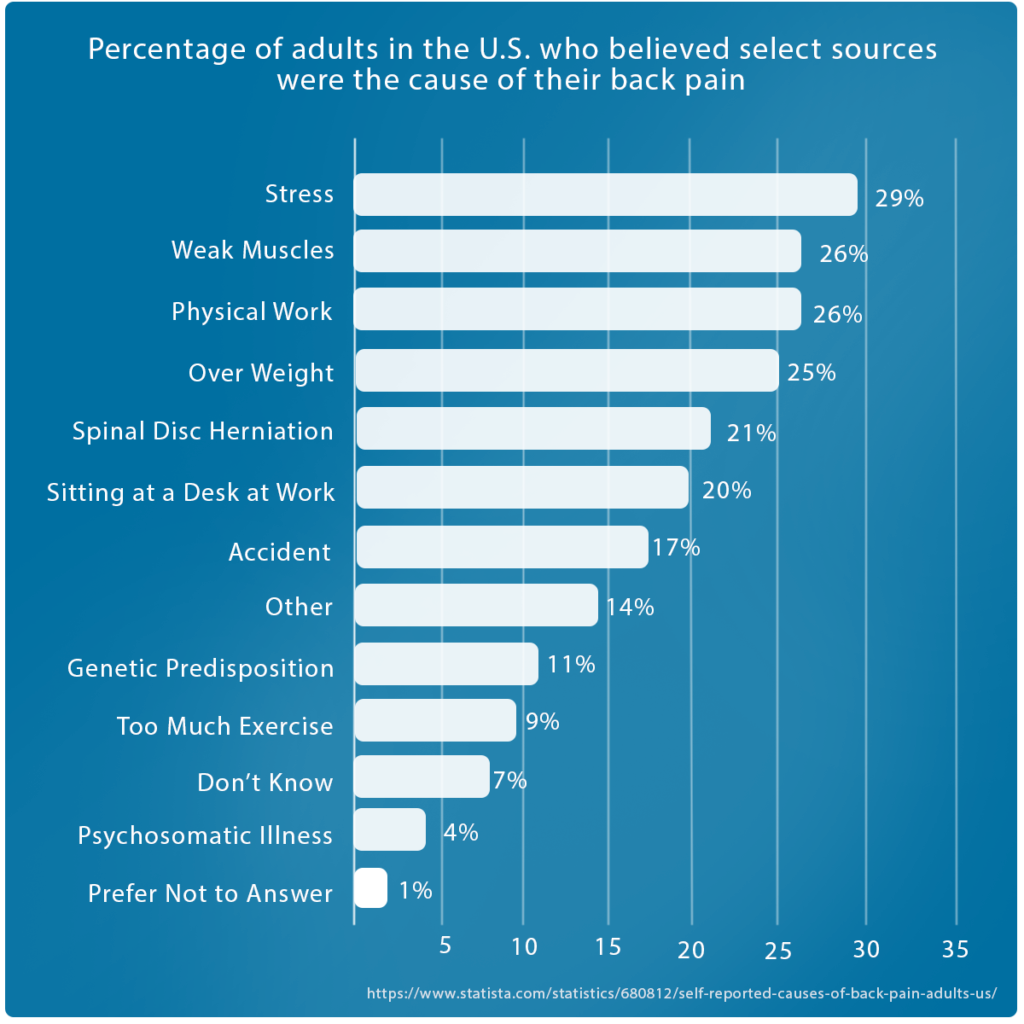 According to Palmer College of Chiropractic, nearly One in Five saw a health care professional for their low back pain in the last 12 months. 
Heck, just look at the graph below,
It is the health care visits in the last 12 months because of severe back or neck pain.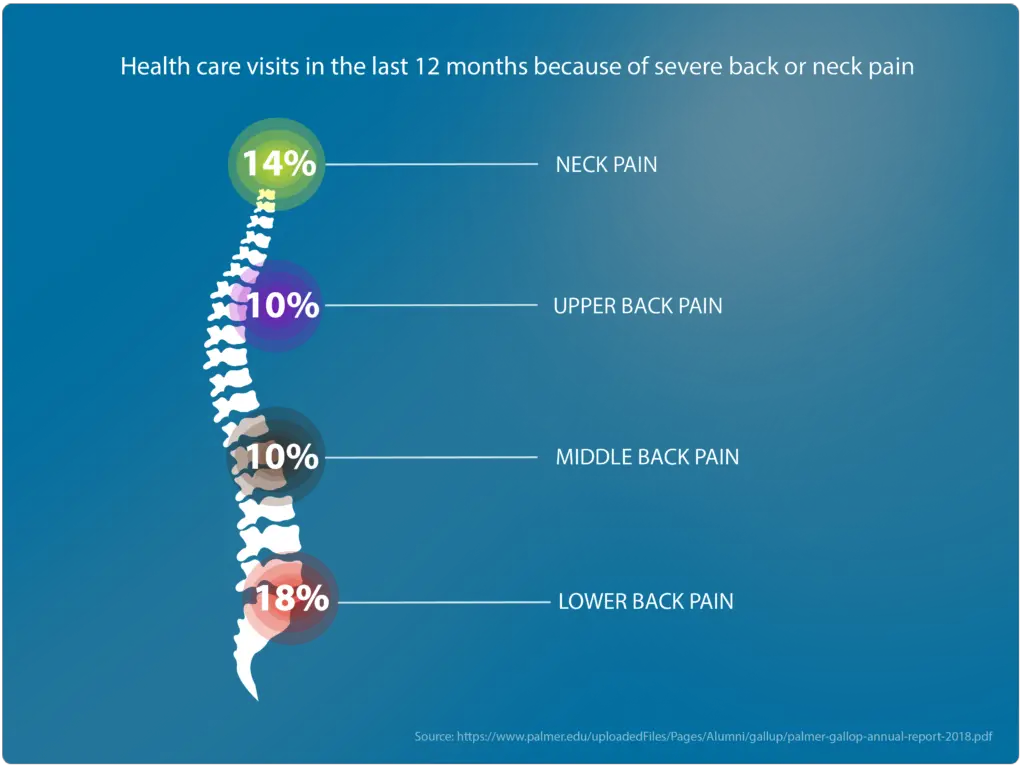 Needless to say, low back pain ranks among the most expensive medical conditions.
The most recent estimate is that $238 billion is spent annually on back pain in the U.S.
In other words, back pain costs the average sufferer just over $2,000 per year.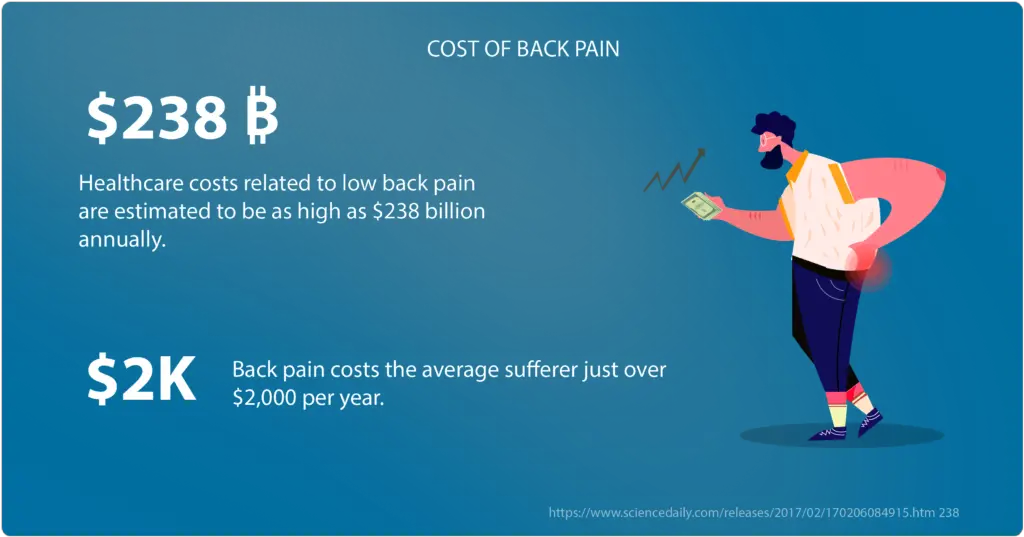 How back pain affects daily life
Back pain and work productivity
Higher work ability was associated with less disability and less pain.
Back pain is one the most common cause of job-related disability and a leading contributor to missed work days.
The results of two US national surveys showed that more than 100 million working days are lost each year due to low back pain. [7]
It seems to be very widespread among healthcare workers, with the one year prevalence being reported between 45% and 77%, which is more compared to other occupations. [8]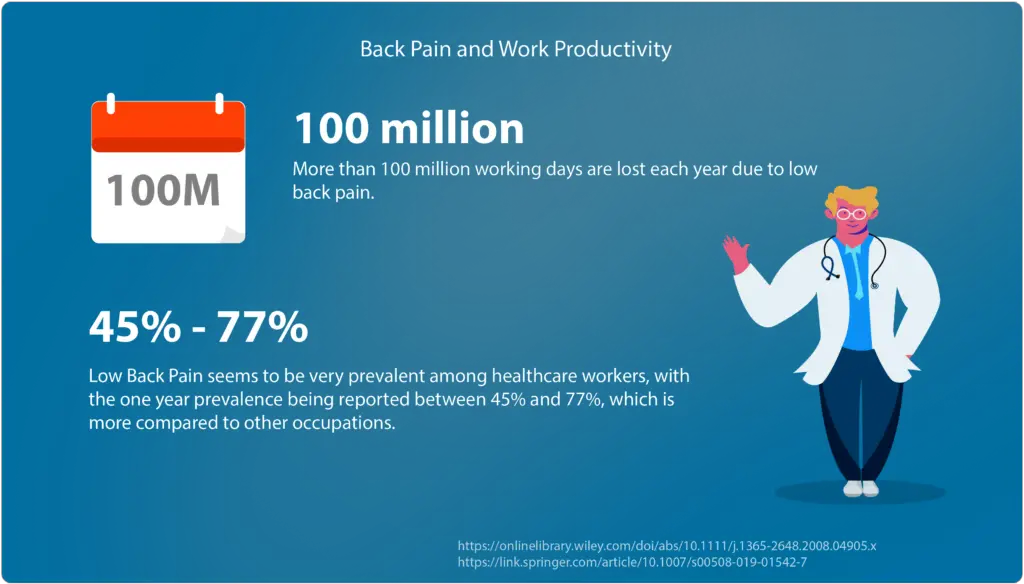 Back Pain and Its Impact on Sexual Life
Better sexual functioning in both males and females was associated with younger age, higher education level, being physically active etc. However, researches shows back pain may negatively influence your sexual life, since it can provoke physical discomfort or exacerbation of pain during intercourse.
Up to 84 percent of men with low back pain and 73 percent of women report a significant decrease in the frequency of intercourse when suffering back pain.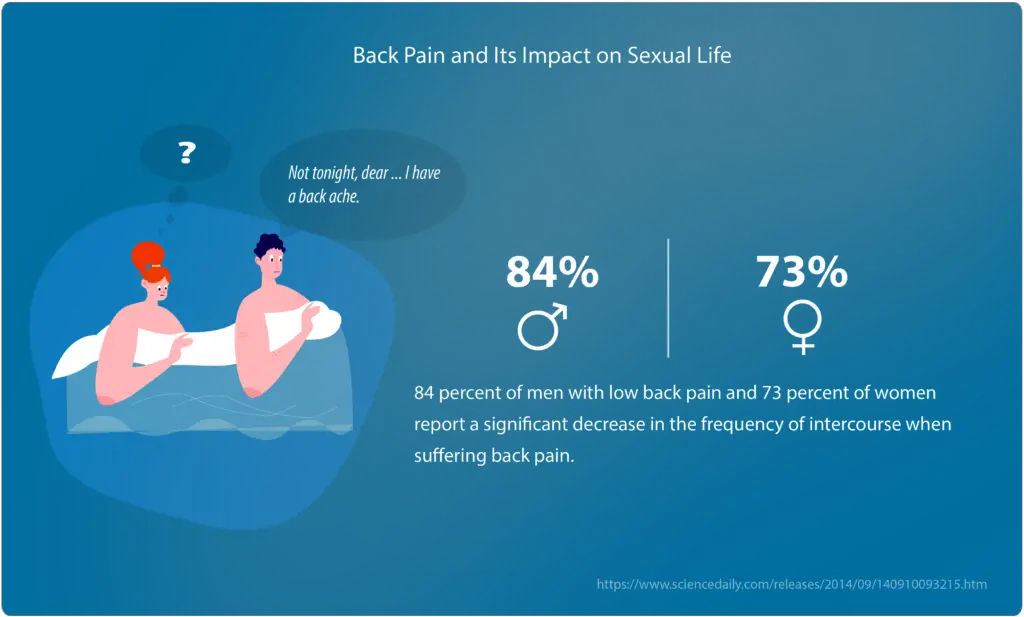 How do people dealing with back pain? Let's look some stats…
In 2017, a half of adults reported using opioids to relieve back pain.[10]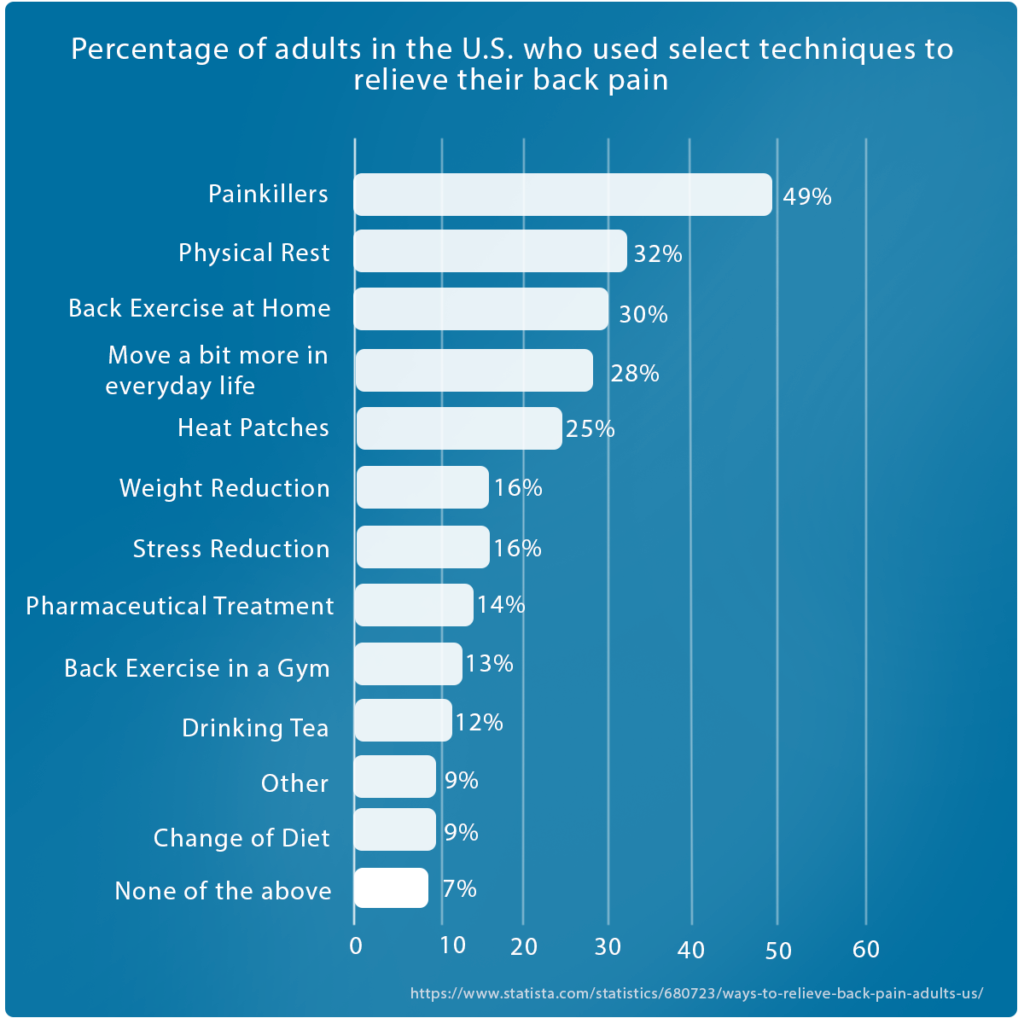 According to Statista survey, 41% of the adults said that chiropractic care can help a great deal with neck or back pain. [11]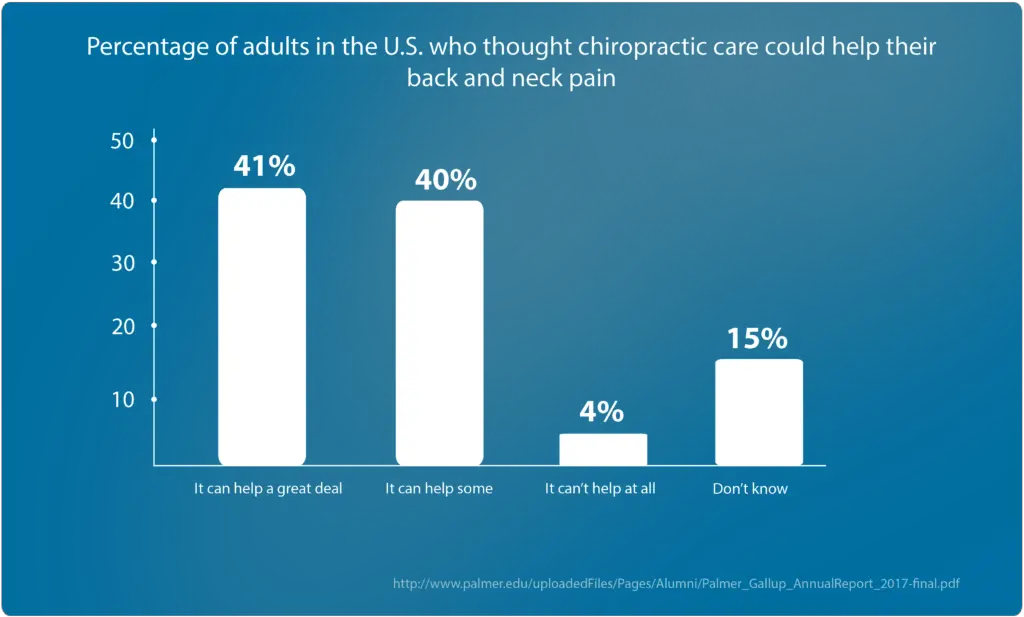 According to an analysis of 28 studies published in the Annals of Physical Rehabilitation Medicine journal, a simple lumbar support device, or back brace, can provide short-term pain relief.
You can try yoga as pain relief method…Yoga can be helpful in pain management with both physical and mental benefits.
A recent study published in National Institutes of Health shows, people with mild to moderate chronic low back pain suggest that a carefully adapted set of yoga postures may help reduce pain and improve the ability to walk and move. 
As you saw, this back pain facts and stats.
What did you think of today's post?
Was this article helpful?
I'd like to hear from you.
Or maybe you have a question about something you read.
Let me know by leaving a comment below.